Catfish and the Bottlemen, Cardiff Motorpoint Arena review - irrepressible arena rock |

reviews, news & interviews
Catfish and the Bottlemen, Cardiff Motorpoint Arena review - irrepressible arena rock
Catfish and the Bottlemen, Cardiff Motorpoint Arena review - irrepressible arena rock
They might not offer much new, but there's no denying it's a hell of a show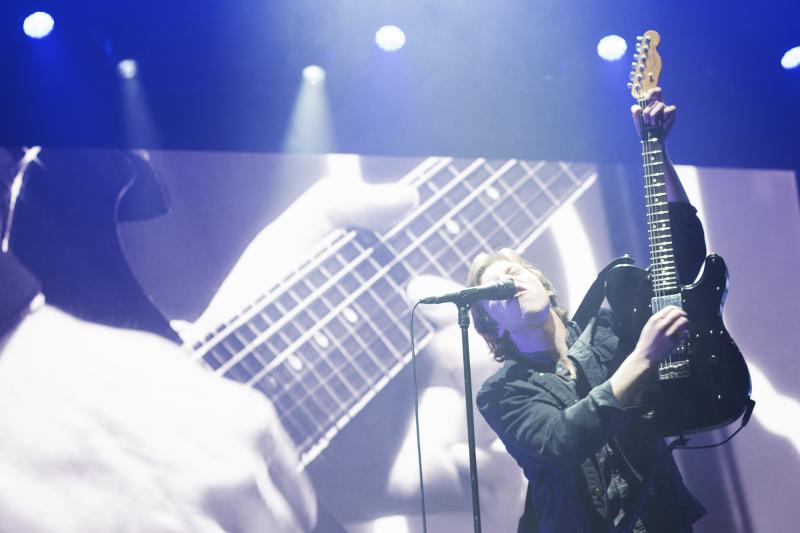 Lead singer McCann is a magnetic presence
For a time, it looked like Catfish and the Bottlemen might finally be the next-gen guitar band with crossover appeal. Though that never quite came to pass, their new show promoting latest album The Balance proves why the indie faithful value them as Britain's guiding light.
Despite the band being Welsh, it's hardly a hometown gig - Llandudno is nearer to Liverpool - but Cardiff greeted them like prodigal sons. Opener and recent single "Leftovers" led straight into breakout hit "Kathleen", and the crowd were immediately part of the band, giving every chorus their all. With a probable average age of 21, the audience was on the right side of raucous, ranging from hands up swaying to full on body moshing, and a few emotional hugs when things got a bit poignant.
The band were faultless in their performance. It was a sound and show that deserved its sellout crowd. On record, the songs sometimes suffer by trading variation for immediacy. They are, however, tailor-made for these arenas, the cavernous space bringing scope to the songs.
Frontman Van McCann (pictured above) seems built for this, thrashing one minute and conducting singalongs the next. He might not have Jagger's hips or that Gallagher swagger, but his charisma on stage raises him above many contemporaries. Don't be fooled by the commercial scale: five years ago they were playing the 150-capacity venue Gwdihŵ only 100 meters away. Seeing them live, you can tell this is a band that scraped its way to the top, and they enjoy every moment.
It's a relentless set, rarely leaving the high bpm anthems. If you were never convinced by the singles, you won't be won over by the setlist. But then, half a glance to the crowd would tell you this was never for you. Three albums in and the same formula, this might be as far as they go - but they'll definitely be up here for a long time to come.