Bob Dylan, London Palladium - busy painting his masterpiece
Bob Dylan, London Palladium - busy painting his masterpiece
A night of concentrated spirits as Dylan's 'Rough and Rowdy Ways' tour comes to town
Saturday, 22 October 2022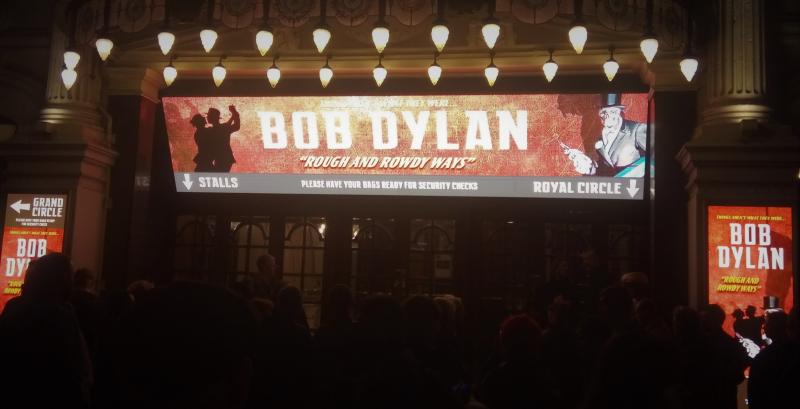 Audiences queue for the second of four nights at the London Palladium
It's the second night of a four-night run at the London Palladium of the Rough and Rowdy Ways World Tour – no other Dylan jaunt has taken an album for its title – and it begins with a blast of symphonic violence from the first movement of Beethoven's Ninth. The house lights fade to black, the symphony segues into a modal tune-up on stage, Dylan and his four-piece – second guitarist Bob Britt is not here tonight – barely visible in silhouette.
And then it begins in a flurry of piano keys and guitar, the stage becoming eerily lit from below, and Dylan leans in to a song from the early 1970s, "Watching the River Flow", one of those lazy, Zen-like, waiting-around songs from that era's period of retreat. "When I Paint My Masterpiece", fifth in tonight's set, comes from a similar place. Aside from one Blonde on Blonde track, the other picks from his deep past are from the John Wesley HardingNashville Skyline era, slight songs made big in delivery, with Dylan blowing his first harp of the evening on "I'll Be Your Baby Tonight", and "To Be Alone With You" keeping the stalkerish new verses of its Shadow Kingdom emanation in 2021.
They're slight songs in a mighty catalogue, well done and well applauded, but they're not what the audience has come to hear. Uniquely among recording artists, or virtually any artist ever, the biggest applause of the night was for the new songs, the Rough and Rowdy Ways songs, to which he has devoted his stage since beginning this tour on November 2 last year – the Day of the Dead, which seems apposite for the shadowy figures in its songs, from "False Prophet" and "I Contain Multitudes" down to "Goodbye Jimmy Reed".
While he had a bit of a bark on him for the mid-tempo back catalogue songs, when it comes to Rough and Rowdy Ways, tonight he was clear-voiced and word-perfect, enunciating beautifully on the likes of tonight's highlight, "Mother of Muses", as well as an epic, shimmering "Key West" and the journey to the Other Side that is "Crossing the Rubicon".
The skeletal musical minimalism of "Black Rider", "My Own Version of You" and "I've Made Up My Mind To Give Myself To You" were retained on stage, in versions that easily match what is on record, Dylan elongating those long image-packed lines until they all but snap. While his piano can be too high in the mix, being shorn of a second guitarist tonight saw those on stage step up to the mark with an intensity of concentration, with bassist Tony Garnier doing enough heavy lifting to demonstrate exactly why he's been Dylan's longest-serving musical lieutenant. Guitar-player Doug Lancio stuck like a limpet to his boss for the duration, while Charlie Drayton, set on the far left of the stage facing the rest of the band, proved an adept conductor of percussive textures across those Rough and Rowdy songs, while hitting the skins with force on a righteous take of "Gotta Serve Somebody".
Dylan called out Joe Strummer's wife during his almost jaunty band introductions towards the concert's end – a woman in the audience stood up – and while there's no encore to wait for, he and the band closed the night by delivering a meltingly beautiful version of "Every Grain of Sand", a tender, quixotic harmonica solo bringing it all home.
However it is he got there, to Rough and Rowdy Ways, that place in time and space where the ages vibrate and mix in images and rhymes, he got there, and every night he plays those songs to audiences, he's opening a window onto that strange, magical realm, and taking his audiences there, too.
The biggest applause of the night was for the new songs, the 'Rough and Rowdy Ways' songs
rating
Share this article