Björk, Alexandra Palace |

reviews, news & interviews
Björk, Alexandra Palace
Björk, Alexandra Palace
The Icelandic superstar waves goodbye to Biophilia with an outstanding performance
Wednesday, 04 September 2013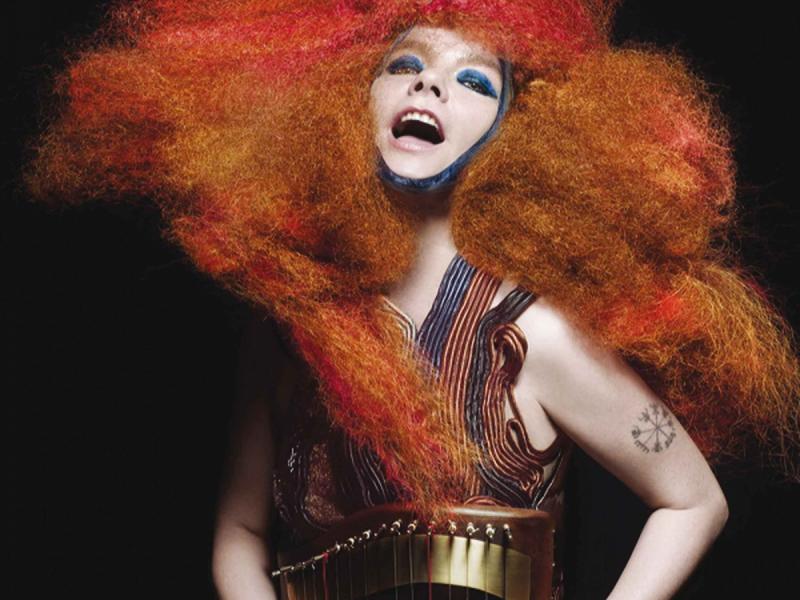 Björk: one of music's great innovators
While Lady Gaga's conceptual antics left the crowd cold in Camden last Sunday, Björk's Ally Pally spectacular last night showcased the musical artistry that sets her so far above other female pop pretenders. While Gaga's affected oddities have always jarred with the mainstream sensibilities of her music, Björk's strangeness perfectly fits and feeds her sound.
In a career spanning almost four decades, the Icelander has matured from a punkish techno popper into one of music's great innovators. A status confirmed by the global success of Biophilia – a twisted musical show and tell which boasts a voiceover by none other than David Attenborough, backing vocals by an Icelandic female choir and bespoke instruments such as a Sharpsichord (a 10ft tall barrel harp) created specifically for this production. Björk's goal was to use sound to explore and humanise her ideas about science, nature and the cosmos, and she succeeds in typically mind-blowing fashion.
The set was an enthralling two-hour mix of newish Biophilia material and the odd reworked oldie
That might sound somewhat gushy, but initially, I was sceptical. While some, like the gurning super fan I was seated next to, obviously worship Björk's every growl – I am less of a disciple and more of a casual admirer. Musically, she lost my attention somewhere between Vespertine and Volta, although I surprised myself by singing along more frequently than I expected throughout the evening. Both the live and studio versions of Biophilia, with all its academic underpinnings and futuristic instrumentation, sounded far too much like hard work. While I'm happy to have my hangover soothed by David Attenborough, I'm not keen on spending my spare time attending a science lesson soundtracked by droning pipes and crackling coils. Was it all just an elaborate ruse designed to mask the fact that Björk was stuck in a songwriting rut, I wondered as I took my seat in the remodelled arena, transformed for this – its first in-the-round performance.
"Sound is the phenomenon which most moves us in our human lives" intoned a disembodied Attenborough as this space queen danced onto stage resplendent in her sparkling silver frock and giant frizzy orange wig, flanked by her choir of barefoot Viking beauties. In earth years Björk is now 47, but last night she appeared timeless.
From the moment the first shiversome bars of tracks such as album standout "Crystalline" rang out my preconceptions started to shatter. The set was an enthralling two-hour mix of newish Biophilia material and the odd reworked oldie. While there was no "Björk for beginners" tracks such as "It's Oh So Quiet", there was a hauntingly beautiful, stripped back version of "Hidden Place" (2001) which mesmerised the open mouthed audience. Attenborough's narrative helped open up the meaning of the Biophilia tracks which were enhanced by intricate visuals, which included everything from images of astronomical splendour to swirling strands of DNA.
Among the myriad highlights were "Thunderbolt" whose pulsing electronica rhythms were driven by a giant Tesla coil which stood imposingly on stage. The lunar lullaby, "Moon", impressed with its lilting harp melodies generated by a giant gravity-harnessing pendulum. While the psychedelic slow jam "Cosmogony" was an ethereal delight which we got to hear not once but twice. Displaying her famed perfectionist streak, this pop deity treated us to some live action replays, so determined was she that this final Biophilia performance, which was being filmed for posterity, would be note perfect. Did we mind being patient?, she asked in her beguiling sweet voice. Of course we didn't mind. The bewitched crowd could not get anywhere near enough of the Icelandic superstar. The climax to this evening of spellbinding synaesthesia was the electro punk arm-waver, "Declare Independence", which saw the entire chin-stroking audience on their feet gyrating, chanting the song's explosive refrain and declaring the enduring brilliance of this sonic adventurer.