Album: Django Django - Off Planet: Parts 1 - 4 |

reviews, news & interviews
Album: Django Django - Off Planet: Parts 1 - 4
Album: Django Django - Off Planet: Parts 1 - 4
Sprawling, eclectic and ear-pleasing fifth from London indie-psychedelic fourpiece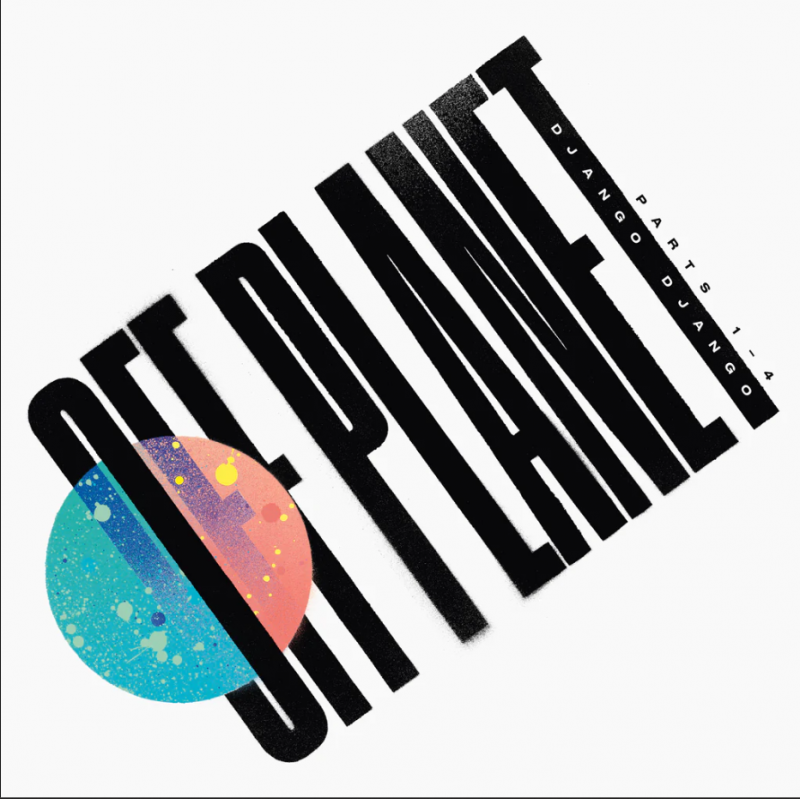 Sounds like dancin' psychedelia, looks like a 1980s tee-shirt
Brit alt-indie outfit Django Django refuse easy categorisation and, as a result, during a decade-plus career, have never quite found their place with the wider public. Critical acclaim has come their way, and those who've kept an ear open know their catalogue contains gems ("First Light", "Hail Bop" and "In Your Beat" spring to mind) as well as great remixes.
Their fifth album is a 21-track monster, with multiple guests. An explicitly stated attempt to blast off in all directions, away from any usual working practices and templates, it's mostly a success.
Let's get the classic music-journo-listening-with-limited-time-for-a-new-double album bit out of the way first: maybe it could do with a trim. There are some filler-ish songs and pleasant instrumental noodles (there are also more compulsive instrumental noodles, such as the bass-bubbling "The Oh Zone"). But mostly, even when stabs at different styles don't quite come off, it's ear-entertaining, as the quartet mash-up retro ravey dance styles, post-punk, Afro flavours, a dash of warped hip hop, and more, with their trademark psychedelic wooziness, modern classical minimalist keys patterns, pinpoint vocal harmonies, and a delicious sense of wanting to stay on a clean high forever.
Highlights include the euphoric "Slipstream", the acid house banger "Galaxy Mood", featuring London Afro-raver Toya Delazy, closing disco-tinted chugger "Gazelle", the easy-exotica electro of "Back to Back", featuring former Veronica Falls frontwoman Patience, the cosmic bubbly shuffle of "The Golden Cross", the moody space-ballad "Dead Machine", featuring female Liverpudlian trio Stealing Sheep, and, perhaps best of all, the slow-building, brain-wobbled, squiggly groove of "Lunar Vibrations", featuring Isabelle Woodhouse.
Other guests include Self Esteem and Jack Peñate, but the real draw throughout is the blissed-out songwriting and engaging sense of sonic adventure. Despite the occasional slumps, I suspect there's more than enough here to merit many a return visit.
Below: watch the video for "Don't Touch That Dial" by Django Django featuring Yuuko Sings
The quartet mash-up retro ravey dance styles, post-punk, Afro flavours, a dash of warped hip hop, and more
rating
Explore topics
Share this article