Adam Ant, Shepherds Bush Empire |

reviews, news & interviews
Adam Ant, Shepherds Bush Empire
Adam Ant, Shepherds Bush Empire
Punk meets panto season with the Dandy Highwayman back in the saddle
Saturday, 01 December 2012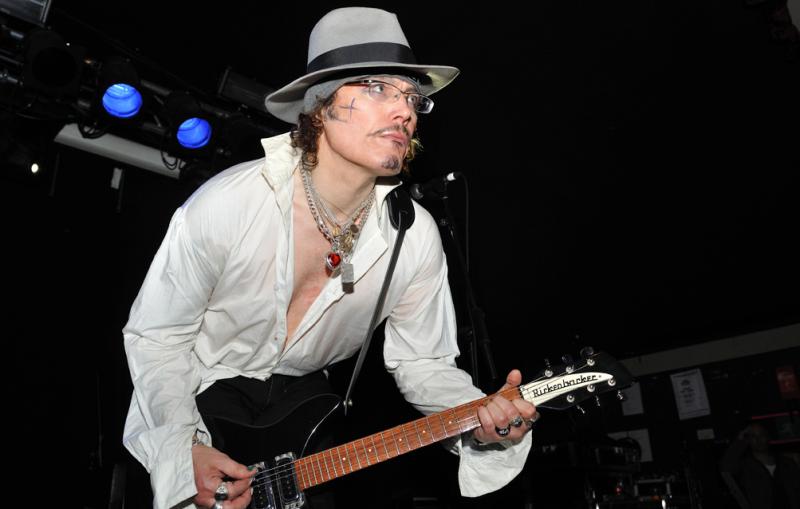 Adam Ant: the Peter Pan of insect-based pop returns in style
Nostalgia is not what it used to be. With kids who were not even born when Mick Jagger first shimmied across the stage singing the praises of the Rolling Stones, it was nice to see an audience at the Shepherds Bush Empire, give or take a few young goths of no fixed hairstyle, almost perfectly fitting the expected Adam Ant demographic. Well-preserved women who loved the pop hits, bulkier men who liked the punk phase.
I may have missed that meeting, but Antmusic clearly lives onThe end of the gig, however, found both sociological sub-sets united in one of the most bizarre rock rituals I've ever seen and one you certainly don't get at Rolling Stones gigs. When the acoustic strummed guitar chords of "Prince Charming" rang out during the encore it seemed as if everyone but me had been briefed to break into the dance from the pop video, crossing and uncrossing their arms across their chest. I may have missed that meeting, but Antmusic clearly lives on.
Before that memorable moment the charismatic star, looking trim in hat, Hussar's waistcoat and piratical hankies, had delivered a thrilling set that shuttled between his two eras, punk rocker and chart topper. From the opening thrash of "Press Darlings" he reminded his audience that there has always been a pop sensibility to his music, even when it had a sadomasochistic subtext, as on "Whip in My Valise", which, he cannily pointed out, covered similar ground to Fifty Shades of Grey.
The nimble 58-year-old's battles with depression have been well-documented, but he seemed in good spirits and happy to give the fans what they clearly wanted. He played some new tracks – "Vince Taylor" and "Cool Zombie" both had a fetching rockabilly tinge – but concentrated on the hits. And boy, did he have some smashes. The BBC's recent Imagine documentary on the science of music barely touched on the way that a melody can have such a powerful Proustian effect on memory as it did here. When the familiar clicking riff that opens "Antmusic" began, I was immediately transported to the common room and heated arguments with confused, long-haired straights over the merits of the band's Top of the Pops appearance.
While the years have taken a slight toll on the voice and the upper range is not what it was, it hardly mattered as he enthusiastically yodelled his way through "Kings of the Wild Frontier". One might have reservations about a Londoner born Stuart Goddard identifying with oppressed native Americans, but the tune still packed a knockout punch. This compensated for the band, The Good The Bad and The Lovely Posse, being a little lumpy in other places. While the male and female two-drummer set-up recalled the Burundi-meets-Glitterband arrangement of his heyday, the sheet metal powerpop of influential axe anti-hero and chum Marco Pirroni was missing. The band's current bassist and guitarist – both blond and muscular – were way too handsome, and looked as if they had left their surfboards in the dressing room.
Ant was joined for a few songs by Georgina Baillie, best known as the granddaughter of Andrew Sachs who was dragged into the Sachsgate scandal. Baillie's low-key vocals did little to suggest she is going to shake off her history and be remembered as a great singer, but then this was very much Adam Ant's night. He was clearly having a great time, swinging the microphone stand around, grimacing, playing guitar and dancing wildly like a punk rock James Brown.
Even the naffest of numbers, "Goody Two Shoes" and "Vive Le Rock", had a quaint cartoonish appeal, and he showed great taste in resisting the career nadir "Ant Rap". When he returned for the extended encore he paid tribute to Marc Bolan, another pin-up pop star whose similarly rollercoaster career also went from underground to mainstream, with a frisky cover of T Rex's "Get It On". And then it was time for "Prince Charming" and that campest of dances. The panto season starts here.
Follow Bruce Dessau on Twitter
Watch Adam Ant perform 'Stand & Deliver' at Bestival 2012
There has always been a pop sensibility to his music, even when it had a sadomasochistic subtext
rating
Share this article