10 Questions for Singer Sarah-Jane Morris |

reviews, news & interviews
10 Questions for Singer Sarah-Jane Morris
10 Questions for Singer Sarah-Jane Morris
Passionate, political singer discusses writing, Africa, and her career with the Communards
Saturday, 13 September 2014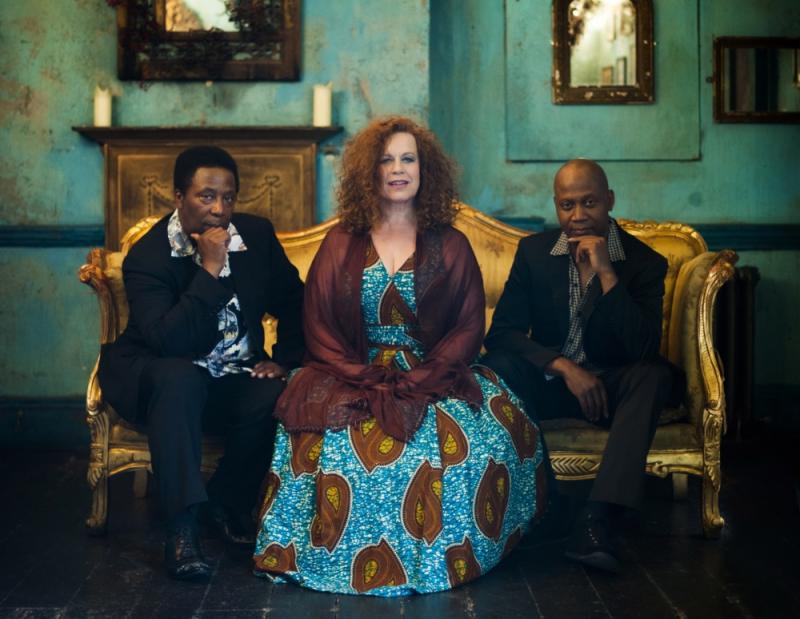 Sarah-Jane Morris with Henry Thomas (l) and songwriting partner and guitarist Tony Remy (r)
Sarah-Jane Morris is in every sense an original voice. One of Britain's most distinctive and versatile singers, she has enjoyed commercial success, spending five weeks at number 1 with the Communards' version of "Don't Leave Me This Way" in 1986, and selling 100,000 of her self-titled solo album in 1989. She has the distinction of having "Me and Mrs Jones", which featured on the album, banned by the BBC for suspected lesbianism.
She decided, however, that the baubles of a mainstream pop career did not suit her commitment to music that mattered, that had principles, that told important stories. From the start, she has championed important causes, taking part in the Red Wedge tour with the Communards, performing 'Gay's The Word' fundraising concerts with the same band, and - if only YouTube had been around then - narrating the history of the Labour Party with Tony Benn as a rap at the ICA, in a freedom of speech concert in support of Salman Rushdie.
Since then, she has begun writing her own songs, a long, tortuous journey of discovery, and become more closely associated with soul, jazz and world music than pop, with regular performances at Ronnie Scott's and the Jazz Café. She has acquired a large cult following in Italy, where she regularly tours. Her latest album, Bloody Rain, performed with a stellar ensemble of rock, soul, jazz and world musicians including Dominic Miller, Pee Wee Ellis, Seckou Keita and Courtney Pine, is all about Africa. Despite the complexity of writing for large and diverse ensembles, it combines a visceral lyricism with intense moral and political engagement. It is, she says, "my best yet".
MATTHEW WRIGHT: You say in the making-of film (next page) that "it took a long time to become a decent songwriter". What have you found most difficult about that process? How do you go about it? Can you describe the process of writing the music and lyrics of a new song?
SARAH-JANE MORRIS: It's taken me a long time to find that quality. I thought I would be that singer that Tom Waits would write for. I co-write a lot of lyrics with Johnny Brown, who formed the Band of Holy Joy in the Eighties. We would both write, then meet in Foyles to discuss what we'd written. These days we communicate by email. When I started I had no training, so I picked it up like an A Level English student. I write each lyric as a poem, then dissect it afterwards. What I learnt from Tom Waits, whose songs I have covered on several albums, was that the bum notes are good too. He's good at allowing what really happened to be the beauty.
I met Richard Coles at college, studying Brecht
You've said this is your best album. Why do you say that? How does it fit in with the pattern of your work so far?
I think it combines the sheer joy and fun of music-making with serious subject-matter better than I've managed before. Music like this can make people think, without wagging a finger at them. They'll think about the topics without being forced to, which is how good music should work. I have such a great band now, and thanks to PledgeMusic could hire some brilliant soloists. Apart from some of the solos, which we added later, we recorded live, which adds to the immediacy of the sound.
Why choose Africa as a theme? Did you have to research these topics specifically for the album? Are they issues that have troubled you for some time? What did the other members of the band contribute?
I've never been to Africa. The individual song ideas usually came about because of a news article. In the case of "No Beyoncé", it was a story from Bradford, in which a girl admitted she'd seen her father kill her sister. Lots of these topics can be found in many countries, though the problem of child soldiers is obviously more African, as is of course the case of the stolen Nigerian girls. In many cases, though, I've no idea where the ideas come from. Wherever I am, I'll compose with Tony [Remy] on acoustic guitar, and we record what we make on a mobile phone, and take it from there. It's very exploratory.
Though Africa is the predominant theme, Bloody Rain has a global sound, with Pee Wee Ellis, the Brazilian percussionist Adriano Adewale, and the Israeli trumpeter Avishai Cohen. How do those sounds come together?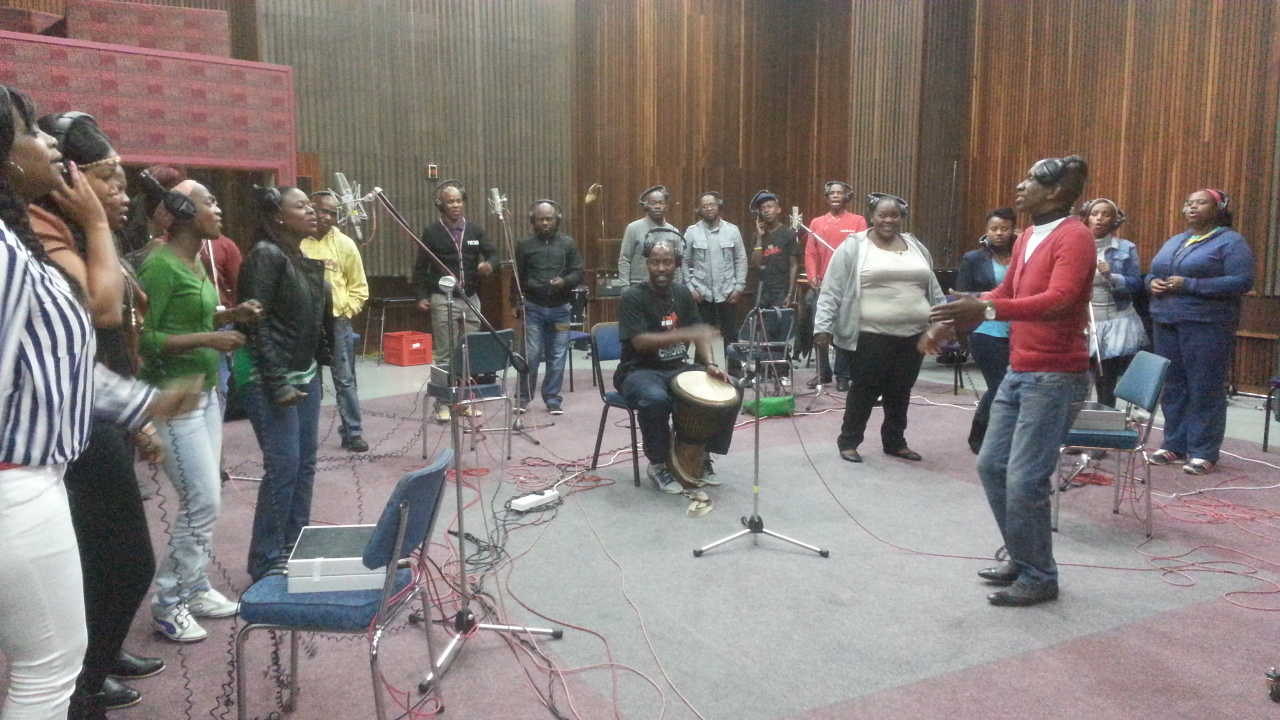 Adriano become the fifth member of the band, and he's been incredible. He can play anything. His smile is a joy, and it's just because he's having such a good time. Everyone else was a wonderful extra - the main recording was put down by the core five or six at Yellow Fish Studio in Lewes (pictured below with Tony Remy and Henry Thomas), then the kora, trumpet and Soweto Gospel Choir (pictured left) so on added later. Several of the band were around at the beginning of world music in the Eighties, playing in a range of ensembles, so we have decades of world music experience to call on.
The band loves these musical changes, from acoustic soul, to jazz, rock, folk, South American music, Calypso
The political content of the album is in places very direct and outspoken. You name the Interahamwe, gay rights and David Kato, honour killings, the exploitation of miners… Are these simply things that inspire a creative response, or are you aiming for political change?
I believe in human rights, and equality, and believe I was lucky to be born here. I feel I have a duty to write about what I see, as a social commentator. I've always been involved in campaigning music. We met a top human rights QC recently, and I was asked to write song for the FGM campaign. The human rights barrister Michael Mansfield, who represented the Guildford Four and Birmingham Six, comes to my concerts occasionally. The song "Never Forget How To Dance" is dedicated to the Birmingham Six.
I'm much freer because I've stepped back from the major labels, I don't have to ask anyone before I write a song. What I also love is that listeners can adopt a song for themselves, and make it their own. Whatever I've put into it, once it's in the listener's head, it's theirs. Songs have lives of their own.
Of all the charismatic instruments on the album, perhaps your voice is the most distinctive, and conveys the music's blend of anger and tenderness very powerfully. Is it an instrument you write for specifically?
It's completely intuitive. I don't read music, and for years I felt inferior, with nothing in head telling me how to perform technically. I have no warm up techniques; I'm not a singer to spend hours in the dressing room. I take a hooped petticoat on tour, which is huge, with clashing colours, then it's quick to get ready. The band loves these musical changes, from acoustic soul, to jazz, rock, folk, South American music, Calypso. We all love the clashes.
We don't point fingers, or alienate people, we just want to find that way to communicate with youth
I was trained as actress, not a singer, but that has advantages. My brother made the film of "No Beyoncé", in which I had to be both boy and girl child soldiers, so my acting background is useful for those kind of roles.
"No Beyoncé" is an intriguing title, in which, presumably, singer represents free expression and western culture? Why Beyonce, specifically?
The name sang well, though she is also an icon. I mention Shakira too. It's far away from what I do, and not my kind of music, but she's very good at it, and incredibly beautiful.
"Men Just Want to Have Fun" is about the unwillingness of men, presumably African & Caribbean men, to use condoms. Do you want the song to change people's behaviour? Who is your audience for the track?
First of all, I just hope it's enjoyable, beguiling. Calypso should be so much fun. We also want this song to become part of Annie Lennox UNAIDS campaign in South Africa, raising awareness about why there is an AIDS epidemic. We're hoping to work with the Terence Higgins Trust too. There's an animation being created of the song, which will be released with the single, featuring some animals to go with the song. We don't point fingers, or alienate people, we just want to find that way to communicate with youth. I hope it makes them think, and go on to help others.
You used PledgeMusic to pay for some of the performers on the album. Does it change the relationship between performer and audience?
There are lots of different ways people have got involved. Inspired by some of the themes on the album, we've started a campaign: we wanted to change the meaning of fear, so it's F=freedom, E=education, A=acceptance R=revolution. It's in memory of David Kato. So many people who pledged support fed back into the campaign. It's nice to have as much time as possible singing and talking with them, and giving back to people who have supported us. Many of the pledgers have turned into real friends, and their names are in the album.
How do you feel about "Don't Leave Me This Way" now? It still comes up in reviews & interviews. Blind alley? Or a great launching pad?
That was a fantastic year for me. I knew Richard [Coles] from before. We'd met at college studying Brecht, which was my introduction to socialism. My voice makes a wonderful juxtaposition with Jimmy's, it was an impromptu thing, but just right for the mid 80s, when we were performing at Gay's the Word [at the Fridge in Brixton]. It was already a successful disco song and we made it into something even bigger. It was great fun to tour the world, but I knew I didn't want a career in public life, though it took years to sort that out. Jimmy was true to his beliefs. We've just picked up where we left off.
Bloody Rain is released on Monday 15 September and launched at a concert in Union Chapel, Islington, on Thursday 18 September
Continue to the next page for a video interview about the making of the album, and a video of the song "No Beyoncé"

What I love is that listeners can adopt a song for themselves - songs have lives of their own
Explore topics
Share this article