10 Questions for Musician Jeremy Cunningham of The Levellers |

reviews, news & interviews
10 Questions for Musician Jeremy Cunningham of The Levellers
10 Questions for Musician Jeremy Cunningham of The Levellers
The dreadlocked Levellers bassist talks of film, books, fans, the new album and touring the US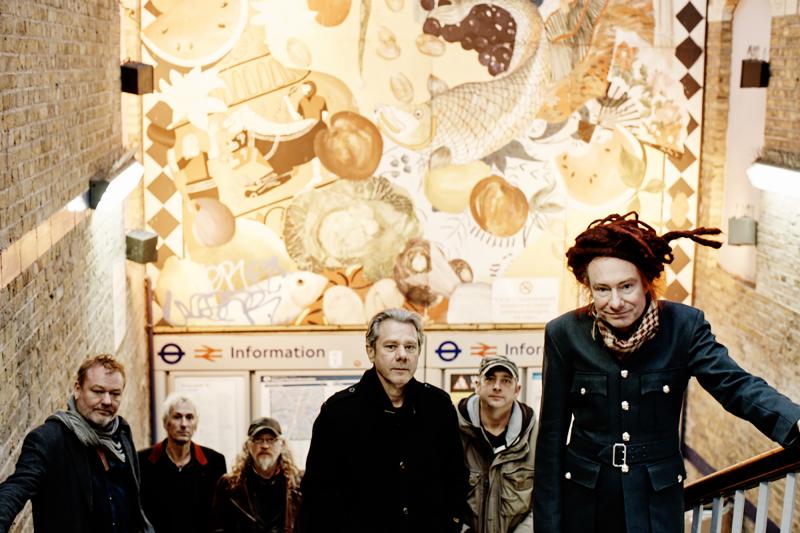 The Levellers, with Jeremy Cunningham far right
Jeremy Cunningham (b.1965) is bass player and a founding member of The Levellers, as well as being a visual artist in his own right. During the 1990s The Levellers, and most especially their 1991 album Levelling the Land, became a phenomenon. The group were punk-influenced folk-rockers whose songs were often polemic and political. It was no coincidence that their main flush of popularity was during the premiership of John Major. They became a focus for anti-government feeling, especially among those affiliated with the travelling and festival communities (remember Major's "New age travellers? Not in this age. Not in any age" speech from the 1992 Tory conference).
The band have put out eleven albums, eight of them Top 40 hits, including their latest, We The Collective, an acoustic re-rendering of highlights from their back catalogue, with a couple of new numbers thrown in. It made No.12 in the UK album charts earlier this month. To this day, their 1994 appearance at the Glastonbury Festival remains one of the biggest crowds ever drawn to the Pyramid Stage and in 2003 they launched their own Beautiful Days Festival in Devon, which has gone on to great success.
While Cunningham would be the first to point out that the band is a collective effort with no member more important than any other, his dreadlocked form seems emblematic of The Levellers and what they represent. He was, after all, the only member of the band to adopt, for some years, an itinerant road-living lifestyle. I meet him in the Metway, the band's Brighton headquarters, also home to their record label On The Fiddle. With his reddish dreads piled high on his head, he sips herbal tea on a sofa. He has a presence that is both gentle and fierce, edgy yet friendly and forthright, punctuating his conversation with a distinctive cackle.
THOMAS H GREEN: What was the thinking behind the new acoustic album?
JEREMY CUNNINGHAM: Basically we'd pretty much written three quarters of a new electric Levellers album and came to a standstill. We wanted a crowbar that would kick us over creatively, to be able to move onto the next phase. Because it was coming up to our 30th anniversary the powers-that-be were very keen on us doing an acoustic album, rearranging the old songs, putting a few new ones on as well.
What was it like working with John Leckie [famed producer of Stone Roses, Radiohead, Muse and others]?
Really good, he's a lovely man. On our first day together his eyeball fell out [laughs]. It wasn't quite as dramatic as that! We were playing through stuff and his retina got detached. He had to be rushed to hospital and lay in a strange position for ten days before he could come back, so we got on with it ourselves, did the major arranging. By the time he came back with his eyeball back in place we played him the songs and he was like, "They're all shit! That's shit! That's rubbish!" He wasn't quite as blunt as that but he is quite blunt and we like that. Me and Mark said, "Is there anything you do like?" He ummed and ahhed. We went through all the songs we were going to play really thoroughly with him doing a bit of musical guidance. We want our producers to give us musical guidance - they just can't fuck with the lyrics. He was really good. As soon as we all got to know each other a bit better, even some of the songs he didn't like, he appreciated why we wanted to do them and started to work on them with enthusiasm. We only work with producers that become the seventh member of the band otherwise there's no point. You might as well just get an engineer. For this album we needed guidance and we're massive fans of him and the records he's done.
Is he doing your new studio album proper?
Quite probably.
Tell us about the two new songs on We The Collective, "The Shame" and "Drug Bust McGee".
"The Shame" was written immediately after the body of that little Syrian child washed up on that Greek island. Simon wrote the song. He was just appalled – "I'm going to write this song and put everyone to shame." In the meantime I'd written a song kind of about it as well but he came back really quickly with the complete song and it pissed all over what I'd done so that was one of the first songs, all written for the new electric Levellers album. They were ones we thought most appropriate to use in this situation. He played it to Leckie and he was like, "Fuck, that doesn't need any work done, just sing it." Mark wrote "Drug Bust McGee" at a very similar time, about undercover police getting involved with protesters, deeply embedded, having kids with them, then bolting and the women concerned having the rug completely pulled from under their feet.
Watch the video for "Shame" by The Levellers
What book are you currently reading?
I read history. I'm reading two actually. My main field is I'm very into early medieval history. I'm reading The Dictionary of Irish Saints by Pádraig O Riain, a very famous early medieval scholar. Then I'm reading, on and off, a massive 900 page commentary on The Book of Revelations from The Bible. It's by Craig Koester, the Anchor Bible Commentary. It's amazing, not religious, it's a historical commentary.
They sound quite heavy, those books.
Oh, they're weighty. I've been reading for 20 years about this stuff.
The Levellers have a special relationship with their fans. Is that a fair thing to say?
It's a nice thing to say. I'd like to think so.
It seems to exist outside the parameters of the usual fan/musician relationships…
I think that's why they like it. We're just normal. We go out and drink in the same pubs. We don't really give a fuck about all that. We learnt our lesson early from bands like The Clash. Joe Strummer, who we were lucky enough to play with, said, "My ego destroyed this band and I should have kept in touch with the people that mattered," so we were always very conscious of that and still are. We do a festival each year – Beautiful Days – and the fans are the shareholders.
What was it like working with film director Alex Cox on the video for "Too Real"?
Brilliant. Love Alex Cox, he's amazing. We were big fans of his from Repo Man then he did Sid and Nancy. Around that time he was introducing an alternative film thing on the telly – Moviedrome – and we went, "Oh, maybe he'd be interested." We didn't know him but liked his general vibe. We asked him and he was all over it. Not only the video; he hung about for quite a long time and got deeply involved. The "Too Real" thing, he wanted to film it in Liverpool, his home town. It gave him an excuse to get some of his mates in – and some of ours. it was an absolute pleasure.
Watch the video for "Too Real" by The Levellers, directed by and featuring Alex Cox
[Noticing poster on wall for Levellers documentary A Curious Life] I haven't seen that…
That's my mum and dad in the poster. The film was done by Dunstan Bruce who used to be singer in Chumbawamba. He was with us about three years, just hanging out. It ended up with me being the main one in it but that was only because Mark had just had a baby, Jon [Sevink, Leveller's fiddle-player] was moving, and everyone was busy. I ended up being the narrator but it's about the band. Dunstan got heavily involved. We were touring a lot at that point. He did blogs with us, live blogs on tour. That was eight years ago now, when he started it. The film came out in 2015.
In the late Nineties I had an enjoyable relationship with China Records and the music they released. It was home to yourselves, Morcheeba, The Egg, Zion Train and others. That changed when they were bought by Warner Brothers. How was it for you?
We didn't know anything about it, we just suddenly found ourselves on Warners. It was basically because Derek [Green, China MD] ran out of money due to a messy divorce, sold the company to Warners. They really wanted Morcheeba and we were kind of a bit of a bonus but they didn't really know what to do with us. We found ourselves on a major label writing the most obscure leftfield album we've probably ever written and it all came on top. We hated it and bought ourselves out of the contract. It cost us a lot of money and they were glad to see us go as I don't think we made them any money either.
What is The Levellers relationship with the States, in the sense of, how does the band go down there?
In some parts very well but in terms of making an impact it would be like a mosquito on a giant, the impact we've made on the States.
But if you tour there you pull a crowd?
Yeah, yeah, the last one we did we went to specific areas we knew we'd be well-received, which is mainly the cities of the north-east and down to Washington DC. We're not talking big shows, we're talking 500 capacity, maybe a little more in New York. But when you get to the Midwest it's a different country.
Some of those states, while they have weird politics, the music culture is very folk/roots orientated, so you'd have thought The Levellers would go down well. They like a good hoedown.
They do but they don't like politics. We really confused them down there by having a fiddle player and a guy playing electric guitar and singing about radical stuff. They just couldn't get their heads round it. We thought it would be a great fit. We went out there to support Public Enemy and Rage Against the Machine, two great bands, we just went down like the proverbial lead balloon.
Like in The Blues Brothers, in a cage with beer bottle being hurled at you?
Not quite that bad but getting onto it. It's one of the only shows I've seen Mark just walk off stage; "Fuck you cunts" and he just walked off. That has never really happened before or since. And that was in Nashville the home of country music. It was educational, definitely.
Very few bands that have been around for any time have mixed age groups of fans. How about The Levellers?
There's a broad spread. Because we've been going for so long, it's the people who got into us in the '90s… and then their kids. There's a surprising amount of young people, then there's a lot of older fans and some original guys who came and saw us when we were unknown. People get their own lives, drift off, then come back. Its mental and it's lovely. I've done it myself with bands. You can meet your mates and have a beer, that's half what it's about for the older guys. The younger ones just want to be blown away by a great live show.
Very few successful bands retain the same line-up, decade after decade, but you lot have have. Is there a secret to your longevity?
Yeah, the total is bigger than the sum of its parts and we're very aware of that. Ever since the start we've all been paid equally, we distribute everything equally, doesn't matter who wrote the song, so we don't argue about money. We're very aware that the noise we make is bigger than any individual.
Overleaf: watch the video for the single "Drug Bust McGee" by The Levellers
We found ourselves on a major label writing the most obscure leftfield album we've probably ever written and it all came on top
Explore topics
Share this article
Subscribe to theartsdesk.com
Thank you for continuing to read our work on theartsdesk.com. For unlimited access to every article in its entirety, including our archive of more than 10,000 pieces, we're asking for £3.95 per month or £30 per year. We feel it's a very good deal, and hope you do too.
To take an annual subscription now simply click here.
And if you're looking for that extra gift for a friend or family member, why not treat them to a theartsdesk.com gift subscription?