10 Questions for Fringe Magnetic's Rory Simmons |

reviews, news & interviews
10 Questions for Fringe Magnetic's Rory Simmons
10 Questions for Fringe Magnetic's Rory Simmons
The genre-straddling bandleader on the dangers of being an electronic nerd, cats and Jamie Cullum
Rory Simmons contemplates life after Fringe Magnetic
Trumpeter and composer Rory Simmons is one of the most innovative and diversely talented musicians on the contemporary jazz scene, genre-hopping with startling agility across its many cutting edges. Fringe Magnetic, Simmons' acclaimed 11-piece band, has been blending the compositional rigour of classical music with the freer playing style of jazz for nearly five years now. He's a core member of the LOOP Collective, and has collaborated across Europe with jazz stars including Barak Schmool, John Etheridge and Byron Wallen. Meanwhile, he's also in demand as a sideman and session musician with acts including Jamie Cullum, Will Young and Brand New Heavies.
When Clocca, Fringe Magnetic's third album, was released in the autumn of last year to the band's most excited and complimentary reviews yet, it seemed like the kind of release that sometimes heralds an important period of productive, creative maturity. Critic Stephen Graham has described Simmons as "easily one of the most imaginative jazz trumpeters and composers working today", and suggested that "the ideas [on Clocca] are so new that Simmons himself has hardly had time to get used to them". But Simmons announced that the band would fold, having decided, boldly, that it had fulfilled its purpose.
I'm not a nerd; I'm never consumed by technology. For me electronic music's another sonic shape
MATTHEW WRIGHT: Fringe Magnetic seemed to be on an unstoppable upward curve. Why end it now?
RORY SIMMONS: I'm happy with the arc of the ensemble, and how we have progressed. I came out of higher education working on this, and the way it's progressed is how I have progressed. With some big jazz stars like Jasper Høiby and Ivo Neame in the line-up, there are inevitably practical difficulties: logistically it's difficult to get 10 people go to the pub, let alone organise gigs. We all have lots of other musical projects. The positive reception [to Clocca] has been really nice to hear, though, and we might be tempted to do something else.
Clocca sounds as if the ideas and styles present in Empty Spaces and Twistic, the first two albums, have blossomed. The range is wider and the ideas have more space to grow. How do you describe the evolution of the band's sound?
We were more academic at the beginning. As the project has evolved, the writing has become less knotty, more organic. The first album was written at the piano, the third with the orchestra while we were on the road. Though I mainly studied jazz, I did have lessons with contemporary classical composers. Classical composition gives you the tools, but the holes in the tools create the opportunity for ingenuity. For Fringe Magnetic we wanted a classical-ish lineup, but a raw and edgy sound, not a pristine, reverb-soaked classical aesthetic. We wanted our harmonic ideas played in a more jazzy way, produced with a brittle sound. It was pretty nerve-wracking, working on something like this straight out of college.
Weirdly, it's easier to sell jazz education to people for £10k than a jazz performance for £10
Such a complex and intriguing sound must have many influences?
Our sound is influenced by lots of different musicians; new ones for each album. To begin with, there were violinist Mark Feldman, drummer Michael Sarin, pianist Uri Caine and the New York Downtown scene. Then, for Twistic, the second album, came Captain Beefheart and Django Bates, while for Clocca I was listening to Max de Wardener, Liam Noble, Brian Eno, and singer-songwriter Scott Walker.
You've also started including some electronic sounds for the first time on Clocca. How come?
I've been listening to lots of electronic music and non-acoustic produced sound. I like the carefully crafted ambience and soundscapes. I've also become more interested in electronic music, which we use on Clocca, and also in a more recent project, the dreamtronica trio Eyes of a Blue Dog [which released its debut album Rise last year], with drummer Terje Evensen and singer Elisabeth Nygaard. I'm not a nerd, though; I'm never consumed by technology. For me it's another sonic shape.
Your choice of singers is varied, and in many ways dramatic. They give an almost orchestral atmosphere, as well as delivering lyrics. Elisabeth Nygaard has been a beautifully, if eerily ethereal presence on all three Fringe Magnetic albums, while the extraordinary Andrew Plummer, whose gritty, booming, theatrical sound offers about as stark a contrast with Nygaard as it's possible to imagine, has also taken part from the off. On Clocca they are joined by the folkier Emilia Martensson. How do you incorporate such diverse sounds?
We give them unusually free rein to create their own sound, including writing their own lyrics. I write a demo with a suggested melody line. The singers are free to chop it up, be artistic with it. It normally works. I think they repay my trust with committed and original performances. Elisabeth is an amazing vocalist with a wonderful timbre. What she conveys in lyrical content is deep and special. Andrew is one of my favourite singers. He's brave and exciting - not at all contrived, and really real. And Emilia Martensson, like Andrew and Elisabeth, is a good friend. The nuance of her voice sets her apart and balances with Elisabeth's.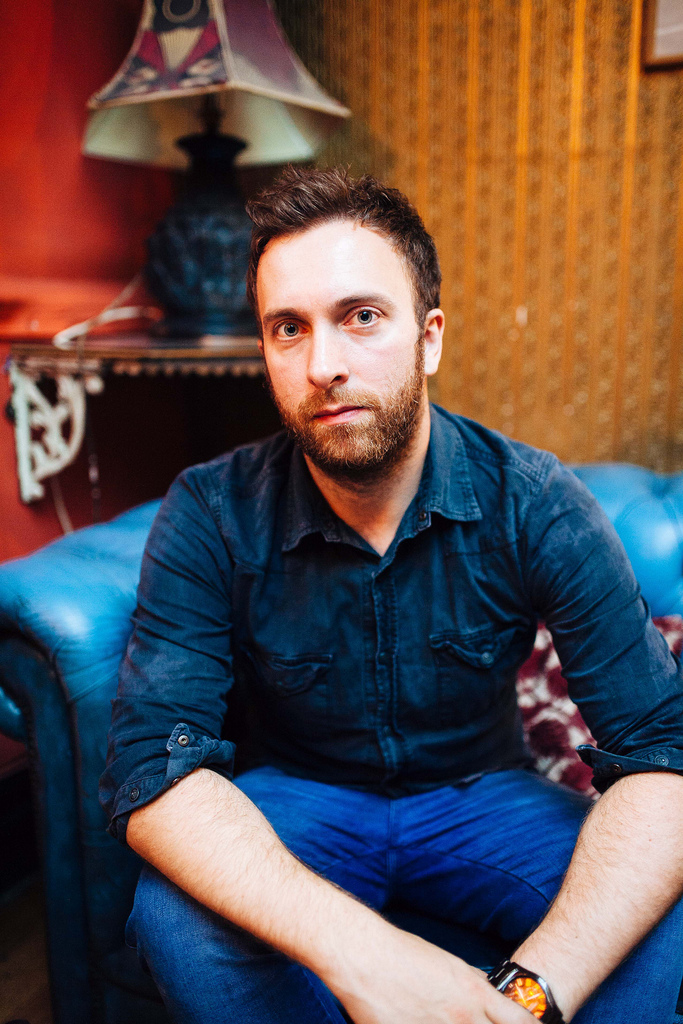 Fringe Magnetic's music is sometimes accused of being rather bleak and emotionally chilly. Is there a raw psychological wound somewhere in the background?
No, it's a question of formative influences rather than personal turmoil. I'm into gothic, macabre art forms; off-centre films, books and music, from the alternative scene. There's no hideous inner struggle. I'm from a middle-class background. I have a cat and fiancée.
Fringe Magnetic's albums are released on the LOOP label, and you've been a core member of the collective. How has that group helped your musical development?
It was a massive period of learning when I was straight out of college. There were lots of other musicians, a great synergy. It's a trite phrase, "cutting your teeth", but it's true. I felt out of my depth at the time, but development came through working with excellent musicians like Ingrid Laubrock, Tom Arthurs, Dave Smith, Robin Fincker. It was a very fruitful period of being roasted. If you can condense all that stuff and feel like your own player, you can eventually fly the nest. Collectives give you support without obligation. It's important not to be reverential to an institution, to have no dues to pay. Even when left I'd left college, there was an expectation. Jazz is becoming institutionalised. It's a commodity. Weirdly, it's easier to sell jazz education to people for £10k than a jazz performance for £10, though there are still loads of people making amazing music.
I have a lot of respect for Jamie Cullum. He's an incredibly talented musician
In addition to the leading your own bands, you still regularly play as a sideman and session musician. What do you get from those experiences?
I've learnt a lot from the variety of music I've played. I've worked with Valerie June, playing Delta Blues, I've played with Cody Chestnutt. It's opened me up to a wide range of influences, from Thirties blues singers to deep house, that I wouldn't otherwise have known about. Being a hired gun really adds something to those experiences, performing, thinking about what I can build into my own music. Spending time with different musicians is a really big part of learning.
You've remained publicly loyal to Jamie Cullum (who played on Fringe Magnetic's second album, Twistic), when many in the jazz world have been gunning for him. Why is that?
I have a lot of respect for Jamie Cullum. He's an incredibly talented musician, and he's been incredibly supportive. His radio show is an advocate for cutting-edge British jazz. I think the antagonism towards Cullum in the jazz world is less intense than it was. Jamie's career is still developing, there'll still be some surprise albums. He's bringing out an amazing jazz album later this year.
Many of your pieces have literary titles, from writers including Charles Bukowski, Douglas Coupland, TS Eliot, Don Delillo, and David Mitchell (the comedian); is there a programme here?
I'm afraid it's purely a title, and the music is purely instrumental. When I'm composing, it's helpful to attach a meaning or sentiment to something, it gives the piece more character and clarity, even if it's only to me. "Only A Poltroon (Despises Pedantry)", for example, the opening track on Clocca, is about a kind of Englishness, but I didn't write a tune inspired by David Mitchell's essay.
There's no hideous inner struggle. I'm from a middle-class background. I have a cat and fiancée
Explore topics
Share this article
Subscribe to theartsdesk.com
Thank you for continuing to read our work on theartsdesk.com. For unlimited access to every article in its entirety, including our archive of more than 10,000 pieces, we're asking for £3.95 per month or £30 per year. We feel it's a very good deal, and hope you do too.
To take an annual subscription now simply click here.
And if you're looking for that extra gift for a friend or family member, why not treat them to a theartsdesk.com gift subscription?