10 Questions for Drive-By Truckers' Mike Cooley |

reviews, news & interviews
10 Questions for Drive-By Truckers' Mike Cooley
10 Questions for Drive-By Truckers' Mike Cooley
The band's songwriter on their 12th album and more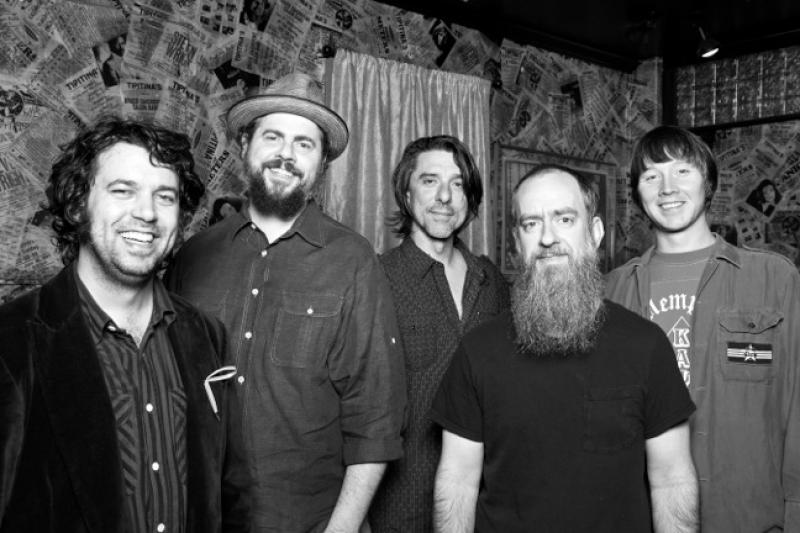 Southern rock operatics: Mike Cooley (centre) and Drive-By Truckers
For almost 20 years, Drive-By Truckers have been one of Americana's most consistent and enduring voices – and, since 2001's breakthrough double album Southern Rock Opera, probably the quintessential southern roots rockers too. Formed in Athens, Georgia in 1996 by Alabama natives Patterson Hood and Mike Cooley, the five piece specialises in catchy melodies with more than a hint of the southern gothic, vivid characters and wickedly witty lyrics.
The band are perhaps best known for a trio of concept albums: Southern Rock Opera, 2003's Decoration Day and The Dirty South, released in 2004. These albums mythologise their homeland, tell tales of murder-suicides and old soldiers, Sam Philips and Lynryd Skynyrd, packaged with the striking, easily-identifiable artwork long-time friend Wes Freed has produced for them since the early days. But every one of their albums, whether billed as a concept or not, features a striking cast of characters and memorable melodies – a constant feature of the songwriting of Hood, Cooley and Jason Isbell, who was an integral part of the band in their fertile middle period.
It's good for the business, to not be so availableBut it's the partnership between Hood and Cooley that has been the band's consistent powerhouse, and English Oceans – their 10th, or 12th if you count the compilations, album together – is a strong collection of songs on which writing duties have been split roughly down the middle. The band took some time off after releasing The Big To-Do (2010) and Go-Go Boots (2011) in quick succession, after a longstanding pattern of an album every couple of years, of solid touring, heavy drinking, a stint as Booker T's backing band and the inter-band tensions which, combined with Isbell's substance abuse problems, led to his departure from the band in 2007. With English Oceans due for release next Monday (3rd March), Cooley and I fought a transatlantic telephone line and our very thick accents to chat inter-band dynamics, songwriting inspiration and just what it is about Americana us damn Brits find so appealing.
His accent is definitely cooler, by the way.
LIS FERLA English Oceans is due out soon. Does the wait between recording and release get any less nerve-wracking 10 albums down the line?
MIKE COOLEY: The only thing I'm worried about is having time to learn how to play it again. All this time goes by in which we're not actually playing these songs live but we're gonna be, so I'll be spending it trying to re-learn all this stuff myself first rather than worrying what anybody else is gonna think about it.
We'll do our annual homecoming shows that we do every year at the 40 Watt Club in Athens, Georgia. Whenever we have a new album we usually tend to debut it there - we'll go out and play the whole thing from start to finish. I'll head into town at the beginning of the week and we'll rehearse for a few days, of course. That's where we'll hammer it all out.
This is probably the biggest gap between albums for you guys, especially following the two you released in quick succession a couple of years ago. Was there a reason for that - did you need a break from each other?
We did; we needed the time in general. We put out a lot of records and the last time around we put out two, back to back. That involved a release, a lot of press, a lot of touring and then another release right behind it and starting the cycle all over again. I'm glad we did it - when we came up with the idea I agreed with it wholeheartedly; I thought it was a good idea and I still do - but I don't think I ever want to do it again. It was pretty tough, and that was coming on the tail of 10 or 11 albums or something, every two years or less. It was time to let all the muscles rest - the creative ones, the physical ones, the emotional ones. And to take the band off of the market for a while too: you know, we'd played a lot of shows during that time. It's good to not have new 'product' and be so visible all the time. It's good for the business, to not be so available [laughs].
As well as that, you got the opportunity to release a solo album last year. How was that, as an experience?
It was taken from three live shows that I played in Georgia that we recorded and picked some of the better performances from. There were a few classics that I had some really good versions of, but that we just didn't get a good enough performance of, or one that I was happy with, that we could put on the album - but overall I'm glad to have put it out. It was different versions of some of the same old songs for the fans to enjoy, and it gave me something to release during this hiatus, so I wasn't completely off the grid.
Is recording a solo album proper something that has ever crossed your mind? Obviously Patterson has done a few of them now - is that something you might be persuaded to do in the future?
I would love to! The thing is, I don't write a lot of songs. I write as many as I can, and most of them - in fact, pretty much all of them - end up being used on Truckers records. If I had the songs, or if I just had some burst of creativity and wrote several songs that probably wouldn't be used on a Truckers record I would love to put 'em out. So it's not the lack of desire - more the lack of material.
That's something very interesting about English Oceans, on which you have six songs - which seems to be a higher batting average than usual! Were you feeling more inspired this time around, or were they songs that you'd had for a while?
It was a few things: I don't know if I was more inspired creatively, but I was really motivated from the lack of creativity. The last go-round I didn't come in with as many new songs as I would have liked, and I was pretty bummed about it - it was still fun to make the records, but I was really discouraged that I wasn't able to write as many songs that I felt strongly about, and I pulled some old ones that we had never had on albums before just to have some stuff on there. So I was really motivated to come up with some stuff - and I kind of found the inspiration in that motivation. And the band was off the road, and I was more able to get my head into the space I need to be in to write and keep it there, in order to get some stuff out of me. So I'm real happy - it's a big relief to be able to go in with that many songs.
The Drive-By Truckers have always had a number of songwriters - primarily yourself and Patterson, but also Jason Isbell for a few years, and Shonna Tucker on the last couple of albums. How does that work as a dynamic? Is there anything collaborative about the process?
We're always written independently - whoever wrote the song just brings it in and plays it for everybody and that's pretty much it, that's about as collaborative as it gets: everybody figures out their own part and throws their own colours into it, and it becomes what it becomes.
I hear that you actually ended up singing on one of Patterson's songs for the first time on this album. How did that come about?
It was weird - we've never done that, and it wasn't something that we even discussed; it really just sorta happened. We were a little drunk, and it was late in the evening! We had recorded all the basic tracks, so pretty much everything that you hear instrument-wise was there. He went back in to re-do the vocal - he'd only done a 'scratch' vocal - and he was singing it fine. I don't really remember specifically what was going on; I know he was frustrated, he wasn't doing something that he wanted to do with it vocally. I was kinda humming it in my head, and I was thinking that it sounded like something I could sing; I think I could probably phrase it or deliver it in the way he seems to want to do it. But I didn't say anything, and then he walks into the control room and he walks up to me and says "do you want to try singing that? It kinda sounds like you."
He has a higher vocal range, so normally I couldn't sing it, it's not even something I could hit with my voice. That one was close enough. It's at the top of my range, but that actually made it work - the effort I'm putting in to hit the notes is actually creating the delivery I think he was not able to get with his voice. And now I have to try to memorise somebody else's lyrics to play it live. I've got a pretty decent idea of what it's about, and I love the song - it's a lot of fun to sing and play - so I'll just have to memorise it like I would anything else. With the stuff I write it's easy, because by the time I'm done with it I've gone over and over it and it's burned into my head. I forget 'em very often, in the middle of shows, and have to just act like my microphone's not working for a few seconds until I remember it. But I'll get it.
Drive-By Truckers make music that, to somebody on this side of the Atlantic at least, sounds like America - maybe less so these days, but certainly back in the Southern Rock Opera era. What do you think makes it translate so well with us over here?
I'm not sure. A lot of our stuff is really directly tied to, not just America, but specifically our culture, and our region - but there's always been that. All of the bands of the 60s from over there were drawing everything from American jazz and blues and soul music, and then they exported it back here by putting their twist on it. I always think about The Kinks - their stuff is way more British than the Beatles or the Rolling Stones; it's a lot more specifically about things that you'd almost have to be there, and part of that culture, to understand. But for some reason, I get it. I don't know specifically what they're talking about, but I relate to it. It's got a great sound and sometimes that's all you need.
It occurred to me again the other day - the song "Sweet Home Alabama" is a worldwide hit, and I don't really know how to explain that because everything in it is very much about Alabama. At one time it was one of the most popular ringtones worldwide - weird.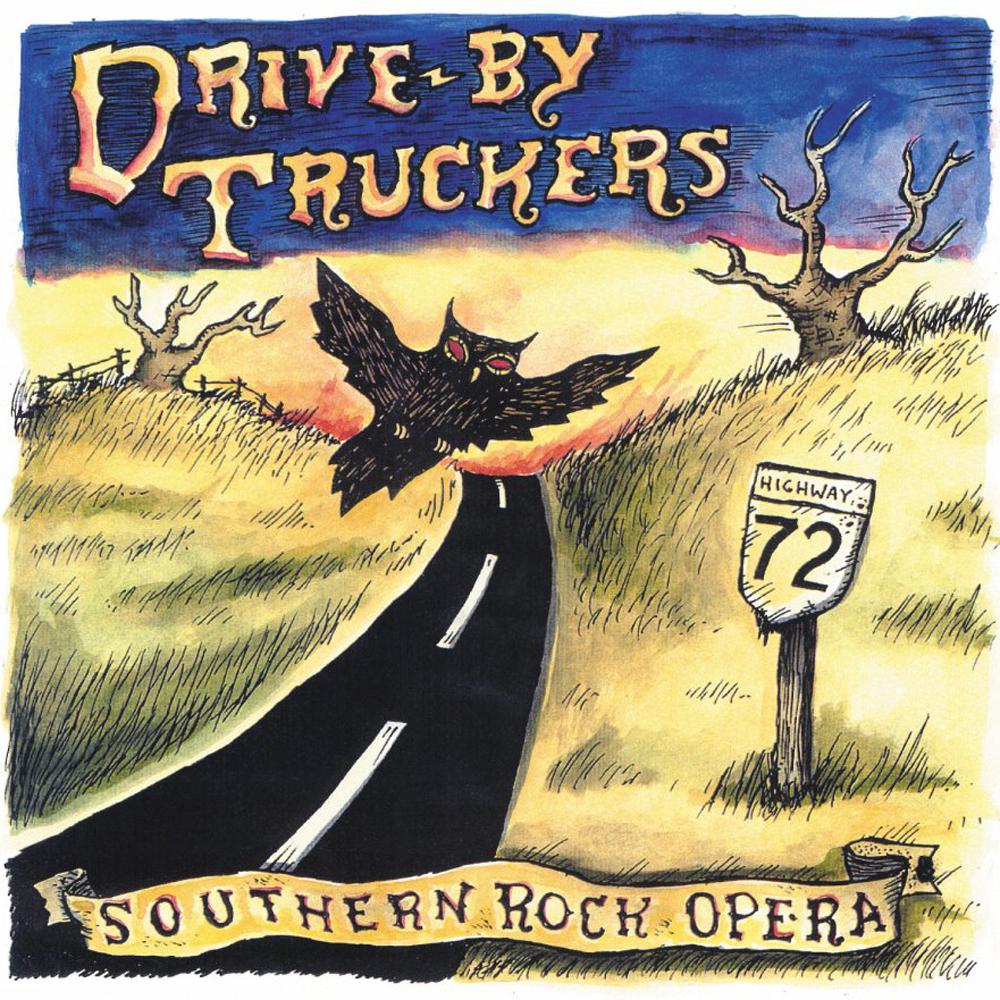 Some of your albums could loosely be described as concept albums about the Deep South, so when I saw the title of this one was English Oceans I wondered for a second if this was going to be your transatlantic concept album! Which, obviously, was completely nuts.
That was taken out of the title of one of my songs, and Patterson just kept coming back to it and saying it was a really great album title. I thought so too: it's simple, it's easy to remember, looks good on a cover, and more often than not that's how you choose an album title, unless it really is a concept from the very beginning and you're doing it wilfully.
That particular phrase had to do with a couple of urban legends that floated around high schools here when I was in junior high that had to do with two English pop stars - and I'm not going to go there. It really has nothing to do with the rest of the album, and it's kind of stupid, but it worked for an album title.
I've always felt like the Truckers have a very visual aesthetic - your cover art always looks consistent and specific to you; you've always pushed for releasing records on vinyl even before this whole hipster vinyl revival. Is this something that's important to the band in the digital era?
The total package was a big deal to us from the very beginning, mostly from missing LPs. The biggest thing, other than the way it sounded, that got lost when CDs became the standard format was the cover, the package. The jewel case and the small booklet with the tiny print - it just seemed somewhat optional at that point, and it kind of became that way. The LP cover was larger, you could do more with the artwork and make it something that the buyer, the listener, could have a visual experience with as well as listening to the music.
Luckily, from the time we formed until now, vinyl actually came back and we could actually make our records on vinyl and use this beautiful artwork. We met Wes Freed really early on and knew, as soon as we saw the stuff that he was doing and the way he looked at things and the way that he heard music, what it seemed to mean to him, that he was perfect. Specifically for the Southern Rock Opera record, but he's done every record since. We send him files of the stuff as we're working on it and he listens to the stuff, and sketches, while we're actually making the record. The chemistry is just there, it's almost like he's part of the band. It never ceases to blow my mind that he can hear the song - sometimes only the song title - and he knows exactly what that song needs to look like.
English Oceans is released on 3 March. Drive-By Truckers play shows in Glasgow, Manchester and London in May
Overleaf: watch Drive-By Truckers on video
It was time to let all the muscles rest - the creative ones, the physical ones, the emotional ones
Explore topics
Share this article