Fallout 4 |

reviews, news & interviews
Fallout 4
Fallout 4
The end of the world has never looked so appealing. Plus Need for Speed, Shooty Skies and Starific
Thursday, 12 November 2015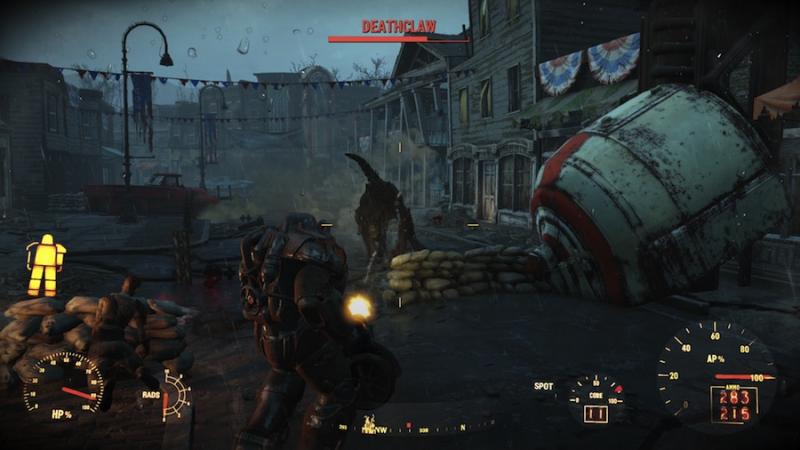 Fallout 4: big, bold and beautiful
Take one part Mad Max, mix with two parts Borderlands 2, add an extra mature story that spans 200 years, sprinkle generously with interesting characters, side quests and more collectible items than you could jiggle a digital cocktail shaker at, pour over a gigantic post apocalyptic landscape and serve. Raise a toast to Fallout 4, the perfect tonic for long winter nights.
We're in the world of free roaming adventure, nuclear aftermath, item crafting, character development, visceral combat, resource management and, erm, pets. The Commonwealth world is vast, the story worthy of big screen treatment, filled with constant surprises, engaging quests and an overall feeling that anything is possible in this uniquely "futuristic '50s" stylised world.
Fans of the long-running franchise (this is the first Fallout title since 2008) will note great improvements in graphics, dialogue and most notably, gunplay. This is a role-playing game at heart, but now it's a role-playing game with a meaty, beautifully detailed shooting system. Quality and quantity in equal measure and a no-brainer contender for Game of the Year. Steve O'Rourke
Fallout 4 (Bethesda Softwork, developed by Bethesda Game Studios) is out now on PS4, Xbox One and PC

Need for Speed ★★★
In a cluttered grid of pedal-to-the-metal racing games, the Need for Speed series has done a fine job of reinventing itself over its 20 year history and keeping up with the leading pack, if no longer having the technical muscle to wrestle the likes of Forza from pole position.
This latest instalment follows the well-worn path of the reboot, stripping the game back to the fundamentals and focusing on the stars of the show, the four wheeled souped-up chariots that can be customised down to the smallest detail. Everything about the car, how it looks and how it drives, is excellent. You'll feel the nuances in handling and appreciate the engine muscle as you whizz along at white-knuckle speeds.
But step away from the steering wheel and the shine fades quickly. The Ventura Bay town, where you permanently race at night, is small and bland, the missions lack variety and the need to have a constant online connection (to race with other players cruising around the same gameworld) is an unnecessary racing restriction. All car, no context. Petrol-head puritans will be the ones to get the most from this one-dimensional drive. Steve O'Rourke
Need for Speed (EA, developed by Ghost Games) is out now on Xbox One and PS4

Shooty Skies ★★★
Crossy Road managed to take road-crossing arcade hit, Frogger, and turn it into a fast-paced, free-to-play "endless hopper". With Shooty Skies, the same developers are trying to repeat that formula. This time, the template is the vertical arcade shooter like Raiden or 1942 but the same cartoonish aesthetic and Pavlovian "gift" unlocking have been applied.
Your intrepid pilot must blast a path through wave after wave of ridiculous enemies (bats, boom boxes, sentient arcade cabinets) before taking out bosses with unique attacks. You shoot every time you touch the screen and can charge your weapon up by simply removing your finger before tapping again to fire a more powerful shot. The mechanics are simple but this is frantic and silly fun that has been cleverly balanced to keep you coming back for more. There are 33 characters to unlock or buy with in-app purchases and each offers a new backdrop for you to fly over. Stuart Houghton
Starific ★★★★
This game looks and plays like one of eight-bit genius Jeff Minter's more demented 1980s action games. Abstract, fast-moving and brutally hard but also strangely peaceful and inviting, Starific is a cross between Pong, Breakout and a sort of psychedelic keepy-uppy. You move a wide paddle around the edge of a hexagonal arena, batting balls of energy back into the centre to keep them in play as long as possible. As you do so you will hit tiles and powerups that shoot out extra balls, sending energy spinning off in new directions and generally cause pixel-spattered chaos. Bite-sized, fast and with a brilliant soundtrack, this is one to play with your headphones cranked up to 11. Stuart Houghton
Starific (Beveled Edge) is out now on iOS/Android
Read other gaming reviews on theartsdesk