The World's End |

reviews, news & interviews
The World's End
The World's End
After 'Shaun of the Dead' and 'Hot Fuzz', Simon Pegg and Edgar Wright take on robots in the Home Counties
Five go pub crawling: 'The World's End'
Just three Cornettos: the trilogy accidentally named after an ice cream concludes here. Previously in the imaginations of actor Simon Pegg and director Edgar Wright, London has been invaded by zombies and a quiet English village by organised crime. In The World's End, it's the turn of a faceless Home Counties feeder town to fall under the influence of yet another B movie sub-genre.
In this case the local population is replaced by robots (although what precisely constitutes a robot is one of the film's fun running gags).
Is there just a hint of weariness as Pegg, Wright and faithful lumpen co-star Nick Frost come back to the well for another bout of scholarly spoofing? The script – with a bit of help from the make-up department - certainly trades on the reality that Pegg is no longer a spring chicken. A whizzy pre-credit montage finds his character Gary King reminiscing Clarksonesquely about an epic pub crawl undertaken by him and his school mates on the day they left school. The camera pulls back to reveal that he is addressing what looks very much like an AA meeting. But Gary, whose life ever since has failed to match that magnificent quest, hasn't fully ingested the tenets of the 12-step programme. Twenty years on, his plan is to reunite the famous five and have another go at the so-called Golden Mile, a 12-stop pub crawl terminating at a hostelry which gives the film its title.
As is the way, the others have all moved on: Peter (Eddie Marsan), Steve (Paddy Considine) and Oliver (Martin Freeman) are all now squares in sensible jobs and grown-up marriages while, after a car accident caused by Gary, Frost's character Andrew has gone so far as to renounce the sauce altogether. By trickery and deception they are all somehow recruited and glumly show up in Newton Haven to be met by Gary, a raddled, unkempt wreck in a black leather coat (Pegg pictured below).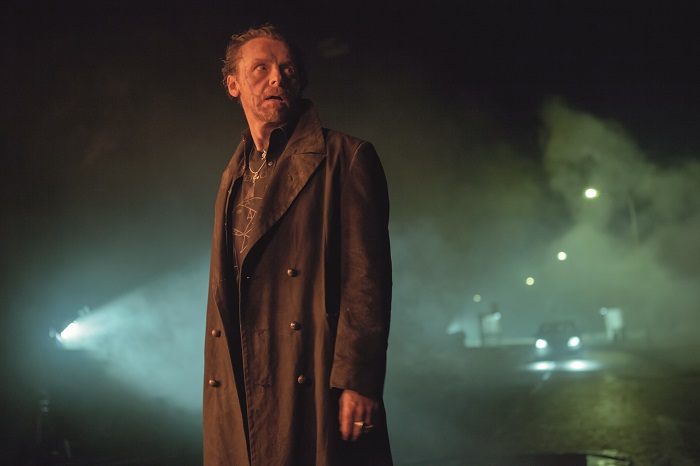 As they gingerly embark on the crawl, they note that the inhabitants have a numb look of glacial nullity about them. This can easily be attributed to life banged up in a faceless town where, for all their exotic names (The Famous Cock, The Two-Headed Dog), the pubs now all look the same (yielding a good visual gag). But when Gary and Andrew get caught up in a pub brawl it turns out the locals have been replaced by some of sort of replicant, the type that spills blue blood when split open by a heavy implement. An alien corporation, it duly emerges, has moved in, and the five are soon targets for takeover.
The first half of the film is as funny as anything Pegg and Wright have achieved. The gags – mostly arising from Gary's campaign to hang on to the elixir of youth - flow bountifully. Frost in due course comes into play as Andrew sheds his inhibitions and turns into a have-a-go hero. The actors are well up for it, including Rosamund Pyke fluttering tokenistically about the fringes. Various star cameos large and small add to the fun, and as the pub crawl continues the robot siege allows for ever more crowded setpiece thwack-offs, all staged by Wright with high-octane precision.
But like any pub crawl, The World's End cannot help losing a bit of definition as it proceeds, and it becomes increasingly difficult to get up for yet another Pegg/Wright bout of David vs Goliath, especially when the sci-fi really kicks in at the last eponymous watering hole. If there's a problem it's that Gary King is and remains such a twat, and his quest to resolve the conundrum of why youth fades and the fun stops is a fizzling non-starter. Up until then hilarity abounds, but after this trilogy of Boys' Own capers it could be time for this triumvirate to put away childish things.
Watch the trailer to The World's End