Won't Back Down |

reviews, news & interviews
Won't Back Down
Won't Back Down
Education-themed film wastes two terrific actresses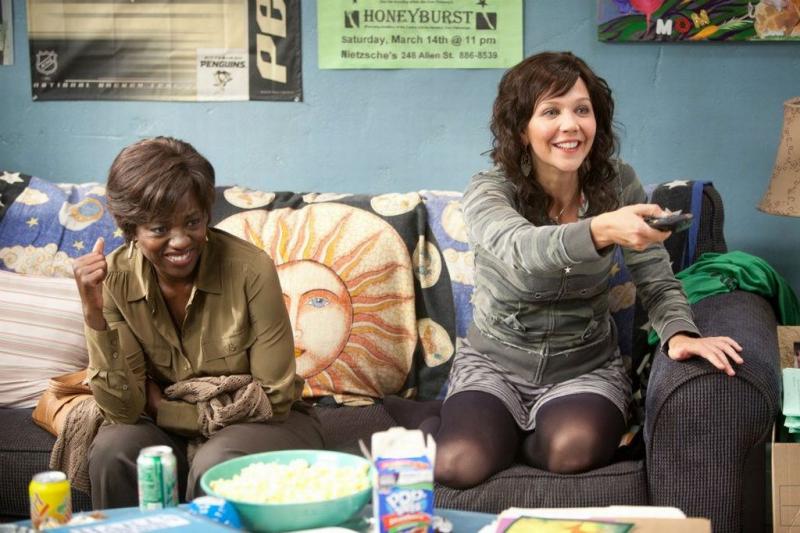 Two great actresses (Viola Davis and Maggie Gyllenhaal) in a grimly pedestrian film
As proof that the American cinema for the most part exists to waste its actresses, along comes Won't Back Down. A peculiarly reactionary piece of tosh, it masquerades as a crusading film in the spirit of Norma Rae, the Sally Field Oscar-winner from decades ago that in fact is snarkily referenced in passing.
The story of two determined mums who take on the Pittsburgh school system and (guess what?) win, Daniel Barnz's film exudes the breathless if misplaced confidence of a pre-schooler who hasn't yet learned anything of the realities of life and thinks that all experience can be reduced to a single word like "hope".
That monosyllable is in fact the final word spoken in a film whose two-hour running time owes what interest it sustains to two truly wonderful talents in the central roles. Indeed, watching Viola Davis and Maggie Gyllenhaal spark off each other, one begins imagining other material - plays, especially - to which their contrapuntal skills might be well-suited. Is there a producer in the house? I ask, since one clearly went missing from the charade on view here.
This might seem a mean, or un-American, response to a narrative whose every frame celebrates individual pluck and these two ladies' refusal to be ground down by a gathering bureaucracy rendered all the more noxious by the collective awareness that it exists. On that front, UK actress Marianne Jean-Baptiste (pictured above right with Davis) gets extensive mileage out of a vivid supporting role as a board of education heavy who knows just how lumbering the state apparatus has become; her Kafka joke is the film's single best line.
But as it is, one gives thanks for a cast that at least delays growing suspicions about a film that seems to regard academic tenure as wrong and unions as inherently base. This unexpectedly makes Barnz and Brin Hill's screenplay in fact the converse of Norma Rae. In context, it's probably a blessing that no one starts discussing Obamacare or the vexed issue of state benefits - a topic on which hard-scrabbling single mum Gyllenhaal, who would walk across coals for her dyslexic seven-year-old daughter, would presumably be mighty talkative. Is it mere coincidence that her daughter (Emily Alyn Lind, pictured below with Gyllenhaal) has the same first name as the Obamas' eldest child?
The story is apparently based on actual events, though what and where and involving whom are not made known. In any case, Gyllenhaal plays a hip-swiveling, fast-talking bartender who finds an ally and friend in the ground-down teacher played by Davis, whose only son is seen to be suffering from the marital split that unfolds early on in the film. Keen to improve the situation at a Pittsburgh public school marked out by indifference, complacency, and worse. the pair set about to change the system. Variations on American free will are cited at various intervals to explain the disregard for unions that this transformative duo evidently hold dear. Quite how their brave new world of education is ever going to be protected apparently never entered anyone's vigorously upbeat mind.
Luckily, both stars rip into the glibly conceived material with commitment and gusto, while a starry supporting cast including Rosie Perez, Holly Hunter, and a genuinely charming Oscar Isaac perform with a passion that goes above and beyond the call of duty. Their divergent personalities clear from the way each woman walks - Gyllenhall's springy step contrasted with Davis's baleful gait - the leads almost make you believe that this is a genuinely engaged "issue movie" of the sort associated with the late Sidney Lumet, not just a suspect celluloid placard. "Hope" may be the filmmakers' word of choice, but I can think of a different four-letter one that would work just as well.
Watch the trailer for Won't Back Down