Venus in Fur |

reviews, news & interviews
Venus in Fur
Venus in Fur
Roman Polanski mines a recent Broadway hit with mixed results
Last tango in Paris? Mathieu Amalric and Emmanuelle Seigner in `Venus in Fur'
For an artist who famously can't travel to America, Roman Polanski would appear to have an unstoppable passion for filming small-cast Broadway hits. On the back of Death and the Maiden and Carnage, both of which diminished their stage sources, along comes Venus in Fur, adapted from the David Ives play that had no fewer than three separate New York runs, making a star of its husky-voiced young leading lady, Nina Arianda, who won a 2012 Tony for her work.
And in that same role as an actress who gives her director considerably more than he bargained for, Emmanuelle Seigner (aka Mrs Polanski) triumphs on screen, which means that once again this piece's distaff player manages to silence multiple quibbles in her tracks. From a performer's perspective, one can see why women would tear into this assignment with unbridled glee. Who wouldn't want to inhabit a part that allows you to come on like gangbusters, beginning as a willing if essentially powerless thesp who ends up dominating in every sense of the word? (I'm sure many actresses - and not a few actors, too - have secretly yearned to bring their directors to heel, though perhaps not with the assist of the studded dog collar deployed here.)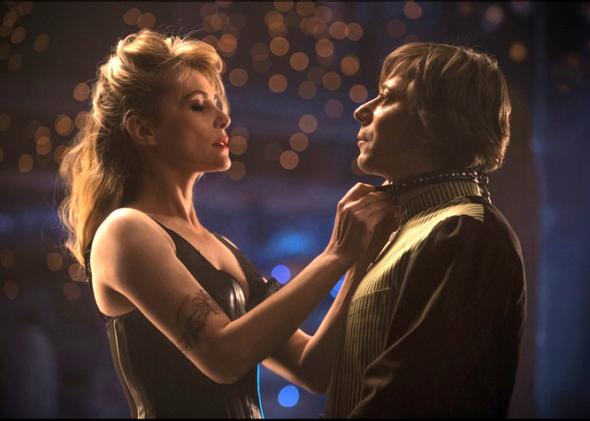 Ives's play took place in an audition room, but Polanski ups the theatrical stakes by swooping in at the start upon the weathered Parisian theatre where the action then unfolds in its entirety - well, up until a final sequence in which the camera pulls away from the playhouse rather as if encouraging the production design itself to take a bow. Into this deliberately confined environment walks Vanda (Seigner), an unscheduled arrival who has come to audition for a play based on the 19th-century Austrian novella Venus in Furs. The central woman in the S&M-themed script is also called Vanda, and how fortuitous is that?
Vanda steamrolls her way past the objections of her playwright-director, Thomas (Mathieu Amalric), who is soon taken aback to discover that this stranger in his midst would seem to have the entire script down pat. What ensues is a psychosexual cat-and-mouse of the sort Polanski has favoured throughout his career, the director in interviews pointing to affinities between this film and the power plays that marked out Knife in the Water, his 1962 Polish-language debut.
By displacing proceedings to Europe, the celluloid Venus in Fur, co-written by Polanski and Ives, points up the material's inherent affinities to Strindberg and, especially, Genet, which helps lift the sense - very much felt on Broadway - that the play risked devolving into a Fifty Shades of Grey-type experience for the blue-rinse brigade. And the movie has the added frisson that comes from a game Amalric's overt physical resemblance to a jeune Polanski, prompting the notion that this project is perhaps best interpreted as an encoded riff on the veteran filmmaker's esteemed but also turbulent life and art.
Such ancillary associations aside, the piece essentially stands or falls on its ability to sustain interest in a shared (and, in my view, overextended) game between two players that over time becomes no laughing matter, notwithstanding a phallic cactus that is required to serve rather too campily overt a purpose. And for all that six-time Oscar nominee Alexandre Desplat's score attempts to whip up a veritable tempest of emotion, it's hard not to tire after a while of a prolonged jeu d'esprit that is neither as erotic nor as disturbing as it thinks it is. On the other hand, were I a casting agent, I would put Seigner in a production of Miss Julie or The Maids right now.
Overleaf: watch the trailer for Venus in Fur