The Tourist |

reviews, news & interviews
The Tourist
The Tourist
A German auteur mucks about in Venice with mismatched Depp and Jolie
Thursday, 09 December 2010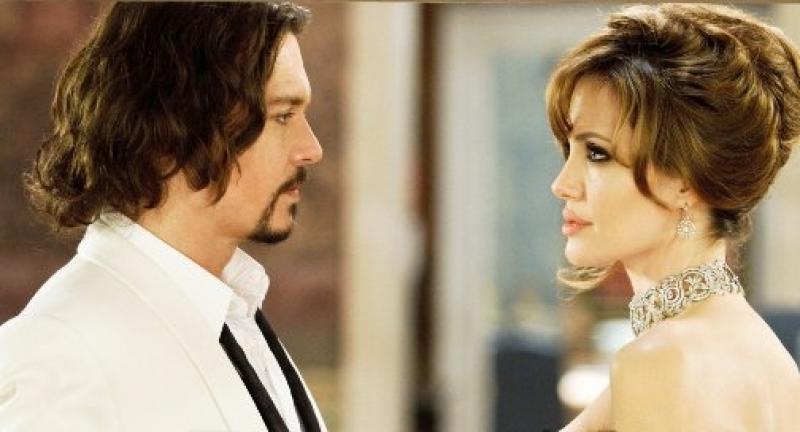 Do I know you? Johnny Depp and Angelina Jolie hook up in 'The Tourist'
One would like to think a great deal of thought goes into which leading man pairs up with which leading lady in a big-budget Hollywood product. Yet the practicalities of Hollywood movie-making – scheduling, financing, availability and so on – mean it's far more likely you cast whoever you can get, and afford, and hope for the best.
One can only assume it was random happenstance which saw Johnny Depp combined with Angelina Jolie in
The Tourist
, there being little else to connect them beyond their status as slightly left-of-centre box-office draws.
He, after all, is Mr Eccentric – a bag of quirks, tics and mannerisms who, before he was granted the role of a lifetime in the Pirates of the Caribbean series, seemed content to accept any project that would fly in the face of his earlier, resented status as an adolescent TV heart-throb. Jolie, in contrast, represents such an exaggerated caricature of feminine allure she is impossible to take seriously in any film that does not use her as an Amazonian super-hero or exotic temptress. Engage her in one where she has to be ordinary – Robert De Niro's The Good Shepherd, for example, or Clint Eastwood's The Changeling – and she is all at sea, those voluptuous lips, Kewpie-doll eyes and curvy buttocks (pictured below) working against her facsimile of normality at every contradictory turn.
The odd thing about their new venture – bizarrely directed by German auteur Florian Henckel von Donnersmarck, who also co-wrote the script with assistance from Julian Fellowes of Downton Abbey fame and Christopher The Usual Suspects McQuarrie – is how little it makes of its stars' outlandish personas. Instead it shackles them to the kind of dreary espionage caper the great Alfred Hitchcock ended up making towards the end of his career (think Topaz and Torn Curtain) in the hope that their mere presence will justify its sorry existence.

Von Donnersmarck lays his cards on the table early on by overtly referencing North by Northwest in his movie's first act, a faithful homage set on a train to Venice that comes with a redo of that classic's wonderfully Freudian closing shot of a thrusting locomotive plunging into a tunnel. It's on said choo-choo that Jolie – as the English-accented lover of a fugitive thief pursued by authorities and villains alike for making off with millions of Mafia Euros – meets Johnny, here a mild-mannered milquetoast who gets drawn into her dangerous orbit after he is mistaken (yes, another Hitchcock trope) for her wanted partner in crime.

Once in Italy, things quickly go south as first Depp and then Jolie fall foul of Steven Berkoff's mincing villain and Paul Bettany's exasperated Scotland Yard detective. A tonal awkwardness prevails throughout, Von Donnersmarck – best known, of course, for his joyless Stasi period piece The Lives of Others – appearing unsure exactly how seriously to take a story that at one point sees Depp tripping across the rooftops like a latter-day Casanova in a pair of striped jim-jams, and another has Berkoff threatening to slice Jolie's face open with a stiletto.

If the director intended us to recoil we do, though not for the reasons he might hope. But then any reaction, good or bad, must surely be a positive in an enterprise that is more likely to leave its audience in a bemused, apathetic stupor.
Watch the trailer for The Tourist