Taxi Tehran |

reviews, news & interviews
Taxi Tehran
Taxi Tehran
Wit wins over repression in 'banned' director Janaf Panahi's Tehran peregrinations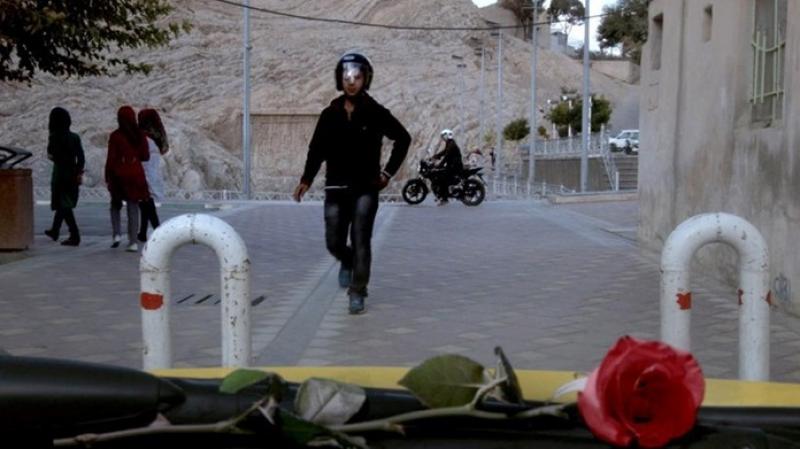 End of the road? Janaf Panahi finds a way around restrictions in 'Taxi Tehran'
Taxi Tehran is Iranian director Jafar Panahi's third film since the 2010 prohibition that, among other restrictions, forbade him from working in cinema for 20 years. While its very existence may count as an achievement in itself, much more importantly it's also a lovingly cheeky riposte to those who have restricted his freedom of thought (and movement), as well as a reflection on narrative and how it is created.
First there was This Is Not a Film from 2011, in which the director's house arrest was reflected in the enclosed internal space of his home-filming. There was at least a change of location in Closed Curtain, from two years later, but still a sense of threatening claustrophobia. That house arrest must have been lifted by now, since his new film, which won the Golden Bear at this year's Berlinale, has Panahi exploring Tehran, its people and its stories, in the vehicle of the title, with the director himself behind the wheel (pictured below).
Like an extended riff on the cabbie's proverbial "You'll never guess who I had in the back of my cab," we're introduced to a series of characters who present different facets of life in contemporary Iran. It's a shared-taxi society, in which you just flag one down and join whoever's already inside to help you to get closer to your final destination: the film's opening passengers are a mouthy low-lifer who gets into an argument with a modest, black-clad female schoolteacher over capital punishment.
The dashboard camera from which this is being filmed has been checked in this first encounter, which makes us ponder artifice, a feeling duly enhanced when the third passenger to get in, a bootleg purveyor of pirate DVDs called Omid, recognises Panahi – he's delivered films to the director's house in the past, Nuri Bilge Ceylan and Woody Allen included. A canny observer, Omid questions whether the scene he's just witnessed was in fact acted out, rather than being, as we have suspected until now, purely observational. It's a very nicely balanced readjustment of the "wall" that exists between creator and viewer – from then on we know that, for all its spontaneity, these are staged stories rather than documentary.
It's an almost ideal set-up: the space of the vehicle may be literally more confined even than that of This Is Not a Film, but the outside world floods in as Panahi takes us on a picaresque journey (there's surely an element of symbolic tribute to one of the director's mentors, Abbas Kiarostami, and the latter's own taxi film, 10). "Call yourself a cabbie?" is the imprecation thrown at him early on for his ignorance of how to reach requested destinations, but Panahi the director is very much in control, and such limitations bring, perversely, degrees of expanded freedom. (We can only guess how Taxi Tehran itself came to overcome the real-life restrictions of the director's position – how he and his actors escaped surveillance during filming, and how the final edit was extracted from Iran. The final episode (main picture) touches ingeniously on that very question: the very fact that we are viewing the film is like a final snook cocked at the authorities.)
There's certainly no restriction on the level of drama here, as when Pahahi is flagged down to take a road accident victim to hospital (taxis being used for far more diverse purposes than usual in this society). But the priority for the injured man is unusual, to dictate a will that will allow his younger wife, who's accompanying him, to inherit over his brothers, with Omid the film pirate stepping in to record that testimony on his phone. Much of the later action has Panahi's niece, a nine-year-old of considerable character (pictured below), working on her own school film project – she's shooting hand-held, however – which involves discussion of the rules she's been set by her teacher, including the avoidance of "sordid realism", and the implications of making a film that's "undistributable". Who better to ponder that with than her uncle, who's in exactly that position? Most importantly, Panahi avoids any consciously "meta" cleverness here: these elements come together with real wit, skirting around serious issues with a wonderful sense of fun.
There are more intriguing stops on the journey. The diminutive black-marketeer is delivering a new batch of movies to a customer, who's himself a film student and asks Panahi not only for title recommendations but also for tips about future subject matter. By this stage Omid has started referring to Panahi as his "partner", which causes a raised eyebrow – but in a real sense they are: without such under-the-table collaborations, neither Panahi's films, nor the other foreign ones banned in Iran, would reach viewers.
If the film student had been complaining that he couldn't find a subject, Panahi literally can't escape them. There's a surreally funny, if fraught scene involving two old ladies and a goldfish (pictured above). It's a loose allusion to one of his earlier films, put in to remind us surely that it's the kind of story to which Panahi might (will) return when he regains his creative freedom. Later he meets an old acquaintance who has been mugged, that attack caught by surveillance cameras: the victim has recognised those who assaulted him too, but has decided not to turn them in to the authorities. He wonders if Panahi can "use" the story: the latter declines, but it's a symbol of how a creative figure absorbs material from his world, in just the same way that his niece is following (read, creating) her own story from the windows of the car.
The final paradox comes in the film's closing credits – or rather, in their absence. Only Panahi's name appears, to his stated regret, given that the Ministry of Islamic Guidance only approves credits for "distributable" films. The irony is that Taxi Tehran has become that after all, despite all the official efforts no doubt taken to prevent that happening. No less remarkable is how Panahi, forced into a position in which he might have been limited to thinking only about himself (there was indeed a heightened sense of introspection in Closed Curtain), has created a work that is so light, and about practically everything except himself.
Overleaf: watch the trailer for Taxi Tehran