Sundance London 2014: Obvious Child |

reviews, news & interviews
Sundance London 2014: Obvious Child
Sundance London 2014: Obvious Child
Gillian Robespierre's debut offers a fresh, funny perspective on the trials of life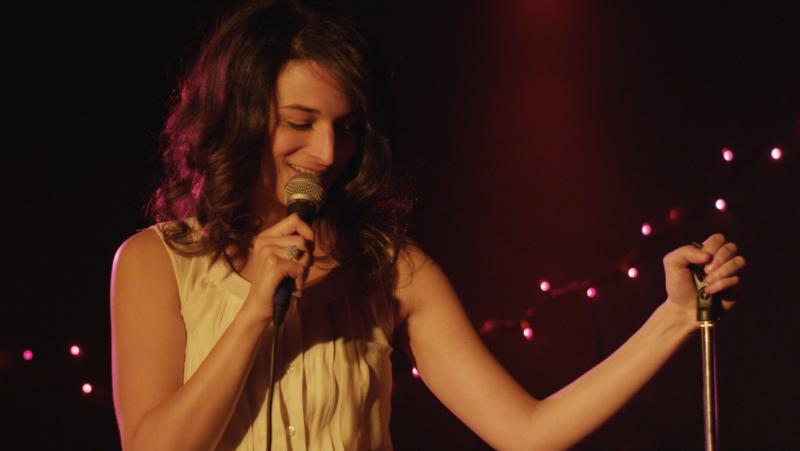 Mining for laughs: Jenny Slate in 'Obvious Child'
Debut writer-director Gillian Robespierre strikes the perfect balance between humour and humanism in this New York set comedy about unplanned pregnancy and abortion which sees stand-up comedian Donna Stern (Jenny Slate) get dumped and fired from her job at Unoppressive Non-Imperialist Bargain Books in quick succession.
At her lowest ebb she engages in a drunken one night stand with Max (Jake Lacey), a guy she meets in a Brooklyn bar, and we get to witness how she deals with the consequences of her actions whilst also trying to get to grips with the world around her.
Donna's comedy act is all about honesty and she begins with a skit about women's bodies – from farting to cream-cheese knickers, she's unabashed in her approach. The same can be said for Robespierre in her smart and often moving deliberations on abortion. Donna's best friend Nellie (Gaby Hoffmann proving she can take on a straight role just as easily as the free-spirited characters we've seen her play recently in Crystal Fairy and Lena Dunham's Girls) voices the frustration of many with a diatribe about the female body being governed by old men, whilst Donna is thankful she has a legal option unlike her mother in the 1960s. Robespierre incisively captures the myriad of emotions surrounding this serious subject through her sharp comic lens.
There are hints of the wonderful Nicole Holofcener in Robespierre's ability to get under the skin when it comes to the intricacies of relationships and in the superbly written friendship between Donna and the supportive Nellie. And Obvious Child also features one of the funniest and most awkward answer-machine monologues since Jon Favreau's Swingers.
The realisation of how important it is to have ownership of both body and mind and to be able to speak freely about taboo subjects without fear is key to Donna's growth and Robespierre is reaching out to other women about the value of sharing our experiences in this weighty and hilarious comedy.
Gaby Hoffmann proves she can take on a straight role just as easily as the free-spirited characters we've seen her play recently
rating
Explore topics
Share this article