Promised Land |

reviews, news & interviews
Promised Land
Promised Land
Matt Damon stars in what could be the year's most underrated film
Matt Damon as Steve Butler, all-American energy salesman, in 'Promised Land'
Promised Land is much better than its poster suggests.
Winning Special Mention at its premiere at this year's Berlinale, this message movie takes on some extremely sensitive topics with a gentle determination and a relatively unblinking eye: the demise of the independent farmer, waning economics and the controversial concept of fracking – drilling deep into shale to inject high pressure fluid to free natural gas within the rock – that slots very nicely into desperate rural areas that are flailing (and failing) to survive.
For anyone who feels even mildly passionate about the environment, or for anyone who knows a small farmer, Promised Land could be required viewing. It is sympathetic to a difficult situation, giving a nod to those who are suffering and struggling to keep a livelihood in the countryside.
Each piece of the puzzle gets its own effective character
On a filmic front, Promised Land promised to be Matt Damon's directorial debut. But, as one does, the actor was too busy being Bourne again (and, apparently, also put off by some creative differences) to give it his undivided attention. Damon turned to Good Will Hunting director Gus Van Sant to bring this nifty little environmental drama home to roost.
Noticeably, the casting is flawless. Damon plays Steve Butler, the son of a dairy man who feels that fracking can be the answer for the cash-strapped farmer. Visiting various households, he and his partner, Sue Thomason (Frances McDormand), make offers on behalf of their corporate employer to buy the land under certain farms. As a friendly new face, Steve reassures the locals that he is, in fact, just like them and that the money fracking promises can, say, send a child to a good school. Frank Yates (Hal Holbrook) is one farmer who is less than convinced. Cue the appearance of smart-mouthed, smooth-talking environmentalist Dustin (John Krasinski, pictured below with Damon) who not only pees in the pool of Steve and Sue's buying plans but also nabs the attractive female teacher that Steve had marked out as his own. The plot develops into a nail-biter: which side the community will follow and, separately, who is telling the truth?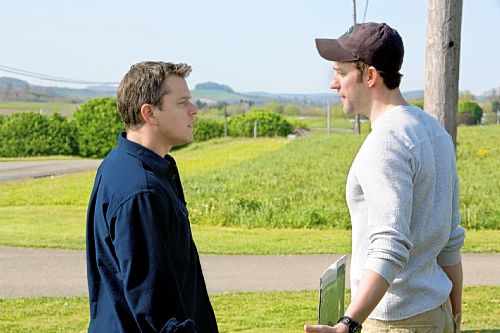 With strong performances in supporting roles too – including Lost's Man In Black Titus Welliver as the strangely alluring gun shop/grocery store owner Rob (who could, with McDormand, have a spin-off movie all their own) – each piece of the puzzle gets its own effective character: the desperate not-too-bright farmer who splurges on a sportscar before the deal is done, the secret scientist, the sneaky politician and the head of a hopeful young nuclear family.
Based on a story by David Eggers, this is not the only film about fracking: a documentary in 2010 – Gasland – touched upon this emotional subject already. Even if fracking isn't happening on your land, it is happening on land that will affect our food, water and overall eco-system – and for that kudos go to Krasinski and Damon for co-writing and co-producing a difficult but necessary drama.
Interestingly, even though the film was partially financed by a fund in Abu Dhabi (are there oil interests even here?), Van Sant's take is almost too subtle. Promised Land is, in some ways, as predictable as all environmental films must be. With a tiny budget of $15m, Van Sant's stealthy camera gets under the skin of small town/farmland life and brings us uncomfortably close to the community panic. Punches are telegraphed and played out in metaphorical slow motion, with environmentalist Dustin showing schoolchildren in fiery detail the eternal harm fracking does to the lovely grassy land and all the cows on it. As an environmental movie, Promised Land is a must-see. As entertainment, its third act flattens, leaving us stranded with the same problem we had when we started, now only messier. Ultimately, Promised Land doesn't offer any real answers to these difficult problems, but it shows us shining moments of genuine hope.
Watch the trailer for Promised Land