Pirates of the Caribbean - On Stranger Tides |

reviews, news & interviews
Pirates of the Caribbean - On Stranger Tides
Pirates of the Caribbean - On Stranger Tides
The least. May it also be the last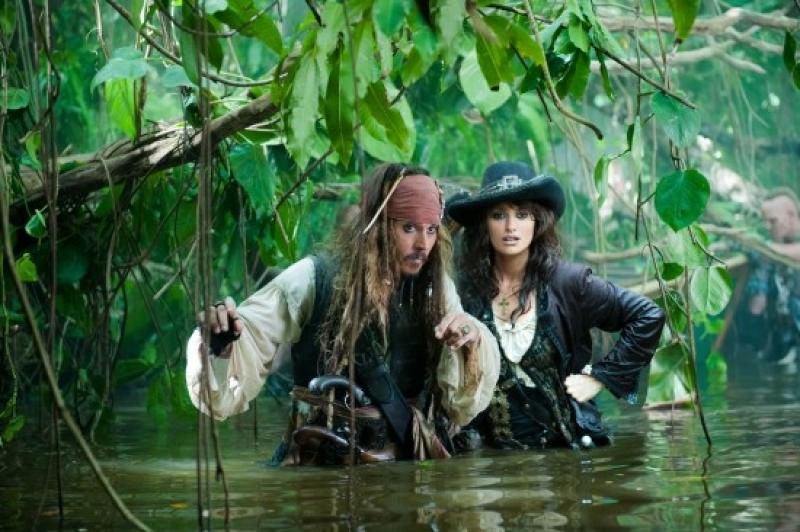 Overgrowth: Johnny Depp and Penélope Cruz wade through 'On Stranger Tides'
Once more unto the beach, dear friends. Pirates of the Caribbean is back for a fourth raid of the world's wallet. This time it's in 3D. As in Dumb, Dumberer and Depp. Film scholars may also wish to note that Pirates 4 was actually shot 6000 miles away in Hawaii. Among those places closer to Barbados are Zimbabwe, Syria, Greenland and Antarctica.
If one weren't slightly wise by now to the jaw-dropping cynicism of Tinseltown's service providers, the film which calls itself On Stranger Tides would take the breath away. The latest instalment comes courtesy of the following rationale from Jerry Bruckheimer: "When three films together bring in $2.6 billion dollars worldwide [sic: they made so many greenbacks they named them twice] you understand pretty quickly that a message is being sent to you by audiences."
This is the sequel of the threequel of the adaptation of the theme park ride
Not that quickly in fact. It's been four years since At World's End got globally raspberried but made a bucket of wad anyway. Disney and Bruckheimer have presumably spent the intervening period combing the seven seas for a better script than the one they dug up from under a rock last time. Turns out they never found it so, much as happens in the opening scene, they fished a corpse out of the water and shot that instead.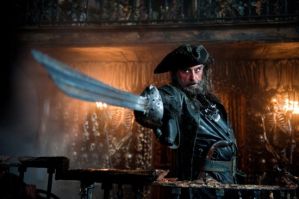 The plot, such as it is (and it really isn't), involves the hunt for the ... hold on, let me consult my notes as I've goldfished... oh yes, the hunt for the fountain of youth. Various parties are interested in finding it. Parties such as the Spanish king, the English king (Richard Griffiths sending in a performance by SMS), the one-legged Barbossa (Geoffrey Rush, oo-aarghing on autopilot) and Captain Blackbeard, played by Ian McShane (pictured above).
And then there is Cap'n Jack Sparrow and a fiery swashbuckling privateer called Angelica, played by Penélope Cruz (NB they've junked the comely plywood cutouts played by Keira Knightley and Orlando Bloom). Apparently Sparrow jilted Angelica in a previous episode for some reason not captured in glorious Technicolor, thus requiring much grindingly tedious backstory. Indeed, pretty much every passage of dialogue could have usefully felt the butcher's blade. Scriptwriters Ted Elliott and Terry Rossio cooked up On Stranger Tides, it says here, "with the assistance of the much-admired novel of the same title by Tim Powers, from which suggestions for the story arose". Make what you will of such casuistical window dressing. In the end, this is the sequel of the threequel of the adaptation of the theme park ride.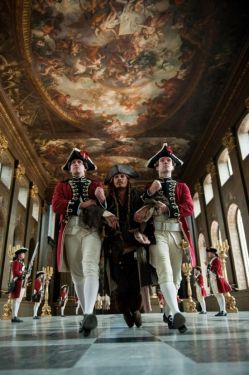 Anyway, a curtain-raising chase sequence set partly in Georgian London (pictured left) and partly in bluescreenopolis features among other bafflements a pair of bite-sized cameos from Dame Judi Dench and Sir Keith Richards. Whereupon various ships set sail for the aforementioned elixir planted somewhere deep in a polystyrene cave on a chimerical studio lot. Cue much galleon porn, replete with swooping shots of billowing sails on the briny main along with that terribly repetitive soundtrack they've been pumping out since the first movie (guys, know any other tunes?).
You do wonder why director Rob Marshall bothered to shoot all this stuff again what with the stock footage his predecessor Gore Verbinski got in the can on previous voyages. However, with a morale-sapping, will-to-live-draining 140 minutes to fill, and expositions to be waded through like quicksand (but, like, really slow quicksand), needs must. And besides, they do have to use some actual outdoors pictures because for most days on set the lighting team seem to have called in sick. "We're going to need light, lots of light!" hollers McShane at one point. Seems no one listened. You'll feel like being trapped on level minus four of an NCP.
But no amount of sepulchral lighting can obscure the wrinkles on this hoary old strumpet hauling herself into position for one more payday. Depp duly gurns through the motions, walks the wiggly strut copied off the Human Riff and delivers such meagre punchlines as have been sent his way. Cruz smoulders and shouts a lot. In a film with barely a comic bone in its body, which explains the pandemic of desperate overacting, the best line actually goes to Keef. He is asked if he knows the way to the plot's holiday destination of choice. "Does this face look like it's been to the fountain of youth?"

It's hard to believe that this franchise once had youth and innocence like the shoal of beautiful mermaids who briefly light up the screen with their unsullied complexions and perfectly proportioned features. One of them, played by Astrid Bergès-Frisbey (pictured above) even has some sort of plot function. And so in its zimmer-framed dotage, On Stranger Tides creeps towards the horse-tranquillisingly dull showdown. Depp naturally triumphs but, at the last, refuses to drink of the magical elixir. "You could have lived forever," says his confused old piratical pal played by Kevin R McNally, to be met by a chilling reply. "Who's to say I won't live forever?" Don't say you haven't been warned. If we let these pirates have more of our pieces of eight, they'll be jolly well rogering us for all eternity.
Overleaf: see all the London and Hawaii locations in the trailer to Pirates of the Caribbean: On Stranger Tides and then skip the movie