Out of the Furnace |

reviews, news & interviews
Out of the Furnace
Out of the Furnace
Christian Bale leads superb cast in Scott Cooper's Rust Belt requiem
Wednesday, 29 January 2014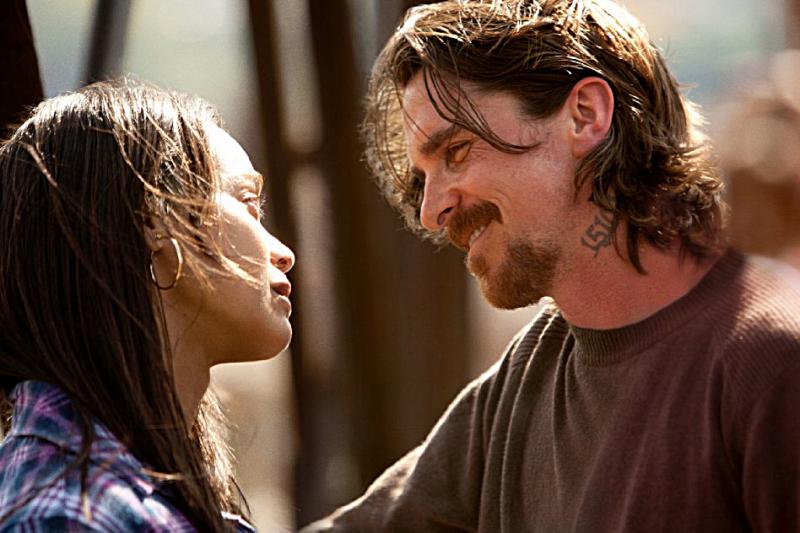 Pennsylvania blues: Christian Bale as Russell Baze, with Zoe Saldana as Lena
After his outsized triumph as conman Irving Rosenfeld in American Hustle, Christian Bale is gaunt and stringy again (Jennifer Lawrence will be happy to hear) in this minor-keyed, intensely atmospheric story of two brothers in an America that time forgot. It's set in North Braddock, Pennsylvania, a ghost town all but abandoned by its devastated steel industry. "Born down in a dead man's town", as the Boss put it in "Born in the USA".
As the camera roams over its poor, pinched houses in the rain, you know nothing good is about to happen here.
Bale plays Russell Baze, still clinging to his job at the last steel mill, and preoccupied with nursing his dying father while looking out for his wayward younger brother Rodney (Casey Affleck, pictured below). In between tours of duty in Iraq (the action begins on the eve of Obama's first election victory), Rodney is apt to get into fights and into debt. Increasingly traumatised by his military experiences, Rodney drifts into the illegal bare-knuckle fight scene, drawn nihilistically to its unvarnished brutality.
There's an echo of Christopher Walken's Russian roulette-addicted character in The Deer Hunter, and it's not the only one. Bale actually goes deer hunting with his uncle (Sam Shepard), and, like De Niro's character in Michael Cimino's Vietnam fable, finds he can't take the killing shot when the opportunity arises. Director/co-writer Scott Cooper (Crazy Heart) uses the hunt as a kind of motif for the entwined destinies of the brothers, and the narrative kicks into high gear when Rodney insists on heading up into the Appalachian back country to test himself in the high-stakes fights run by Harlan DeGroat (Woody Harrelson).
DeGroat is pretty much the devil incarnate, which seems to suit Harrelson well enough, since he projects an almost tangible force-field of feral menace. Cooper hasn't bothered giving DeGroat any redeeming nuances - the film opens with a scene of him at a drive-in movie with a female companion, whom he viciously humiliates before battering an interfering bystander senseless. With his gang of hillbilly lowlifes, he runs a private criminal empire of fights and meth-dealing, and the cops have withdrawn to a safe distance to let them get on with it (pictured below, Woody Harrelson with Willem Dafoe).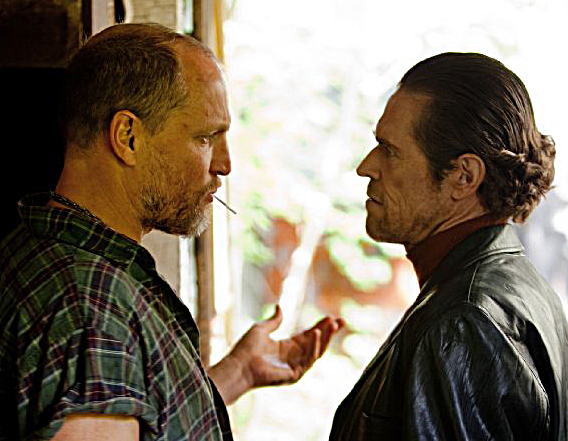 Rodney's disappearance in the Appalachian wilderness prompts Russell to go head to head with DeGroat, but Cooper is preoccupied as much with the lives and circumstances of his struggling, hope-deprived characters as he is with the unfolding action. Affleck is superb as Rodney (despite sporting a set of astonishingly pristine white teeth for a bare-knuckle boxer), telling you everything about the character's inner rage and confusion long before he has a few lines articulating a glimpse of the battlefield horrors he has witnessed.
Bale is spellbinding, imbuing Russell with an aura of stoical sadness that seeps out of him as he's pummelled by an unrelenting fate. A freakish road accident earns him a spell in jail, and by the time he comes out his lover Lena (Zoe Saldana, bringing a glimmer of sunlight into the perpetual darkness on the edge of town) has left him for Wesley, the local police chief (Forest Whitaker, pictured below). She wants security and kids, which Russell would have given her had it not been for that lightning-bolt of bad luck. Bale makes Russell's trajectory truly agonising to watch, though Wesley's impotent performance as a police officer helps propel him towards a denouement in which he grabs his one chance to control his own fate.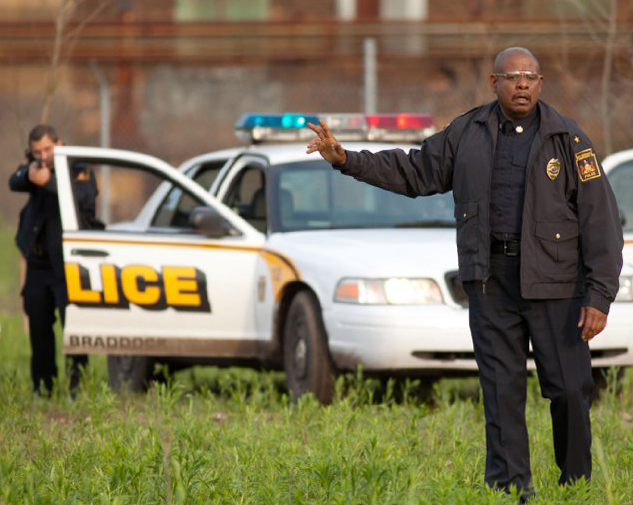 There's strong support from Willem Dafoe as John Petty, a low-level bookie who brokers Rodney's fighting ambitions, while Masanobu Takayanagi's cinematography is another of the star turns here. His images of disintegration, including one sensational overhead shot of a derelict steel mill, lend huge potency to this requiem for the Rust Belt. Cooper is by no means the first director to plough this turf, but he's squeezed the maximum from his cast and his locations.
Overleaf - watch trailer for Out of the Furnace