Oscars 2023 - the favourite lives up to its title |

reviews, news & interviews
Oscars 2023 - the favourite lives up to its title
Oscars 2023 - the favourite lives up to its title
'Everything Everywhere...' dominates an Oscar ceremony that was not quite enough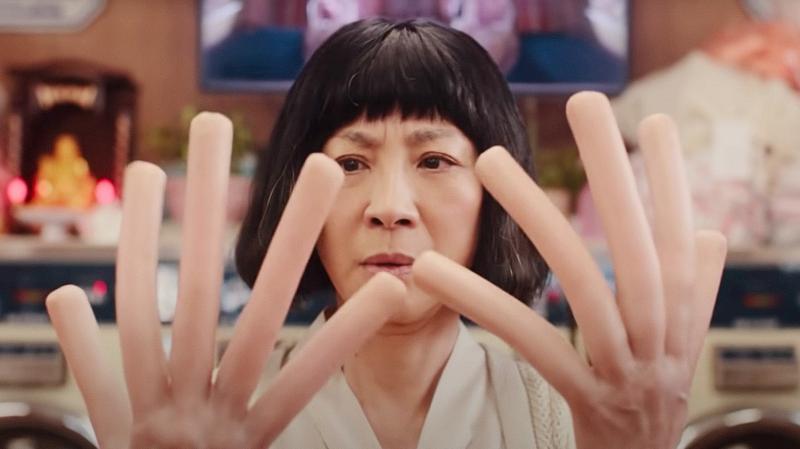 All the better to grab the Oscars: Michelle Yeoh
Everything Everywhere All at Once lived up to its title Sunday night at the 95th Academy Awards by managing to win nearly everything everywhere almost all at once. The fragmented, seriocomic celluloid head trip won seven of the 11 Oscars for which it had been nominated, entering record books several times over not least for having two Asian actors amongst the recipients.
"This is history in the making," said Michelle Yeoh, the Malaysian actress sounding overcome as she triumphed as Best Actress in a tight race with Cate Blanchett, in career-best form in Tár. Blanchett's chances were possibly diminished by having twice previously won Oscars in a ceremony that largely favoured performers of long standing who were nonetheless Oscar newbies.
It was significant that the composer John Williams, age 91 and with a staggering 53 nominations (five wins included) to his name, emerged empty-handed for his score for The Fabelmans. The Steven Spielberg movie about its maker's emergence as an artist saw the director and his leading lady, Michelle Williams, both familiar names at the Oscars, come away unrewarded. So did The Banshees of Inisherin, whose writer-director Martin McDonagh won an Oscar for live action short his first time out and has been nominated for three of his feature films since then.
That title prompted a neat anatomical joke near the outset in which Jimmy Kimmel, returning for his third gig as host, remarked to the audience that "my banshees are caught in my inisherin just now". And the chat show host was in fine, feisty form to begin with, his monologue referencing the longueurs we associate with Avatar director James Cameron and Will Smith's infamous slap last year of presenter Chris Rock that had raised issues about onstage safety: this year's ceremony turned out, thank heavens, to be incident-free.
It also, truth to be told, was a generally wan affair that saw the Academy concentrate prizes across a few films instead of sharing the loot. The German-language All Quiet on the Western Front – the big winner earlier this year at the BAFTAs – won Best International Film (pictured above), as expected, and was notable for the surpassing graciousness at the podium of such victors as cinematographer James Friend and director Edward Berger. (And unlike last year, all 23 categories were recognised live on air.)
The Whale, a difficult watch based on an acclaimed Off Broadway play by Samuel D Hunter, won for both makeup and hairstyling and for Brendan Fraser's career comeback as a sad-eyed 600-pound shut-in (pictured below).
A tearful, effusive Fraser brought the audience to its feet in a ceremony rife with standing ovations. Arguably the most rapturous was for "Naatu Naatu" from the Indian film RRR which took best song over competition from music superstars Lady Gaga and Rihanna, both of whom performed their nominated tunes. (Lady Gaga had been previously announced as a no-show but was in fact a notably impassioned presence as the camera zoomed in on her stripped-back rendition of "Hold My Hand", from Top Gun: Maverick.)
But it was hard to know where to look when Kimmel infiltrated the audience only to ask Malala Yousafzai, of all people, her views as to whether Harry Styles spat on Chris Pine, as was rumoured during their press tour last year. The Nobel laureate's politic response was that she spoke only about peace, which seemed to rather unduly dignify a doltish question.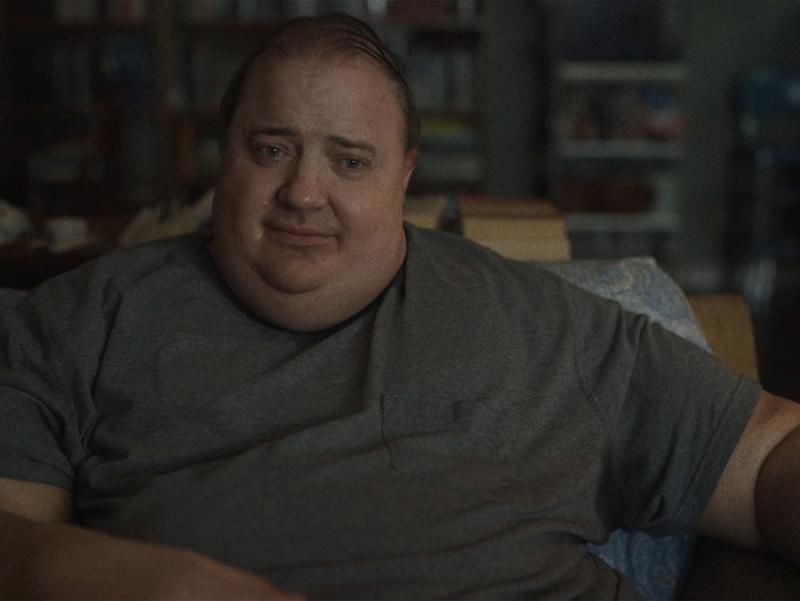 Kimmel dug his grave yet further by signalling the young activist's response as a victory for "Malala Land" (I kid you not). Jessica Chastain, last year's best actress winner, was similarly button-holed by Kimmel despite being one of the few in attendance to wear a mask – her covering due, presumably, at least in part to health concerns around her ongoing Broadway run just now in A Doll's House. Or maybe it was just that she didn't want to have to engage, but did so anyway. (No specific mention was made of Covid, or the pandemic, that affected the scale – and seating plan – of the last two Oscars.)
Indeed, after a promising start, Kimmel largely seemed absent from his own party. The hirsute compere seemed to appear only periodically to change into a brighter outfit or introduce an onstage donkey that wasn't, in fact, the scene-stealing Jenny whom viewers of The Banshees of Inisherin took to their hearts.
Things improved when Kimmel departed from view. Sarah Polley, her Adapted Screenplay award for Women Talking pipping the presumptive favourite All Quiet... to the post, got off a wonderful line about the valour of the Academy in valuing women and talking in the same sentence.
And the pair of thrice-named supporting players from Everything Everywhere, Ke Huy Quan and Jamie Lee Curtis (pictured below), seemed genuinely elated by victories that showed the advantage of simply staying the course that also characterised the wins still to come from Fraser and Yeoh. Whereas previous Oscar ceremonies have skewed towards youth (Jennifer Lawrence comes to mind, or Emma Stone), this year saved its acting statuettes for a quartet who all seemed stunned to have reached this moment – Curtis not least because neither celebrity parent, Janet Leigh nor Tony Curtis, ever translated nominations into a win.
Elsewhere, a choked-up John Travolta got through the In Memoriam introduction without committing an equivalent to the now-legendary Oscar night gaffe when he referred in 2014 to Idina Menzel as Adele Dazeem. The roll call of the dead, always sobering, led this year with Travolta's onetime Grease co-star Olivia Newton-John; the actor Julian Sands, whose body has been missing now for some while in California and is feared dead, was not amongst those named.
Oddly, or maybe deliberately, there wasn't much acknowledgment of the world at large, except when the documentary prize went, as expected, to the uber-timely Navalny and the opposition leader's wife, Yulia, took poignantly to the podium. Plaudits, too, to Everything Everywhere's co-creator Daniel Scheinert, who won with Daniel Kwan for both original screenplay and directing, for affirming drag as "a threat to nobody" amidst an American climate increasingly prone toward vilification, and worse, on that topic.
Throat lozenges might have been useful. A hoarse Elizabeth Banks barely got through the names of those nominated for visual effects but may have been addled by the hyper-elaborate outfit she was wearing which tripped her up at least once. And a breathless-seeming Harrison Ford gave out Best Picture, which enabled him to share a hug with Ke Huy Quan, his onetime Indiana Jones colleague from decades ago. (Their director, Steven Spielberg, looked thrilled for Quan, whom he first cast when the newly crowned Oscar winner was 12.)
The takeaway from the night was of cultural breakthroughs and comebacks, of thrilled first-timers who didn't always reference the veterans in their midst. (Yeoh, for one, made no mention of her fellow performers in her speech, though Fraser did in his, albeit not by name.) No blood was spilt across the 3 hours and 40 minutes, which was nice, but the flip side was a curiously bloodless Oscars. A ceremony devoted largely to a film occupying the multiverse was perversely dull.
It was a generally wan affair that saw the Academy concentrate prizes across a few films instead of sharing the loot
Explore topics
Share this article