Moon, 66 Questions review - captivating daughter-father drama |

reviews, news & interviews
Moon, 66 Questions review - captivating daughter-father drama
Moon, 66 Questions review - captivating daughter-father drama
An outstanding debut by the Greek New Wave director Jacqueline Lentzou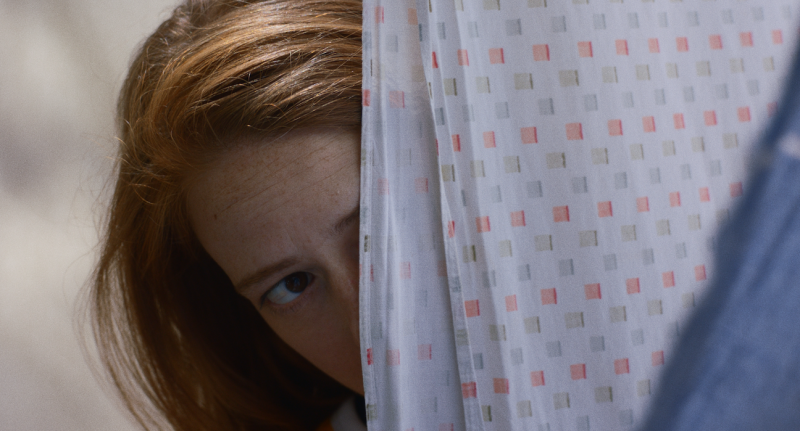 O Father, where art thou?: Sofia Kokkali in 'Moon, 66 Questions'
It takes some confidence for a first-time feature director to interrupt her essentially realistic first feature with a splash of psychedelic abstraction, but Jacqueline Lentzou doesn't lack for visual or aural daring.
Two-thirds of the way through Moon, 66 Questions, a semi-autobiographical drama written and directed by the Greek filmmaker, an astronomer's view of a night sky appears. Myriad stars glitter in delicate colours, the image morphing into a silver and gold vortex as low-mixed spectral music plays and a staticky snatch of a telephone call is heard.
If a literal interpretation can explain this fleeting interpolation, it presumably comprises camera and audio effects imagined, but not yet realised, by the thirtyish protagonist Artemis (Sofia Kokkali), who keeps a video diary of her travels. Artemis has just experienced a revelation – a shock, in fact – concerning her 54-year-old father, Paris (Lazaros Georgakopoulos), and her momentary mind trip is her inchoate emotional response to it.
What Artemis learned has significant bearing on how she perceived the past that's shaped her, so nothing will ever be quite the same for her again. Another shock awaits her in the film's closing seconds. Its satisfyingly unrhythmic flow and Kokkali's spiky presence – she's a sympathetic but not ingratiating heroine – make her journey of discovery one well worth accompanying.
Long estranged from Paris (as is his ex-wife, her mother), Artemis returns to Athens after an absence of many years and heads straight to his hospital bed. He has suffered a stroke owing to multiple sclerosis. Though Paris's mental faculties are unimpaired, he can no longer control his muscles or communicate easily. Artemis's absorbing of his plight isn't helped by Jacob (played by the veteran Nikitas Tsakiroglou), an octogenarian friend of Paris who frets on the sidelines before apologetically slipping away. (Pictured below, Lazaros Georgakopoulos, Sofia Kokkali)
In the days that follow, Artemis has to put up with Paris's brother, mother and assorted other relatives as – always in a group – they preside over his rehabilitation, gawping at his humiliation while a physical therapist tries to get him to walk on the mat they've so helpfully provided. They make snide comments in front of a potential carer they interview, permitted to do so because she's an East European who can't understand Greek.
Eventually, it's left to Artemis to take the job, made the more arduous by the residual tension that exists between her and Paris because of the unexplained break between them. Parent-child estrangements often spring from the perpetrating of an offence against love, not a loss of it. Artemis and Paris's enforced proximity, which at one point causes her to run to fetch his incontinence pants after he loses control of his bladder, embarrasses each of them because it has recurred so abruptly. They know each other intimately but neither knows who the other person is.
Nothing is revealed about how Artemis makes a living or her love life, though moments showing her playing charades and table tennis with friends reveal she has fierce physical energy, a competitive spirit, and a reserve of pent-up anger. If not all scenes are expository, all say something about her predicament, as when she dances to Bomfunk MC's "Freestyler" while hosing down Paris's car – her frantic robot jerks and windmilling arms unconsciously caricaturing her struggles to get Paris to coordinate his movements. The vehicle becomes a locus of her frustration – she accidentally crashes it in a multi-storey car park – and also sparks a change in her after she finds some private photographs in the glove apartment.
Lentzou's organising of the film in chapters follows Artemis's similar division of her video diary, each episode beginning with a shot of a different Tarot card. It's a device that doesn't quite work because the thematic variations between the episodes are slight at best (though a Tarot reader might disagree).
The elision of a conventional narrative thread barely matters, however, given that the film's electricity comes from discrete scenes: the many that simply observe Artemis deep in thought; one that shows two characters devouring peaches, which – paging Albert Finney and Joyce Redman's famous erotic feasting in Tom Jones (1963) – indicates their enjoyment of each other as same-sex lovers.
It's a great queer scene, as expressive of Lentzou's contempt for homophobia in patriarchal Greece as the movie, in its entirety, is expressive of her anger at the unfair burden of care placed on women. Blessed by the performances of Kokkali and Georgakopoulos – invalidism has rarely been so feelingly and precisely rendered – Moon, 66 Questions announces a major new voice in world cinema.
Parent-child estrangements often spring from the perpetrating of an offence against love, not a loss of it
rating
Share this article