Machete Kills |

reviews, news & interviews
Machete Kills
Machete Kills
There's bad taste fun aplenty in Robert Rodriguez's satirical sequel
Wednesday, 09 October 2013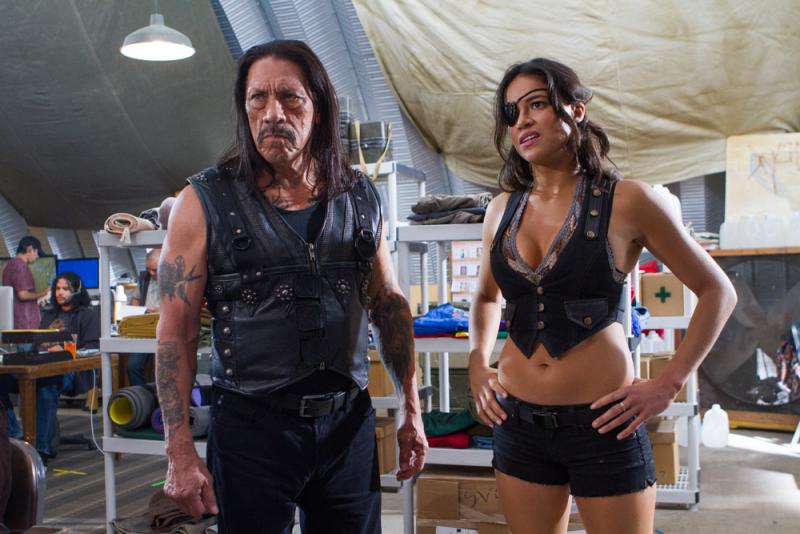 Danny Trejo and Michelle Rodriguez manufacture some whoop-ass in 'Machete Kills'
In a deranged world where Charlie Sheen is President of the United States, Hollywood gets a much-deserved and highly amusing roasting. Robert Rodriguez's sequel to Machete goes straight for the jugular by mocking Hollywood's golden child, that "galaxy far, far away" film franchise - which doggedly refuses to sling its hook. Rodriguez not only flips his middle finger at reboots and outworn action clichés, he also takes jabs at US foreign policy and the controversy surrounding the Mexican border fence.
In keeping with the absurd humour of the previous film, POTUS demands that Machete (played once again by Danny Trejo) head to Mexico to solve the drug cartel problem in exchange for American citizenship. This impossible mission plays out like a Bond film but has more in common with the Austin Powers franchise. Violence and comedy go hand in hand here, with one joke after another massacring the logic of the Hollywood machine and its minimal and reductive roles for anyone outside a certain demographic. In his fight for justice and a green card, Machete comes up against evil mastermind Voz, played by the-no-longer-ubiquitous-for reasons-everyone-knows Mel Gibson, who inhabits a secret lair loaded with movie history weaponry – which sets up some of the funniest moments in the film.
Female roles are thankfully varied: Michelle Rodriguez (who, while we're on the subject of a lack of decent roles for women in Hollywood, would be brilliant as Wonder Woman in the Justice League film when that happens) reappears in the role of Luz, who has moved from her taco truck to a warehouse as head of an underground resistance, now using technology to fight their battle. Sofia Vergara (pictured above centre) pops up as a gun-toting whorehouse madam, Amber Heard as a spy with a Miss San Antonio guise, Lady Gaga as a bad-ass bounty hunter and Vanessa Hudgens (still shedding her Disney tag) as the daughter of the head of the drug cartel.
The furiously fast-paced postmodern humour subverts the sexualisation of women in film by using and pushing it to its limits in a very cheeky way. In no way is the genre of grindhouse off limits either, with the outdated attitudes to women in many of those films taking a beating - the women get to cock their breastplated guns and deliver comical take-downs as recompense.
Considering the character of Machete first sprang to life in a manufactured trailer in Planet Terror (Rodriguez's entry in the double feature Grindhouse, made with Quentin Tarantino), his longevity is surprising. And this stoned-faced, almost silent character isn't quite over the hill yet - here we see him mocking Twitter ("Machete don't tweet" he quips). Perhaps he aims at too many targets, but Rodriguez knows how important it is to laugh at himself and the inconsistencies of an industry that isn't always representative of its viewers.