Looper |

reviews, news & interviews
Looper
Looper
Brick's Rian Johnson comes out all guns blazing with an exhilarating sci-fi thriller
Monday, 24 September 2012
'Taking out the future's garbage': Joseph Gordon-Levitt in 'Looper'
Rian Johnson's spunky debut Brick (2005) fused the past with the present, the old with the young, as high-school kids inhabited the archetypal characters and played out scenarios from 1940s noir. It worked beautifully. His third film Looper - whilst sharing Brick's love of posturing dialogue and shadowy villainy - looks forward and then forward again and finds that the future is far from bright.
If
Brick
was conceptually ambitious yet small-scale,
Looper
gives us filmic chutzpah with the budget (and stars) to match.
It's set predominantly in a dystopian 2044, in and around Kansas City, with its nonchalant killings and whole housing estates of working girls. Brick's Joseph Gordon-Levitt plays Joe, a specialist assassin, or "Looper", tasked with the bloodily monotonous work of "taking out the future's garbage".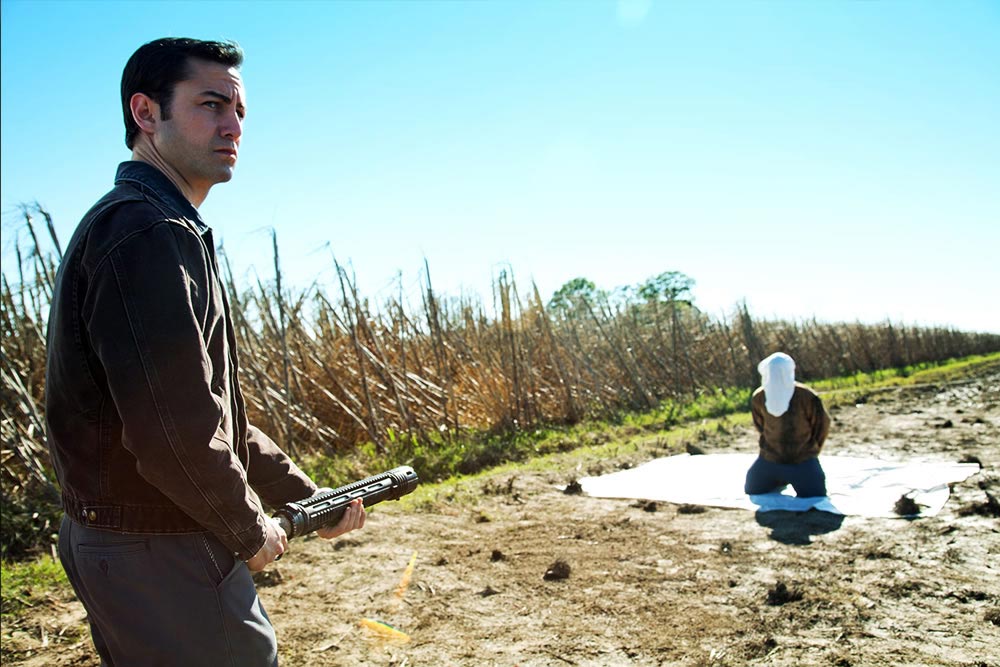 Thirty years further on (in the future's future) time-travel is invented and then immediately outlawed, remaining the preserve of crooks alone. Since human tagging makes it impossible to conduct the more extreme end of criminal business, back in 2044 it's a Looper's job to dispatch those who are zapped into their lap, bagged and tied (pictured above right). Looper unpacks this conceit in seconds through Joe's dead-voiced narration, punctuating the exposition with the thwack of his Blunderbuss gun as he blows away a sitting-duck target. And with this swaggering brutality we've begun.
With similar matter-of-factness we're informed that, eventually, Loopers are assigned the murder of their future selves, a practice known as "closing the loop" - keeping things chillingly clean and leaving them with the fucked-up knowledge that they've got no more than three decades to live. This delivers gold rather than the standard silver bars, which come strapped to the back of the masked victim, a horrible indication of their unwitting self-destruction. When Joe's friend and colleague Seth (Paul Dano) fails to execute his older self (called "letting your loop run") things begin to unravel. Furthermore, it's not long before Joe encounters his own future in the shape of Bruce Willis (pictured below left) and personally invokes the wrath of his criminal overlord boss, Abe (Jeff Daniels).
Unlike the initially inventive but ultimately wearying Inception, Looper rarely overreaches - and whereas that film eventually tangled itself up like a string of festive lights, this is as likely to mock its conceit as endeavour to explain it; there's a sense of fun and a consciousness of its own limitations. Looper begins with a flurry of ideas and pulls off some terrifically muscular action but pares things down as it goes, eventually becoming a rather different film.
A move from city to country takes things down a notch and those who love the initial set-up may find themselves frustrated by the shift in tone, though ultimately it comes with its own (supernatural) charms. The refined Emily Blunt (pictured below right) is a very odd choice for Sara, the shotgun-packing, former wild-child single mom with whom Joe seeks shelter, and her American accent veers erratically. Yet as her strange young son Cid - who may or may not represent a future threat - Pierce Gagnon is a whole lotta creepy.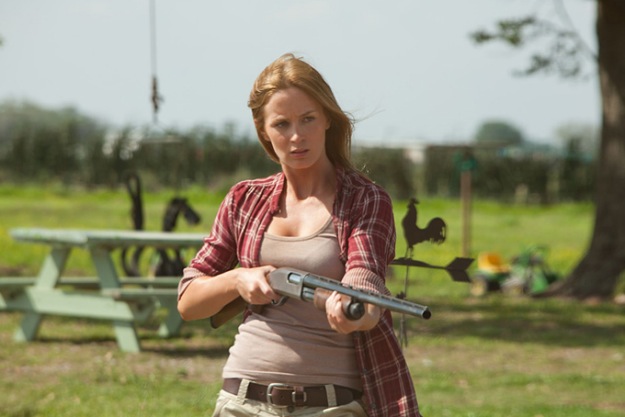 The sleek Gordon-Levitt is hardly a flawless visual match for the bulky, stone-faced Willis (despite make-up effects which render them at least passably similar) but he does a nice job aping Willis' brooding style. This is perhaps more mean and moody than we've seen this fine and increasingly ubiquitous actor to date, a world away from his "average joes" and earnest young bucks, and another string to his bow.
After a slight misstep with The Brothers Bloom (2008), Looper reignites the excitement that surrounded writer/director Johnson. It's a film where interesting ideas outweigh (obvious) effects and the first third in particular bulges with audacity. Those looking for mainstream thrills should find this plenty exciting, with a large enough dollop of Willis, yet it's left-field enough to be smartly cynical and properly violent. Looper delivers ingenious if imperfect entertainment, supplementing jaw-dropping anti-heroics with a palmful of pitch-black pulp.
Looper is in cinemas from Friday
Watch the trailer for Looper