LFF 2013: Inside Llewyn Davis |

reviews, news & interviews
LFF 2013: Inside Llewyn Davis
LFF 2013: Inside Llewyn Davis
The Coens find the folk scene is a losers' game in a masterful fable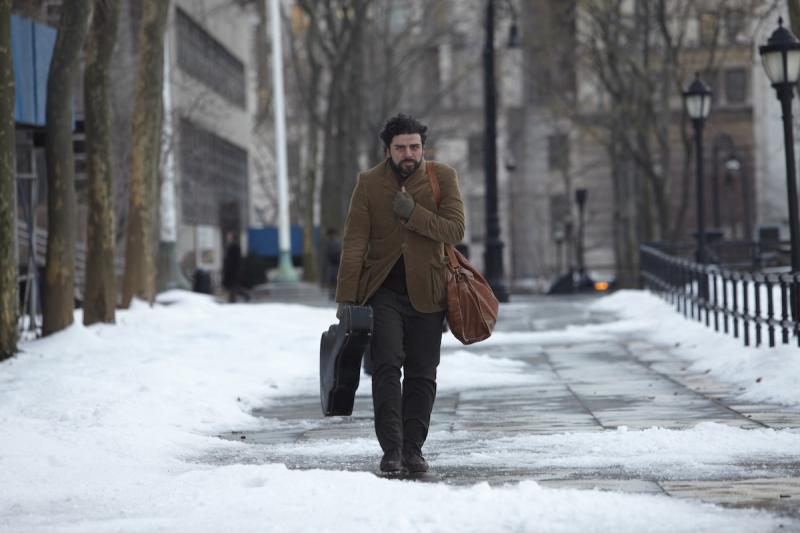 It ain't me, babe: Llewyn Davis (Oscar Isaac) coincidentally resembles a more famous folk singer
Showbiz is a cruel and mysterious cosmic code that can grind the artist down, before he comes close to cracking it. That's the message behind the Coen brothers' elegy to the Greenwich Village folk scene of 1961. Llewyn Davis (Oscar Isaac) stands bruised and baffled at its heart.
Speculation mounted in the wait for the Coens' sixteenth that Davis's resemblance in early footage to Dylan on The Freewheelin' Bob Dylan's sleeve meant he'd be a satire on the singer. Actually, he's Dylan's shadow: the folkie scuffling round New York who then doesn't get the breaks, and whose American dreams aren't enough.
He meets a typically memorable Coens menagerie along the way. Their great lucky charm John Goodman is a lugubrious jazz junkie,Carey Mulligan the acid-tongued singer Davis has a disastrous fling with, a Joan Baez who bites back in an unlikely duo with Justin Timberlake's insipid wimp.
It's during a chilly nightmare journey to Chicago that the Coens' mastery asserts itself, and their hero starts to crack. When Davis arrives to audition, F Murray Abrahams's concert promoter, who shares his surname with Dylan's Svengali Albert Grossman, gives him an ice-pick stare. As his strong voice flows, Isaac's soulful eyes smoulder back, making this feel like the electric moment that genius is seen. "I don't hear much money in it," Abrahams states, with tombstone certainty. Davis's senile dad reacts to a still more heartfelt performance by shitting his pants.
It's not the Oscar-winning Coens but the brothers who struggle with writers' block and know failure who give this the sliver of rueful warmth their worst work lacks. Inside Llewyn Davis feels like their distilled essence.
He's Dylan's shadow: the folkie scuffling round New York whose American dreams aren't enough
rating
Share this article