Expendables III |

reviews, news & interviews
Expendables III
Expendables III
Stallone's gang of geriatric mercenaries still haven't lost their stomach for the fight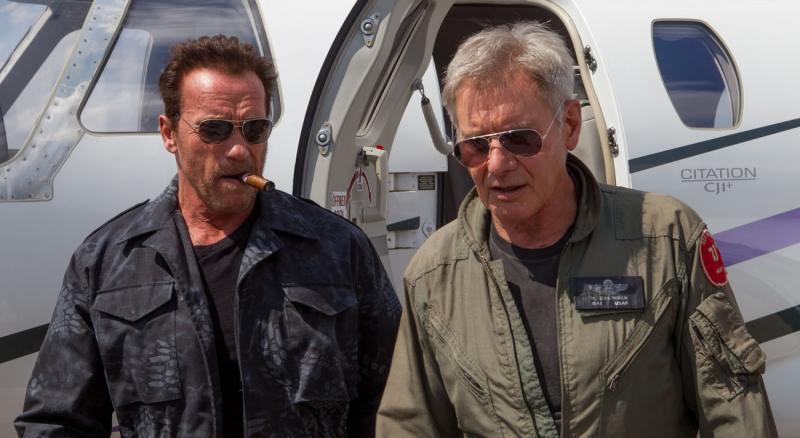 It's not the years, it's the mileage: Arnie and Harrison join the hunt for Mel Gibson
There was a brief moment back in the day when Sylvester Stallone thought he ought to be a serious actor (remember Cop Land?), but posterity will surely recall him as the King of the Franchise. As if Rocky and Rambo weren't enough, the 68-year-old Stallone is now enjoying a major string of paydays with The Expendables, and this third instalment will merely whet the global appetite for more.
The plot (cooked up by Stallone) is the usual clunkily serviceable farrago of action clichés, designed to travel to its destination via a string of ever-more-catastrophic set pieces. Barney Ross (Sly) and his crew of indestructible old crocks are sent off to capture some thermobaric bombs from some very bad people. This doesn't go according to plan and almost gets Barney's team vaporised on the dockside in Mogadishu, but it kicks off the real story, which is Sly trying to track down his former comrade turned arch enemy Conrad Stonebanks (Mel Gibson, pictured below), previously believed deceased.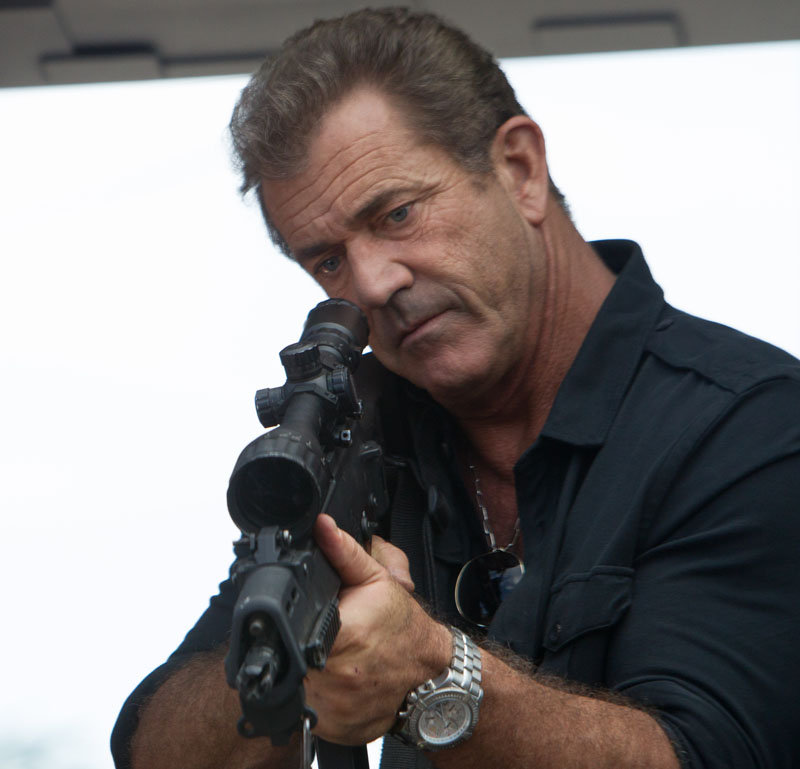 Helmed with no-prisoners muscularity by Patrick Hughes, it starts as it means to go on. The opening sequence is a self-contained mini-movie in which the lads use a helicopter to attack an armoured train as it speeds through some unspecified Balkan-style country. It's taking another of Barney's old comrades, a man called Doc, to prison, and since he's played by Wesley Snipes you can see why Stallone wants him back on board. A couple of the boys (Expendables regulars Randy Couture and Dolph Lundgren) ask Doc why he was locked up. "Tax evasion," he deadpans.
This sort of wry in-jokery is a large part of The Expendables' croaky charm (though Snipes looks indecently sleek and svelte), and a whiskery, cigar-chomping Arnold Schwarzenegger (who plays Trench) obligingly reprises his "let's get to da chopper!" line from Predator. The Bruce Willis character, Church, isn't here this time, but instead we have Harrison Ford as Barney's gruff CIA handler Max Drummer. In the interminable final battle scene, where the Expendables have to grapple with the entire army of Wazistan or Azistan or somewhere equally spurious, Drummer gets his own Han Solo routine in a tankbusting helicopter.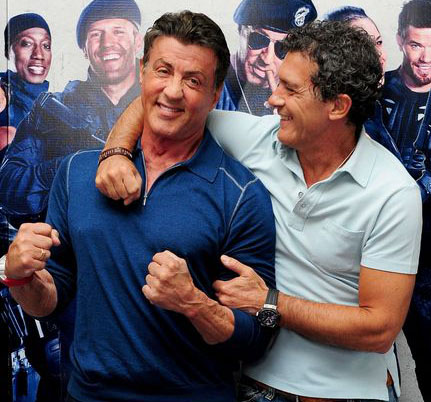 Possibly it was a bit of a gamble for Stallone (pictured left with Antonio Banderas) to bring in the disgraced Mel Gibson, a classic You'll Never Eat Lunch in This Town Again candidate, but it's as if he's never been away. He takes to the Stonebanks role with chilled, sadistic relish, which of course is the way he has traditionally played almost everything.
Sly has sprung a couple of surprises. Kelsey Grammer pops up as Bonaparte, who helps Barney recruit a new team of Young Expendables after he decides that his geriatric homies truly are past it. And if anything in an Expendables flick could be described as a revelation, apart from one of the junior Expendables being female (Ronda Rousey, pictured below with buddies), it's Antonio Banderas, playing an out-of-work mercenary called Galgo who's desperate for a job with Barney's team. Inverting his oily-lothario persona, Banderas plays him as a twitchy oddball, getting on everybody's nerves with his incontinent babbling and bringing a splash of Keystone Kops to the never-ending fight scenes.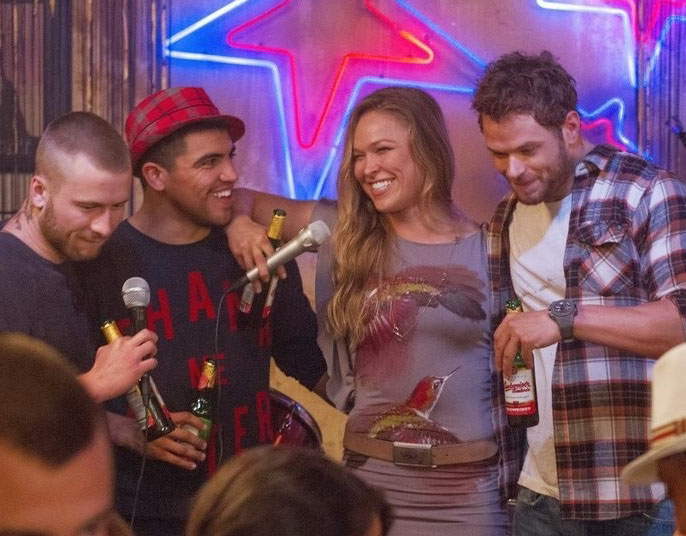 Setting up this celluloid convalescent home for venerable action stars who don't get around much any more was by no means the dumbest thing Stallone ever did, and who knows where it might end. In a celebratory bar scene, the junior Expendables gather round a microphone to serenade Barney's boys with Neil Young's "Old Man". A guest spot for grizzly old Neil in Expendables 4, perhaps?