DVD: Who You Think I Am |

reviews, news & interviews
DVD: Who You Think I Am
DVD: Who You Think I Am
Can you really become another person online? Binoche goes catfishing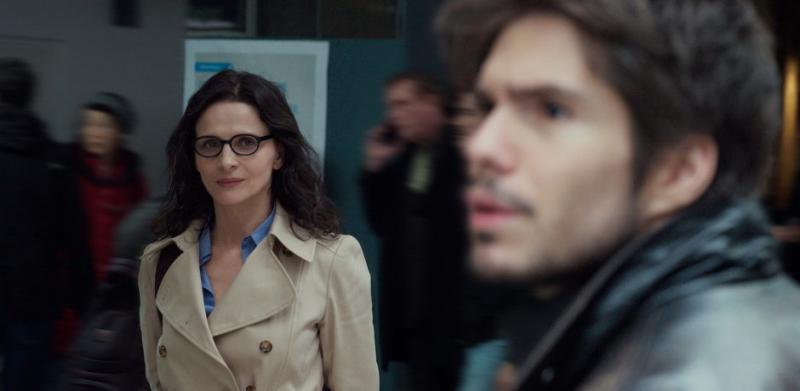 This woman could never be invisible: Juliette Binoche, with François Civil
Imagine, if you will, that the Internet doesn't allow you to see other people. Because that is the premise upon which Safy Nebbou's Who Do You Think I Am rests. It smacks of an idea that hails from the days of Friends Reunited (one for the younger readers). This is, ultimately, a Juliet Binoche vehicle – and there's nothing wrong with that. She is a fine actress and she is utterly mesmerising in this very French psycho-emotional thriller.
Binoche plays 50-something lecturer, Claire – a mother of two boys whose husband has left her for (we discover later) a much younger woman. Her attempts to move on are thwarted when her younger lover Ludo (Guillaume Gouix) gaslights her when she suggests they spend more time together. When she phones him to question his motives, she is fobbed off by his friend, Alex (François Civil). So, obviously, she becomes friends on Facebook ("the lifeboat and shipwreck") with Alex – initially to stalk Ludo. But she can't do that as Claire, can she? So, she "becomes" Clara – an impossibly beautiful, palpably passionate twentysomething. Soon enough, they begin an affair – albeit one where they don't physically meet. There's lots of phone sex and Claire/Clara falls deeply for the young man. When he insists they get together, things get tricky.
The themes examined here – how Claire has become invisible to men and has no value at her real age – will resonate with many women the "wrong" side of 40. There's a bit of a flaw, though (apart from the original premise). Binoche is still so breathtakingly, bedazzlingly beautiful that it's a struggle to imagine her walking down the street without cars crashing around her.
The film is structured around Claire's sessions with a psychotherapist (Nicole Garcia), who discovers the complexities of the story alongside the viewer. And there are many unexpected twists and turns that heighten the tension as inevitable disaster looms. I can say no more. A definite must for Binoche fans, this is one for the ladies, I suspect. Just approach with disbelief suspended.
Binoche is so bedazzlingly beautiful that it's a struggle to imagine her walking down the street without cars crashing around her
rating
Share this article