Concussion |

reviews, news & interviews
Concussion
Concussion
Robin Weigert excels in portrait of marital malaise - with a twist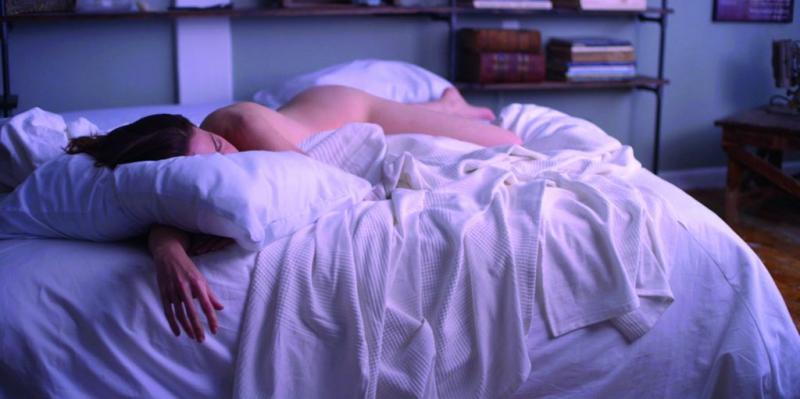 Belle de jour - or maybe not: Robin Weigert as Abby/Eleanor in `Concussion'
A blow to the head provides the catalyst needed for Abby (Robin Weigert) to re-think her life in Concussion, writer-director Stacie Passon's acute American indie about a lesbian couple coming adrift and the new life charted by one of the two women, in particular. Would Abby end up welcoming (female) sexual partners for pay to her freshly purchased high-end Manhattan loft had her young son not accidentally sent a baseball winging its way to her head, thereby jolting her reality? Who's to say: among the multiple virtues of Passon's smart, subtly revealing film - this director's debut feature - is that it doesn't pretend to know anything more about its characters than many of us in reality do about ourselves.
What can be said is that Abby, smarting both from the inadvertent injury caused to her by her son and by a sense that she and wife Kate may have reached some sort of marital impasse, is soon forsaking their suburban New Jersey family home in favour of the emotional risk - and financial reward - that go with developing a sexual client base amid the welcome anonymity of the big city. Abetted (rather improbably, it must be said) by Justin (Johnathan Tchaikovsky), the contractor who has helped whip Abby's new purchase into shape, Abby before long is welcoming women into a rather gloriously sleek bed, with the proviso that she prefers to meet these newfound contacts for coffee beforehand - a precaution that delights some customers and perturbs others. ("Or tea," Abby is quick to add of her requirement, Weigert bringing a nervy wit to that and many other moments.)
Operating under the assumed name of Eleanor, Abby is confronted with the motley cross-section of (female) humankind one might expect, from an overweight NYU student who has never had sex of any kind to an older married woman (terrifically played by the New York theatre stalwart Laila Robins) who admits to being fed up with her husband's deference. Beyond pocketing $800 cash (no cheques allowed) a session, Abby is also seen to suffer the abrasions of an abusive client - the deliberate violence there existing in stark contrast with the accidental body blow with which the film begins.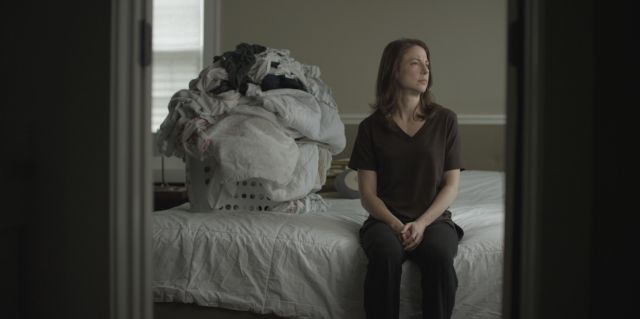 Complications arise when one of her clients - all of whom are presented initially not as names but as numbers - turns out to be a mother whom Abby knows from her children's school, a twist that threatens to blow Abby's double life sky high. (Sons of Anarchy actress Maggie Siff - pictured above top with Weigert - lends a notable physical ease to the role of a moneyed wife who would appear to have everything except the female company she craves.) Can Abby square her gathering disaffection at home with discontent at a newfound way of being that has unexpectedly become routine? The question is only partially answered by a dénouement that suggests maybe Abby doesn't in fact know precisely what it is that she wants. And how aptly human is that?
Rather patronisingly reviewed by (mostly male) critics in its early screenings on the festival circuit, Concussion is tamer, certainly, than Blue is the Warmest Colour, and it doesn't boast the Hollywood-boho elan of The Kids are All Right, with that lesbian-themed movie's attendant celebrity cast, Oscar nods and more. What is does offer is a remarkable performance from Weigert, a (younger) Stockard Channing lookalike who never sentimentalises Abby's various iterations as mother, partner, or sex worker. By turns cautious and kind, as wary as she is also welcoming to those clients most keenly in sexual and emotional need, Abby is a quietly complex character fully realised by the actress playing her. That in itself is a sufficient rarity in movies these days that sympathetic filmgoers may wonder whether they didn't dream such a thing? Have we, too, been concussed?
Watch the trailer for Concussion overleaf