The Cannes Film Festival: Stormy Weather |

reviews, news & interviews
The Cannes Film Festival: Stormy Weather
The Cannes Film Festival: Stormy Weather
Has rain stopped play at this year's Côte d'Azur bonanza?
Benicio del Toro arrives at the Cannes Film Festival's opening night dinner
This slot is always one of the trickiest to fill satisfactorily, though last year's choice – Pixar's delightful animation Up – was inspired. Coming on the same day as the film's release date, alas, Robin's rain-lashed, Ridley-less premiere felt like a non-event from the get-go, putting the festival on the back foot before it had even begun.
Ground was made up the following day thanks to an out of competition showing of Oliver Stone's belated
Wall Street
sequel,
Money Never Sleeps
, a film that, while rather undermined by its perverse determination to de-fang Michael Douglas's rapacious Gordon Gekko character, at least had the decency to qualify as a hot ticket. Its presence, though, was emblematic of one of this year's prevailing trends: that of veteran filmmakers trading off former glories.
You'd expect nothing less from Woody Allen, whose fourth London-based feature – the awkwardly titled You Will Meet a Tall Dark Stranger – is a familiar mélange of marital disharmony, upscale living and May-December relationships. It is a typically starry affair, though not an especially funny one – a consequence, perhaps, of casting largely dramatic talents (Anthony Hopkins, Naomi Watts, Gemma Jones) in roles that might have benefited from a lighter touch. The brutal thriller Outrage saw another Cannes stalwart, Japan's Takeshi Kitano, operating comfortably within his wheelhouse, albeit with a surfeit of bloody gangland slaughter and mouth-related torture scenes that had even toughened festival-goers cowering in their seats. The result might appeal to the Gothic sensibilities of president Tim Burton (pictured below at the opening ceremony), but one questions whether anyone else on the Palme d'Or jury will take it to their hearts. The same could be said of Tournée, Mathieu Amalric's pleasant but somewhat aimless tale of burlesque dancers on tour in the Gallic provinces.


A safer bet for that honour might be Mike Leigh's latest, Another Year, an altogether gentler affair that delicately juxtaposes the self-sustaining contentment of one happily married couple with the hopeless despair of their relatives and friends. Jim Broadbent and Ruth Sheen are near to perfection as the doting Tom and Gerri, though it's Lesley Manville who shines brightest as hard-drinking harpy Mary. The Best Actress award would be a just reward for her efforts, something that might prompt her infamously grumpy director – on splendidly grouchy form at his film's press conference and a subsequent Q&A at the UK Film Tent – to crack a rare smile.

The late addition of Ken Loach's Iraq-based Route Irish – screening later this week – ensures Leigh is not the only Briton flying the flag in the official line-up. Like Stone and Allen, however, Stephen Frears elected to screen his latest out of competition, no doubt sensing that his sprightly adaptation of Posy Simmonds' graphic novel Tamara Drewe, a bucolic spin on Hardy's Far from the Madding Crowd, might look trifling beside such heavy hitters as the civil war-based heart-tugger A Screaming Man (Chad's first Palme d'Or hopeful) and Alejandro Gonzalez Inarritu's Biutiful (a sluggish tale of a dying criminal's efforts to right wrongs before he croaks).
Also screening out of competition, in a post-midnight slot, was Gregg Araki's Kaboom, a deliriously twisted teen movie that felt like Twin Peaks 90210. Most of its endlessly quotable dialogue is sadly unprintable, though one waspish rejoinder about pop star Lady Gaga will remain with this critic longer than the worthier likes of monks in the peril tale Of God and Men or Abbas Kiarostami's static relationship drama Certified Copy.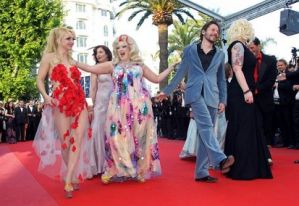 Cannes wouldn't be Cannes without some controversy, and while there is nothing so divisive as last year's Antichrist in the main selection there have still been a number of contentious talking points. Italy's culture minister snubbed an invite to the Berlusconi-bashing documentary Draquila: Italy Trembles, a satirical look at his boss's handling of 2009's L'Aquila earthquake disaster, while local outlets have been much exercised about Outside of the Law, about the war for independence in France's former colony Algeria. (The French-Algerian director has pleaded for his film to be seen "in a spirit of mutual respect and in a calm climate.") Jean-Luc Godard, meanwhile, snubbed the press conference for his latest obscurity Film Socialism, attributing "problems of the Greek type" for his widely anticipated no-show. (Above: the actor-director Mathieu Amalric and his co-stars promote his competition entry, Tournée).

If the old fox was referring to Greece's current financial woes, it was in keeping with a festival that continues to feel the impact of the credit crunch. There appear to be far fewer banners and billboards adorning the Croisette's swanky hotels this year, while large-scale parties have been something of a rarity. Business was brisk in the Marché du Film over the weekend, though a stroll today through its rabbit warren of stalls found little activity. The suspicion is that many movers and shakers have already left, which is bad news in industry terms but will at least make it easier to book a table for dinner.

You need to make a splash at Cannes, something Indian director Shekhar Kapur tried at the launch for his new project Paani by daring the assembled to sip from unlabelled bottles that might or might not have contained contaminated water from the Mumbai slums. Attending the festival is no less of a lottery, though this critic will leave happy he caught such off-the-wall titles as Rubber (a horror movie about a psychotic car tyre with the ability to explode heads) and This Film is Broken (a charming romance built around the music of Toronto rock outfit Broken Social Scene). He'll also be heartened by the memory of one Meg Ryan stifling a yawn during the nuclear disarmament agitprop film Countdown to Zero – a welcome reminder that Cannes is as exhausting for them as it is for us.