Blackfish |

reviews, news & interviews
Blackfish
Blackfish
In captivity, killer whales really earn their moniker, but corporate greed prevails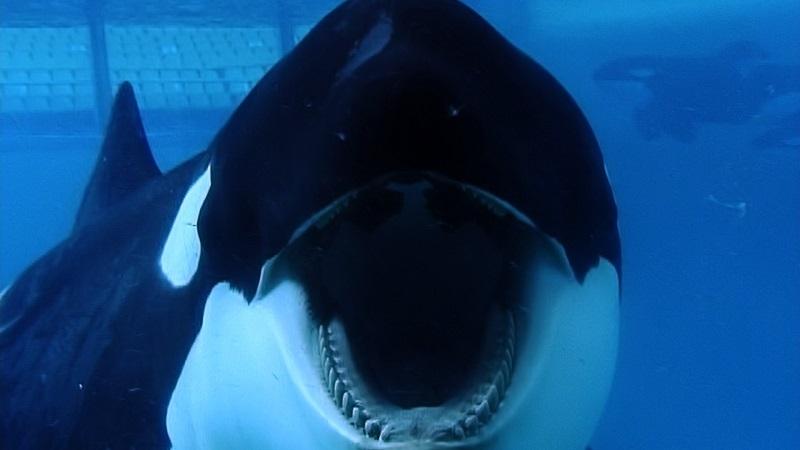 Psychokiller: Tilikum the killer whale
Oddly, there is quite a cinematic sub-genre starring killer whales. The killer's first (and worst) lead role was opposite a hammy Richard Harris in Orca, a shameless attempt by Dino De Laurentiis to ape the success of Jaws. Then came Free Willy, which in three icky instalments repositioned killers as essentially cuddly.
That image took a dent in
Rust & Bone
after Marion Cotillard's whale trainer spent much of the film without any legs courtesy of a captive orca. And now there's
Blackfish
, a documentary which lifts the lid on the theme parks where killer whales work as aquatic circus performers.
In 2010 Dawn Brancheau, a highly qualified orca trainer at SeaWorld in Orlando, was dragged into the water by one of her charges. The autopsy supplied a list of fatal injuries as long as the arm the whale severed. In the log of the 911 emergency call, the policewoman can't bring herself to identify the amputated limb. "How did he let go of the…? He never let go of the, uh…" SeaWorld claimed that Brancheau had slipped. Challenged by witnesses, they then said she was dragged in by the ponytail she should have had in a bun. The reality they seem reluctant to countenance (they refused requests to participate in this film) is that killer whales will behave erratically in captivity, and as a consequence injury and death are astonishingly frequent.
Brancheau's killer was a cruiserweight male known as Tilikum, a name he acquired when he was first inhumanely separated from his mother and, in effect, incarcerated in a whale jail called Sea Land in Canada. That's where he first dragged a trainer under. Two witnesses still looked traumatised as they recalled the scene in graphic detail 20 years on.
When Sea Land closed down – even the owners twigged they were essentially running a Dotheboys Hall with flippers – he was sold to SeaWorld (pictured above right), who omitted to share his track record with their employees and milked his extremely valuable semen. They also hoodwink the public about his flopped dorsal fin. Perfectly normal, they say. No it's not, say experts. And lie about killers' life expectancy. Up to 30 years, they claim. In fact females in the wild live closer to 100 in their habitat.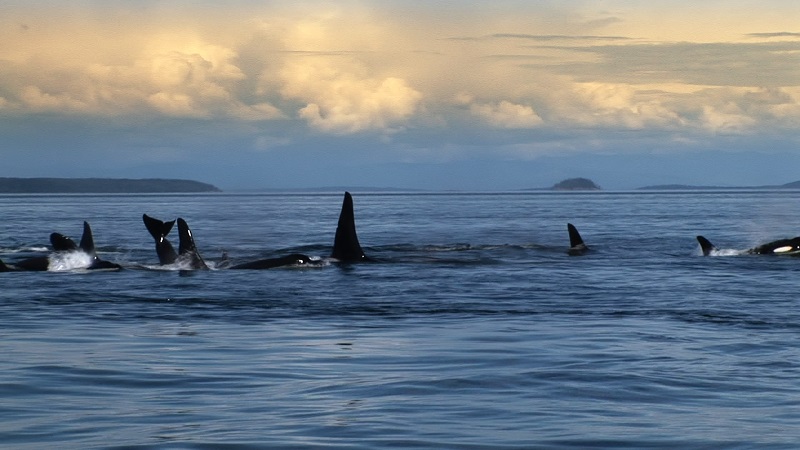 The violations committed by their captors naturally cause aberrance. Vicious whale-on-whale attacks are inconceivable in family pods (pictured left), each characterised by their own behaviour codes and vocalisations, but common in captivity where whales are randomly thrust together in confined spaces. And human trainers occasionally feel the brunt of an orca's frustration or even psychosis.
Gabriela Cowperthwaite's film is essentially a watertight case for the prosecution. "His wet suit basically held his body together," recalls a witness after one trainer was crushed by two whales. Interviews with biologists and disenchanted ex-trainers (and, for balance, the odd apologist) contribute to what feels like an incontrovertible portrait of corporate greed riding roughshod over the laws of nature. Trainers were told by their employers to get back in the water or get replaced. In court a complicit head trainer deployed the crudest casuistry. "Did you know he was capable of pulling [a trainer into the water]?" she was asked by a male attorney. "I know you are capable of rape," she replied.
It's amazing how much footage there is of orcas killing and maiming, which is why this film makes for awful viewing. Its real home is on television, where it would find a large audience. The most cinematic element is Jeff Beal's fine original score, which subtly mimics the calls of orcas, in contrast to the fatuous muzak pumped out in SeaWorld promos. If you weren't already, Blackfish will put you off marine parks for good.
Overleaf: watch the trailer to Blackfish
It's amazing how much footage there is of killers killing and maiming
rating
Explore topics
Share this article