Birds of Passage review - mesmerising Colombian family saga |

reviews, news & interviews
Birds of Passage review - mesmerising Colombian family saga
Birds of Passage review - mesmerising Colombian family saga
The marijuana boom of the Seventies from the standpoint of the Wayuu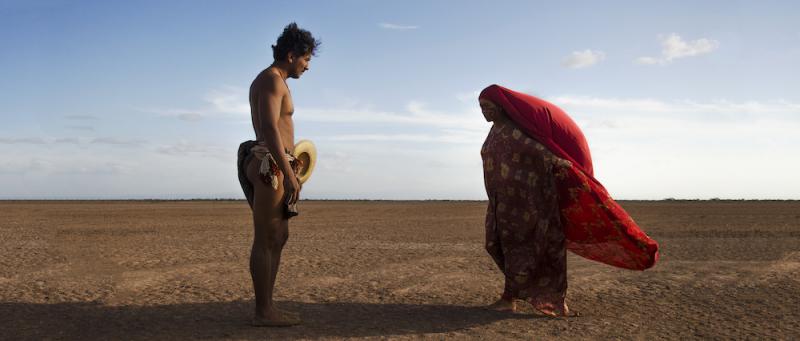 After the Yonna dance: Rapayet (José Acosta) and Zaida (Natalia Reyes)
"Do you know why I'm respected?" demands Ursula (Carmiña Martinez), a Wayuu matriarch in La Guajira in northern Colombia, of Rapayet (José Acosta), who wants to marry her daughter Zaida (Natalia Reyes, soon to star in James Cameron's Terminator reboot). "Because I'm capable of anything for my family and my clan."
Directed by Ciro Guerra and his ex-wife Cristina Gallego – their Embrace of the Serpent, in which he directed and she produced, was nominated for an Oscar in 2016 – the mesmerisingly beautiful Birds of Passage covers the decades between 1960 and 1980 and the bonanza marimbera era of marijuana trade in Colombia.
It is told in five cantos or songs - Wild Grass, The Graves, Prosperity, The War and Limbo - which gives a pretty good idea of how things go down. But what makes the film so extraordinarily powerful is its contemplative, spiritual atmosphere and its focus on Wayuu traditions and taboos and the significance of dreams, as well as on the vast, arid landscapes. Thirty per cent of the crew were Wayuu and many of the cast, plenty of wrinkled elders among them, are non-professional and indigenous. Most of the dialogue is in Wayuunaiki.
Ursula also guards the talisman that protects the clan from untrustworthy people. "Even if you get the dowry, the spirits will warn me about you," she tells Rapayet. But maybe Ursula doesn't listen carefully enough to the spirits. She's suspicious when Rapa comes up with the dowry for Zaida – goats, cows, necklaces from tumi stone, decorative mules – in record time. Although Wayuu himself and nephew of the word-messenger, an almost sacred figure, Rapa was raised outside the clan with Spanish-speaking non-Wayuu or alijunas and has become unfamiliar with traditional ways. How did he do it, she asks. "I'm in business with the gringos," he replies. And we all know what that means: selling weed. But Ursula (Carmiña Martinez, pictured below) accepts him into the family anyway (no fathers are in evidence). She is known for her trading skills, after all.
From the dramatic Yunna dance, a coming-of-age courtship ritual where Zaida, after a year in confinement learning the crafts of weaving and knitting, swoops in a circle with a red cape billowing behind her, to the exhumation of bones which involves spitting alcohol on to them, the film contrasts the Wayuu way of life with that of the booming marijuana business that cool, laconic Rapa and his reckless, partying, alijuna business partner Moncho (Jhon Narvaez) embark on.
It starts small-scale at first – supplying some American Peace Corps workers with grass from Rapayet's cousin Anibal's farm in the lush green hills. They carry a goat to Anibal as part of the first deposit. Inevitably, greed sets in, mules and goats are substituted with cars, guns and planes, and bloodshed – lots of it – follows. The spirits are offended. Ursula can no longer talk to the dream and the family is no longer protected.
Although it has been criticised for inaccuracies about the location of the marijuana farms and the Wayuu's (and the Peace Corps') actual involvement in the drug trade, the wonder of the film, with the glorious colour of its crickets and birds and weavings, transcends fact. There are surreal scenes: the jeeps, usually harbingers of doom, that careen across the desert to the family's settlement of huts; the burial of a plane with dead bodies in it; the big modernist white house that supplants the wattle-and-daub huts in the middle of a sandy plain and where a stick-legged bird – or is it a ghost - struts across the new carpet.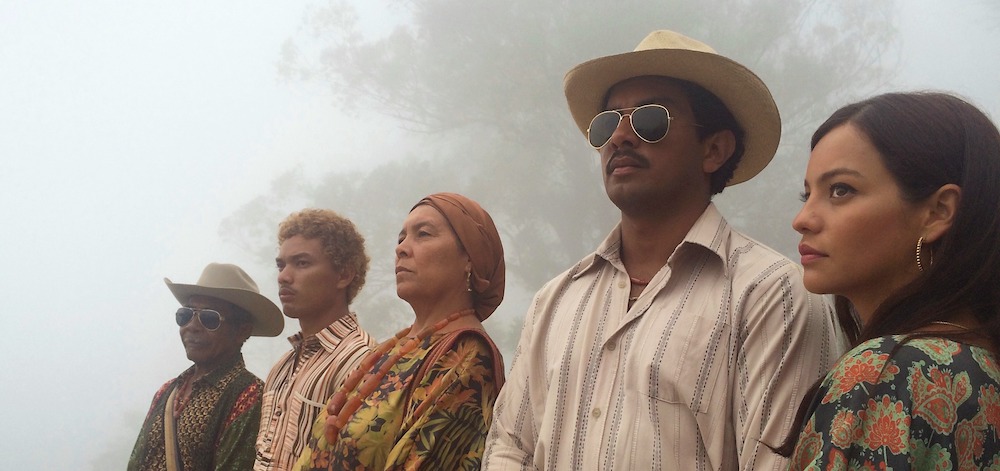 Money changes everything. Zaida (Natalia Reyes, pictured above right) carries a leather handbag instead of a hand-woven one and her face looks harder with make-up. Everyone gets big gold watches. Rapa has marble desk ornaments in his office, but he and Zaida still sleep in a hammock rather than their pristine white bed. The dead-eyed Leonidas (a powerful Greider Meza), Zaida's russet-haired young brother and a bad seed at the best of times, gets totally out of control (in one memorable scene, he forces a henchman literally to eat shit) and one of his worst drunken transgressions contributes to the deadly war between Anibal's and Ursula's family. Ursula seems oddly unable to discipline him. But that's family for you.
Still, it's not surprising that Ursula's there till the bitter end - the Wayuu is a matriarchal society, and one that Guerra and Gallego show us with hallucinogenic vividness.
Subscribe to theartsdesk.com
Thank you for continuing to read our work on theartsdesk.com. For unlimited access to every article in its entirety, including our archive of more than 10,000 pieces, we're asking for £3.95 per month or £30 per year. We feel it's a very good deal, and hope you do too.
To take an annual subscription now simply click here.
And if you're looking for that extra gift for a friend or family member, why not treat them to a theartsdesk.com gift subscription?