Beau is Afraid review - life's ordeals in lengthy detail |

reviews, news & interviews
Beau is Afraid review - life's ordeals in lengthy detail
Beau is Afraid review - life's ordeals in lengthy detail
Stamina from Joaquin Phoenix and a scene-stealing turn from Patti LuPone
Odyssey: Amy Ryan and Joaquin Phoenix in 'Beau is Afraid'
Life's journey is a challenge, and then some, for Beau Wasserman (Joaquin Phoenix), the beleaguered Odysseus/Job (you choose!) equivalent figure at the savage heart of Ari Aster's new film Beau is Afraid. But imagine surviving unimaginable ordeals on the long road of existence only to be met at the end by the Broadway legend Patti LuPone?
Some trips are worth the destination and, running a fully felt three hours, this film is one of them, if not for a final sequence that lets the Juilliard-trained LuPone let rip: we all know she played Eva Peron but on this evidence, I'd love to have seen her Medea - and more.
In fact, theatre buffs will have a field day with this film to a degree that I would't have anticipated from the director of Midsommar and Hereditary. Early scenes of Beau in therapy with his shrink find current Tony nominee Stephen McKinley Henderson doing the listening, and, later, Beau finds two apparent saviours in the beneficent (or maybe not) personages of Amy Ryan and a second Broadway mainstay, Nathan Lane.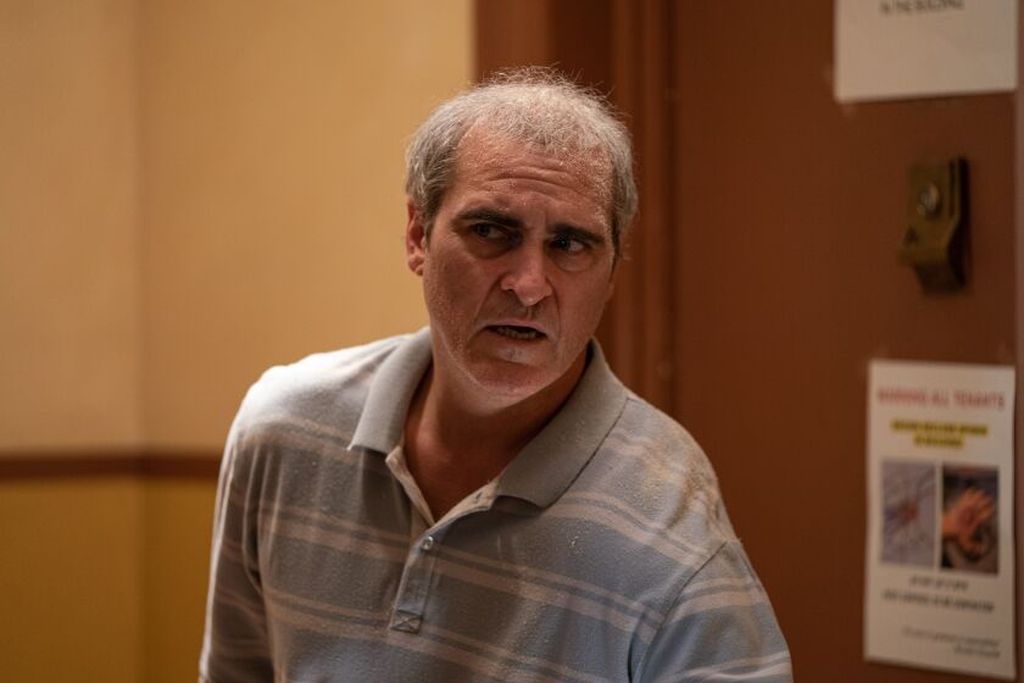 That all these theatre folk give top-flight performances allows Phoenix to share some of the formidabke burden while still managing to carry this celluloid behemoth. Let's put it this way: I can't imagine what casual filmgoers might make of a venture that in any case isn't for them. Speaking for myself, I was dazed and confused, intrigued and sometimes irritated. But at least it wasn't happening live, in the manner of the West End's current misery-fest A Little Life. Had that been the case I, like Beau, might well have been very afraid.
The film begins with a messy and difficult birth, and you can't blame Beau for wishing he gone right back up inside the womb and stayed there. Set loose into a horror show of a world, he finds himself amidst an urban climate that might give even Phoenix's Oscar-winning Joker pause: a zombified nightmare that the likes of Stanley Kubrick and Alex Garland would surely argue is humankind's depraved destiny.
Not that country life offers much by way of calm. Beau's travels lead eventually to the peaceful-seeming abode of the couple played by the theatre vets Lane and Ryan named above, but any sense of an oasis is shortlived: the pair come across Beau after nearly mowing him down with their truck and they have a psycho daughter (Kylie Rogers) who is none too pleased with this newcomer in her midst. Renewed flight lands Beau in the surreal environs of a woodlands staked out by a theatre troupe, billed as The Orphans of the Forest, if you please, who appear to be putting on a play about, well, him. (Hamlet, one feels, would approve.)
A special shout-out to Cristóbal León and Joaquin Cociña, creators of the theatrical fantasy sequence that ups the stylistic ante for a movie busily swerving off in more directions than even a comparable brainiac like Charlie Kaufman might have thought possible.
There's more to come, of course, including Parker Posey as an erstwhile flame with whom Beau is reunited in a spectacularly joyless encounter - anti-eroticism of the first order - and then, of course, LuPone in full-on, fire-breathing form as the film's very own Momma Mona: her vitriolic reminder that she gave up her life for this hapless son was presumably catnip to a performer who voiced those precise sentiments to a daughter during her Tony-winning Broadway run in Gypsy. (Zoe Lister-Jones is excellent as the younger Mona, and she and LuPone really do seem like versions of a single self - an achievement that happens surprisingly rarely onscreen.)
What does it all add up to? A Freudian phantasmagoria, for sure, and a heroic gesture of commitment not least from Phoenix who finds what grace can be salvaged from the battered, often-grizzled Beau: someone buffeted this way and that without even much speech permitted by way of retort. Perhaps we are to the film itself as McKinley Henderson's shrink is to Beau: observing and noting and doing as best we can to lend a sympathetic ear. I can only surmise the movie worked for Aster on some very profound level as an act of catharsis, which raises any analyst's question: what next?
Patti LuPone is in full-on, fire-breathing form as the film's very own Momma Mona
rating
Explore topics
Share this article