Altman |

reviews, news & interviews
Altman
Altman
A genial but scarcely probing documentary about the great director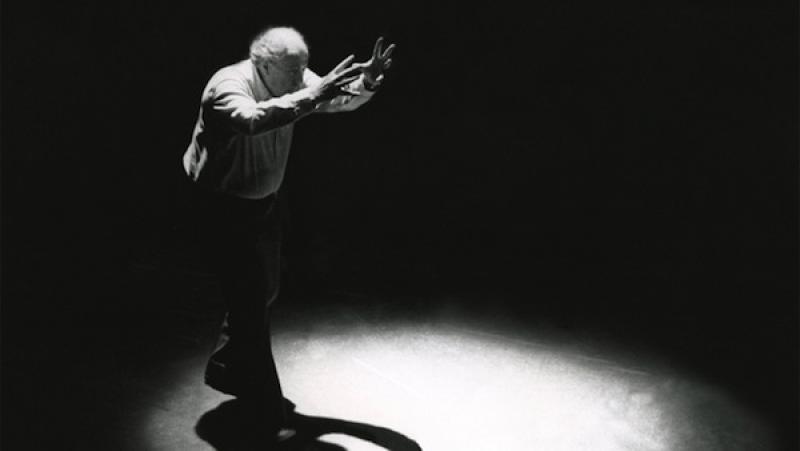 Taking a bow: Robert Altman in the spotlight
Ron Mann's laid-back documentary about the career vicissitudes and family life of Robert Altman (1925-2006) takes its cue from the tone of the director's films. It was Altman's habit to observe his character's crises, collapses, and deaths with the same evenness and lack of melodrama with which he observed their humdrum moments.
Although there's a powerful current of liberal anger in Altman's work, at the core of it there's an acceptance of the reality of Social Darwinism, manifested particularly in the American Way. Optimism goes hand in hand with opportunism, as demonstrated by a scene that Mann quotes from Altman's masterpiece Nashville. After the country music diva Barbara Jean (Ronee Blakley) is carried from the stage of the Grand Ole Opry after an assassination attempt, the aspiring singer Albuquerque (Barbara Harris) quickly picks up the mike and leads the gospel choir in "It Don't Worry Me".
The dispassionate panning shot that takes in several emergency operations as the surgeons speak offhandedly in M*A*S*H, also quoted by Mann, has the same effect. It's not that Altman was callous or disrespected individual lives (the opposite was true), more that he recognized that one person's confrontation with mortality is another's cigarette break – and that the beat goes on. (Pictured above: Altman and his wife Kathryn Reed Altman.)
Stuart (Fred Ward) and his buddies don't let a little thing like a woman's corpse curtail their fishing trip in Short-Cuts. Lady Sylvia (Kristin Scott Thomas) sleeps with a young American valet almost immediately after her husband is murdered in Gosford Park. Sentimentality in Altman amounts to the noble death of McCabe (Warren Beatty) in the Oregon snow in McCabe & Mrs Miller or Philip Marlowe (Elliott Gould) shooting his old friend Terry Lennox over a matter of honour in The Long Goodbye.
These are elements, negative and positive, of what made Altman's films "Altmanesque", a critical term that also conjures his demythicising of Hollywood genres and satirizing of cultural, social, and political institutions. Because vaguer, it is a term used less promiscuously than, say, "Hitchcockian", "Kubrickian", or "Spielbergian", but it's that very elusiveness and its sufficient familiarity that prompted Mann to use it as the organizing concept of "Altman".
Having defined it playfully in a title at the start of the documentary, Mann asked such Altman alumni as Gould, Lily Tomlin, James Caan, Robin Williams, Sally Kellerman, Bruce Willis and Julianne Moore to state pithily what "Altmanesque" means to them. (Paul Thomas Anderson, the gifted director of ensemble films who's generally considered Altman's heir, answered with the word "Inspiration" when he, too, was asked.) Each of these talking heads informally introduces a chapter in Mann's chronological history of Altman, which sadly skips his Kansas City upbringing. As it runs through the movies and traces Altman's 1970s success, the devastating failure of Popeye, his subsequent exile in Paris, his resurrection with The Player, and his productive last 14 years, the doc can seem perfunctory and superficial. A future Altman documentary would do well to parse his auteur-ship and his battles with the studios.
The actors' words are less revelatory than those of his family members – for, above all, Altman is a family affair. The major narrator is Kathryn Reed Altman, the former model and actress who became his third wife in 1959 and was with him until the end: her last contribution, concerning the effect of seeing Brief Encounter on Altman and made by her on camera, is worth waiting for. (Pictured above: Altman at work; note the camera's new logo.)
Two of Altman's sons and his daughter Christine also chip in – one of the boys admitting that his father was wonderful on holiday occasions when they were young but barely around the rest of the time; Stephen and Robert welcomed the chance to join his crew since it let them get close to their dad. Home movie clips reveal that Altman, when he was there, was a loving father; a shot of him sitting on the stairs of his and Kathryn's Malibu beach-house and peering at his extended clan toward the end of his life show how delighted he was to be surrounded by so many kids and grandkids.
I had the good fortune to spend three hours interviewing Altman at that house (not far from where Sterling Hayden's suicidal Roger Wade staggers into the surf in The Long Goodbye) in June 1992, with Kathryn an occasional participant. I also talked to him twice at his Park Avenue office in New York. He gave of himself freely and warmly on these occasions, seeming to relish analyzing his films as if they were mysteries he had solved as he made them but still found amusing and intriguing to discuss, whether successes or failures. In Altman, there wasn't a hint of the subtle condescension or defensiveness that characterizes some directors' dealings with the press. He has frequently been described as "mercurial" and as a "maverick", but what a director he was – and what a thorn in the side of Hollywood conservatism and elitists and ideologues everywhere.
Altman recognized that one person's confrontation with mortality is another's cigarette break
rating
Explore topics
Share this article