Sweet Mambo, Tanztheater Wuppertal Pina Bausch, Edinburgh Playhouse |

reviews, news & interviews
Sweet Mambo, Tanztheater Wuppertal Pina Bausch, Edinburgh Playhouse
Sweet Mambo, Tanztheater Wuppertal Pina Bausch, Edinburgh Playhouse
German choreographer's late work delights Edinburgh Festival audience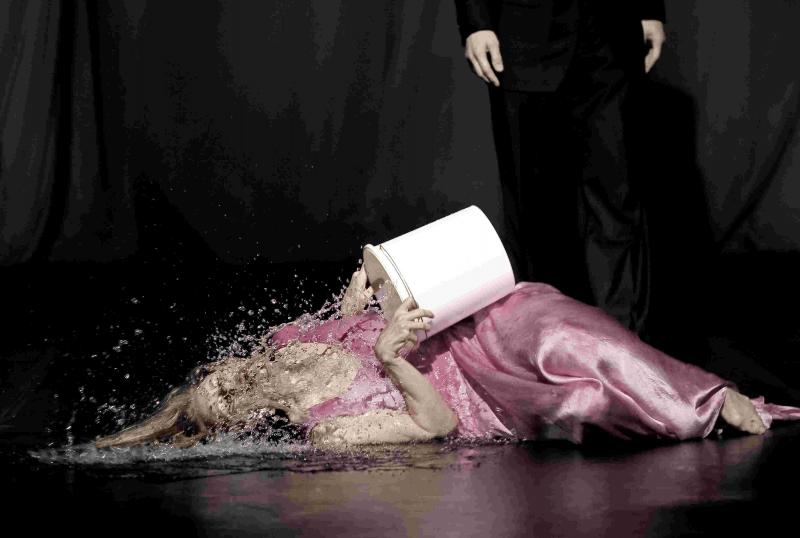 Immerse yourself in Pina Bausch's surreal, gorgeous world. Julie Shanahan in 'Sweet Mambo'.
The Edinburgh Playhouse is the largest UK theatre regularly used for dance. The stalls alone seat more than the total capacity of Sadler's Wells, and the two circles combined seat even more again, for a maximum audience of 3,059.
To see it filled almost to bursting last night for the first night of Tanztheater Wuppertal's visit to the Edinburgh International Festival is evidence – if any were needed – that the late
Pina Bausch
's company are worldwide superstars
Such is the power of Tanztheater Wuppertal's dancers, that when you see from the programme that only ten feature in Sweet Mambo (seven women and three men), you might at first be disappointed. Ten? What about the whole 30-plus company? With dance theatre this rich and strange, more is definitely more, right? Actually, with dancers this powerful, ten is more than enough. Seeing them in the cavernous Playhouse really brings home how magnetic Bausch's dancers are, each of them alone capable of holding 3000 people rapt, with the kind of charisma that in ballet companies is possessed only by a handful of top principals.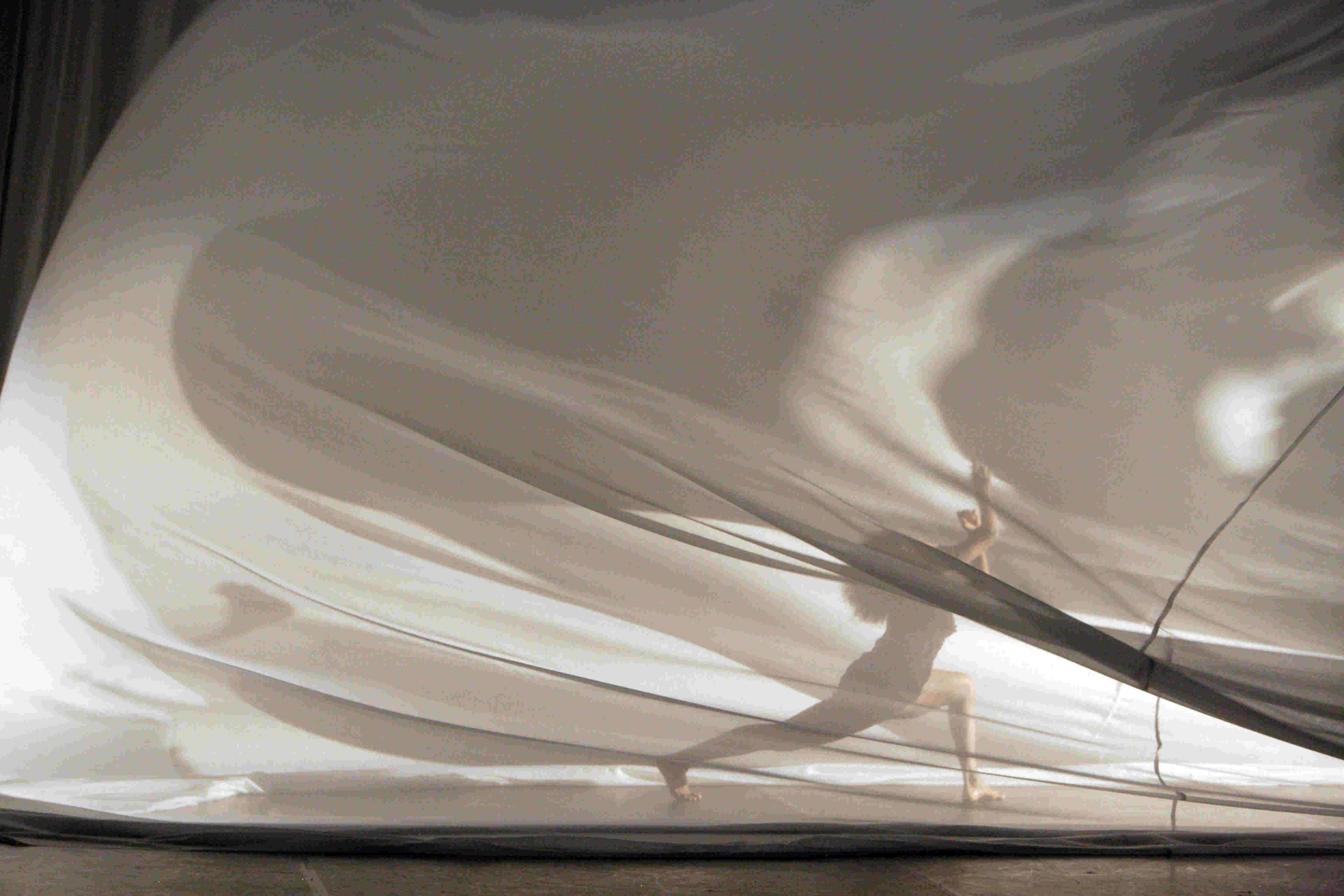 Sweet Mambo (2008) gives the dancers far more space to themselves than some of Bausch's busier pieces, like 1980. All the women get extended solos on an empty stage, and they dance far more than they speak or mime. With Bausch's trademark lush costumes in abundance, the result is long, satisfying minutes watching bias-cut silk swirl and trying to fathom the mood of these women, who seem sometimes melancholy, or anxious, or angry, but also sometimes exultant: grown-up, powerful, revelling in dancing.
Nazareth Panadero observes, of life, "nasty, isn't it?" But generally in Sweet Mambo it's not that bad. This is a sweeter piece than some, more meditative and gentle. The set is just voile and air, hundreds of metres of white fabric (the same set as Bamboo Blues) – a blank canvas, if you like – into which dancers disappear, onto which black and white film is projected, through which agitating breezes ripple. In one striking tableau it billows out from the wings, inflated by jets of air into restless curves, like a quivering fleshy belly, inside which we can just glimpse Regina Advento (pictured above right), dancing quite contentedly on her own.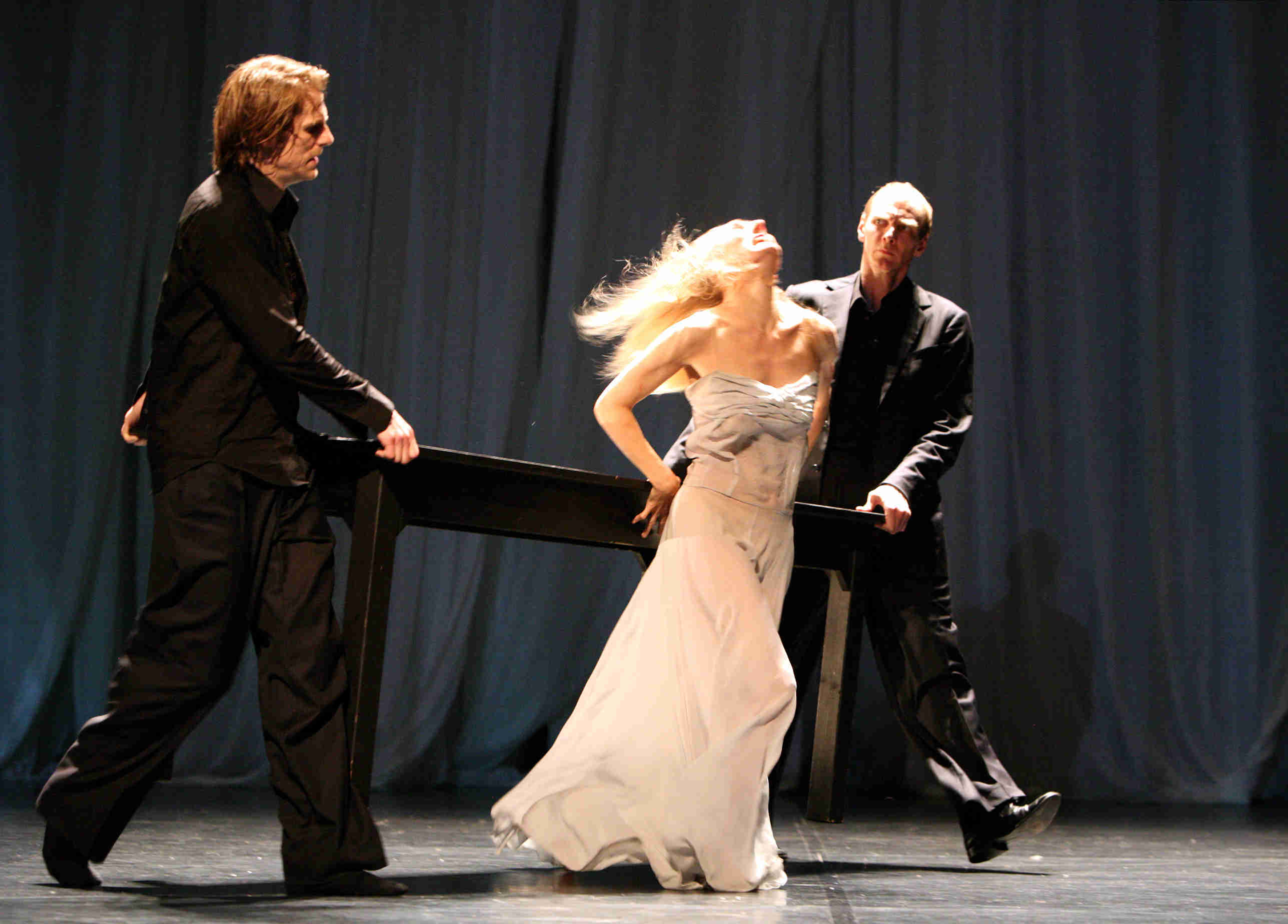 Julie Shanahan is often the lightning rod for anxiety in Bausch's pieces, and she takes that role in Sweet Mambo too. Twice, she has to endure a nightmarish scenario, trying to run to someone who's calling her and being repeatedly lifted and carried back by two men – and the second time with the added persecution of a table which keeps "flattening" her (pictured left). She throws water over herself too, though that might be pleasure, rather than punishment. Bausch's dancers have the gift of exposing themselves emotionally (they are often also physically naked, though not in Sweet Mambo) while still keeping their privacy; you never know exactly what they are thinking, or what you are meant to think of that.
Aida Vainieri doesn't want to talk to a man who wants to talk to her, but she does want to talk to a man who doesn't want to talk to her. On the other hand, it might be better to have no-one to talk to, as a stunning solo set to the hauting sound of Hope Sandoval breathily telling someone "I don't think I'll come around no more" suggests. Women touch their hips and shake out their long hair invitingly: the attentions of men, nuzzling their faces into shoulders or crooks of arms, are sometimes tender and welcome, sometimes inconvenient and unwelcome. Sometimes men are violent antagonists, running hard towards women who push them away, and sometimes they are supports, turning themselves (with the aid of the curtains) into soft couches for women to recline upon.
Like all Pina Bausch's pieces, you don't exactly work out what Sweet Mambo is "about": you let it wash over you, and impressions will settle, buildling up in dozens of thin layers like sediment, until eventually you have some kind of landscape. With Bausch, the topography varies with each piece – the hills of laugher, the valleys of sadness, the rushing rivers of anger and the gnarly woods of fear – but the country is always that of human experience itself, the turbulent absurdity of life and the longing for connection. This, Bausch's second last creation before her death in 2009, gives us an ultimately uplifting vision of what we might expect from connection: there's a happiness and an exaltation in knowing, or having known, other people in all their oddness, as long as – the dancers admonish us – we don't forget them.
There's no forgetting Tanztheater Wuppertal's dancers and the inspired creations of Pina Bausch, especially one as elegant and elegiac as Sweet Mambo. This one's a must-see.
You never know exactly what the dancers are thinking, or what you are meant to think of that
rating
Share this article