The Royal Ballet: Live, Within the Golden Hour review - stunning, joyous dance |

reviews, news & interviews
The Royal Ballet: Live, Within the Golden Hour review - stunning, joyous dance
The Royal Ballet: Live, Within the Golden Hour review - stunning, joyous dance
Setback? What setback? Restrictions seem to push this company to ever greater things
Tuesday, 17 November 2020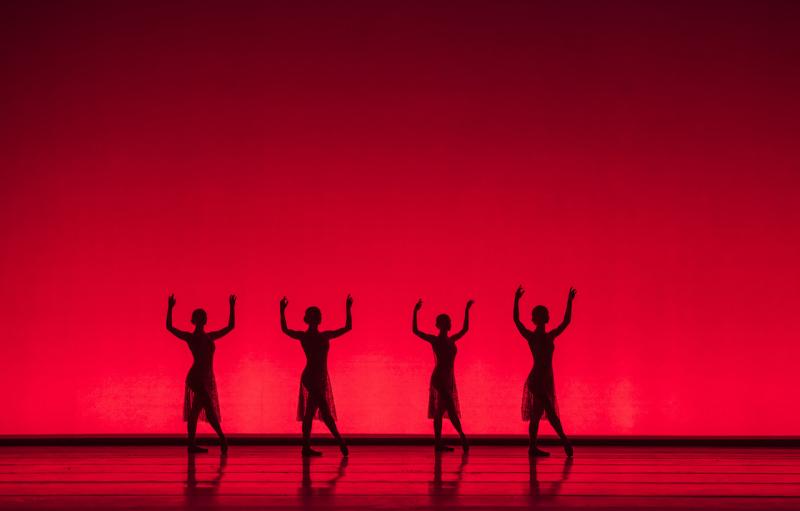 Red mist: members of the Royal Ballet in Christopher Wheeldon's 'Within the Golden Hour'
Unfazed by yet another forced cancellation, the Royal Ballet has notched up a small triumph over the virus. When what was to have been a performance to a live audience in the Opera House fell prey to new restrictions, it went ahead anyway.
With safety protocols for the dancers and orchestra already in place, as well as plans for filming, the only difference was that the public didn't have to turn out in the rain. And with a single £10 ticket covering everyone around the TV, what a bargain that has turned out to be.
For a start, there is the sheer variety of a programme that includes little-known gems such as Frederick Ashton's Blessed Spirits solo (hardly performed since he made it for Anthony Dowell in 1978) alongside some of the great pas de deux of the last two centuries. Then there is the sense that these dancers were determined to make the most of their moment. Far from rusty after their long hiatus, they're looking better than ever. But there is excellence, too, in the camerawork and editing, a crucial element in the enterprise that has gone oddly uncredited. In Our Wishes, a duet by Cathy Marston about a couple in the throes of a break-up, gained in both presence and poignancy over its last showing thanks to close-ups of dancer Romany Pajdak's stricken face. Across the board there were moments that – remarkably for an experience on a small screen – left you holding your breath for fear of disturbing a magical stillness, or made you shout, yes actually shout, for joy.
In the first category, the standout was a luminous performance of Monotones II, the trio Ashton choreographed after seeing the work of Merce Cunningham for the first time in the early Sixties. It's a piece of pure minimalism, Ashtonian classicism distilled to its essence allied to Claude Debussy's otherworldly orchestration of Erik Satie. While all three dancers (pictured above) acquit themselves impressively, decked out as they are in unforgiving skin-hugging white, it is Melissa Hamilton's glacial precision and long-distance gaze that elevates the piece to the sublime.
The serenity in the extract from Kenneth MacMillan's Concerto is of a warmer kind, despite Yasmine Naghdi starting out by using the arm of Nicol Edmonds as the barre for her warm-up. She takes more notice of him later as the pair engage, entwine and float through the piano landscape of Shostakovich. Kudos to pianist Kate Shipway for her playing, beautifully judged.
The budding partnership of Anna Rose O'Sullivan and Marcelino Sambé has made waves in fiery allegro, so it was interesting to see them tackle the terrifyingly slow extended opening to Balanchine's Tchaikovsky pas de deux. If they did feel any terror they didn't show it, still less did they wobble in those long, long moments when the ballerina has to balance motionless without visible strain (a feat made so much harder by those cameras). The following solo variations have rarely been more of a release, catapulting each dancer into a display of fizzing speed and knock-'em-dead charm that would have brought the house down if there had been one. The intended classical climax of the programme was the Corsaire pas de deux from the company's current royalty, which Marianela Nunez and Vadim Muntagirov duly delivered.
Bookending the evening were two works for ensemble. Scherzo, a world premiere (pictured above), and the first work for the main stage by company First Artist Valentino Zucchetti, showed him fully in command of his brief. Milking the moods of glorious orchestral Rachmaninoff, he was alert to the musical detail without being finicky. And whether scattering his dancers in fast-changing geometric patterns, or riding the lush Big Tune in soaring lifts for a central couple, the effect was galvanising.
It's not hard to detect in Scherzo the influence of the feted Christopher Wheeldon, of whose ballets Zucchetti has so much close experience as a dancer. Wheeldon is a master of crowd-control, the entrances and exits in his work as intricate and interesting as the main event, and Within the Golden Hour, from 2008 (pictured top), is among his greatest. Drawing inspiration from the magical filtered light – favoured by photographers and film-makers – that exists immediately pre-sunset and post-dawn, he creates for seven couples a shifting latticework of blissful social dances and imitations of the natural world.
As the curtain closes on the outline of what looks like a group of rhythmically ducking meerkats against a red African sky, the only possible response from the armchair is "Aaaaah!"
Far from rusty after their long hiatus, these dancers are looking better than ever
rating
Share this article