Romeo and Juliet, Royal Ballet |

reviews, news & interviews
Romeo and Juliet, Royal Ballet
Romeo and Juliet, Royal Ballet
Melissa Hamilton's debut in the most coveted of ballerina roles starts subdued but bursts into touching dramatic personality
Star-blessed: Melissa Hamilton and Edward Watson as the latest pair of star-cross'd lovers on Saturday
Better late than never. It took till Act 3 for a new Juliet to fledge her wings and shed the nervous caution, but Melissa Hamilton, debuting yesterday afternoon in probably the Royal Ballet's most coveted ballerina role, suddenly did what we all knew she could, and after a subdued first act seized the drama and the story. And, in Romeo's phrase, light broke - the sun in the east. A fair new Juliet.
Hamilton, a blonde beauty of 23, is the most interesting performer of young-generation girls at Covent Garden, an Irish child and late starter rejected by the Royal Ballet School, who refused to be cowed, took private lessons with the splendidly rigorous Masha Mukhamedov, wife of the outstanding Royal Ballet star and iconic Spartacus, Irek Mukhamedov, and entered the Royal Ballet ready for anything. Still only a third-rank Soloist, she's made a stimulating impression in a wide range of increasingly prominent roles, from adding her own compelling personality to Wayne McGregor's cool contortions to inhabiting Kenneth MacMillan's most dangerous female character, the fatal Marie Vetsera in Mayerling.
As Juliet she was scheduled to find true love with Rupert Pennefather, a tall, correct young blond who rarely makes my pulse race, and I'd rather imagined she'd be the fire in that partnership. But Pennefather's injury earlier this week totally changed the ballgame - now it was the elementally vivid redhead Edward Watson who was her Romeo.
While I think in some ways his forcefulness as a stage performer may have cowed her personalising of the opening scenes (certainly I felt she took quite a while to reveal that Romeo had conquered her heart), it's likely it was also sowing confidence in her for the dramatic steeplechase of Act 3, when Juliet - bereft of her secret new husband - must agree to marry the man of her parents' choice, drink a coma-inducing potion that she fears may end in her death, and finally wake in her own tomb with her dead Romeo beside her.
That's a dark place for a young girl - 14, in the story - to reach. Hamilton made you sense a very young and very naive Juliet, taken into circumstances beyond her control. It's not quite Juliet, inasmuch as MacMillan's marvellous ballet acutely reflects Shakespeare's characters, and Juliet is the driving force in the pair. You see that in the way Romeo constantly displays himself to her, to persuade and win her, and you see that in her constant risk-taking, diving into acrobatic headlong lifts, running away from Romeo daring him to catch her before she falls. The psychological insights into the creative imbalances of love that MacMillan embedded in his magnificently imagined choreography surely account for the passion with which audience and ballerinas unfailingly rush to see it every time it's programmed (445 performances at the Royal Opera House since 1965).
Hamilton's refreshingly gentle performance alongside Watson's ardour and dominance seemed to me rather more a Desdemona with her Othello than the courageous, flaming Juliet. However, no doubt Hamilton had another interpretation up her sleeve for her Pennefather pairing - no doubt this girl is a real dramatic artist with many incarnations. Among her many assets are straight, beautiful legs and curved pointes, and a clean, pure line of movement through her body (very different from the extreme flexibility she shows for McGregor), which she combined creatively for this role's character with a very expressive modesty.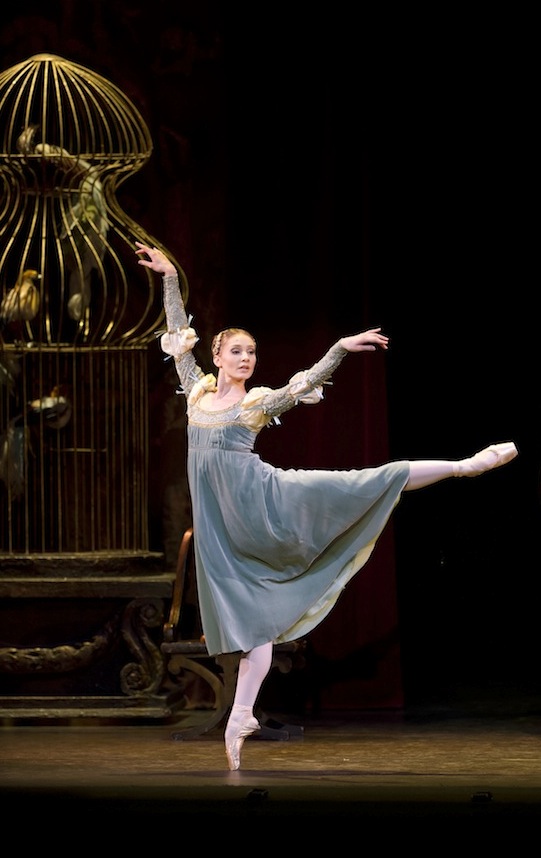 It's a pity that, with just this one scheduled performance given her, a debutante's nerves inhibited her phrasing in the ballroom scene of act 1 where Juliet dances first with the exciting new boyfriend Paris, then is besieged amorously by the masked Romeo. To create the soft and airy fluidity of these phrases requires considerable technical mastery of momentum - something that Watson understands profoundly. Yet perhaps it was that the love music was being too turgidly conducted by Barry Wordsworth - his choice? her choice? - for Hamilton's dancing to leave prose behind and become poetry in her first Paris duet, her solo, and then the initial duets with Romeo. Wordsworth nipped up smartly several gears to generate real excitement from the orchestra in the duelling tensions of Act 2, the killings of Mercutio and Tybalt. But back in Act 3 he went to grinding out the "tragic" timbres. It's kind of semaphoring from a distance, that sort of conducting, more theatrical than musical.
There was a familiar team in secondary roles - wine-addled bully-boy Thomas Whitehead as Tybalt, clean-cut, pernickety Ricardo Cervera as Mercutio, funny Kristen McNally's rustic Nurse - and an overstretched leading performer for the killer Mandolin Dance, Kenta Kura, landing his jumps with scarily little give in his knee.
Some unexpectedly brilliant lighting (due to practising for an imminent live cinema relay) revealed in all their glory the stupendous colour and rich textures of the late Nicholas Georgiadis's costumes. Evidently this Verona is regularly visited by the finest oriental merchants, whose figured silks and brocades, turban-style headdresses and opulent yet delicate capes all bathe the eyes in an impression of a golden, cosmopolitan early 17th-century Italy. The fineries seem to have at once all the embroidered figuration of Persian carpets and yet to be so fine and flowing that they could be passed through a wedding ring. This heightened lighting completely rejuvenates the staging.
Watch an extract from the Act 1 ball in the Royal Ballet's DVD with Tamara Rojo and Carlos Acosta

This girl is a real dramatic artist with many incarnations. Among her many assets are straight, beautiful legs and a clean, pure line of movement
Explore topics
Share this article