Redd, Barbican Theatre review - hip hop gets the blues |

reviews, news & interviews
Redd, Barbican Theatre review - hip hop gets the blues
Redd, Barbican Theatre review - hip hop gets the blues
Boy Blue explore the black dog in a brave piece of dance theatre
Wednesday, 02 October 2019
Song sung blue: Kenrick Sandy (left) and the dancers of Boy Blue in their new work, 'Redd'
There was a time when hip hop in a theatre was all about showing off. It was about dancers spinning on their head or their elbow so fast and for so long that the audience gaped in disbelief. Although it had long ago migrated from the concrete stairwells of inner city estates, the culture remained rooted in the idea of a battle, a dance-off, a show of virtuosity.
Then along came Kenrick Sandy and Michael Asante, whose work with their company Boy Blue inched towards the territory of psychodrama. The hip hop movement is still there – the locking and popping, the smooth-as-silk floor work – but there's emotional substance now, and threads of narrative. The company's latest piece, Redd, follows on from 2017's Blak, Whyte, Gray – or at least the title suggests some kind of continuity. But where the earlier work was about the struggle to find your place in the world and was ultimately triumphant, Redd goes to a much darker place: clinical depression.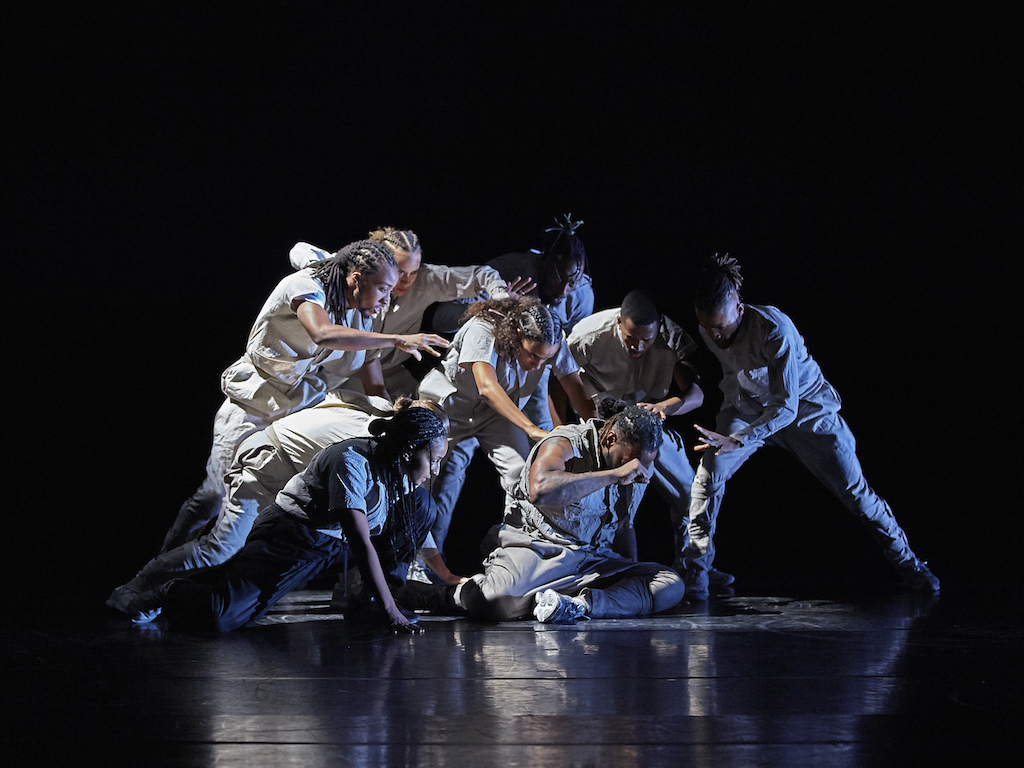 The opening sees Sandy, a great hunched bear of a man, imprisoned in a box of light. Fretting at its confines with shuddering motions of his expressive hands, he wrenches imaginary levers and braces his torso as if closing it down for the night under lock and key. Around him shadowy figures flit in and out of a dimly lit smokescape like elusive thoughts. Asante's music, alive with lo-fi hiss and crackle, has no danceable beat and certainly no tunes, but its juddering thud is so finely attuned to the choreography that over long stretches of time it gives the spooky impression of being controlled by Sandy's chest and shoulder muscles.
There is a problem in asking us to engage with such downbeat human experience: it's painful to watch
Ensuing scenes work through various manifestations of the black dog, and we witness the frustration of friends and associates. They want Sandy to talk, but he can't, or won't. They want him to look around him, but he shields his eyes. They urge him to listen, but he covers his ears. At one point they pose cheesily for a group photo and, to our surprise, he joins them. One by one they break into silent, shaking laughter and hurl themselves out of the frame until only Sandy is left, his smile clearly pasted on – a miserable fake.
It's clear throughout that this piece has sprung from personal experience – it could not otherwise be so potent – but there is an inherent problem in asking us to engage with such downbeat human experience: it's painful to watch. And there are precious few lighter moments beyond a brief duet between Sandy and the smallest girl in his eight-strong troupe. Finally, though, it's his beatific face and the superb technique encased in that bulky body that keep you watching. His slo-mo walk, in profile, is a marvel of the minutest muscle control – so much more than just walking slowly.
The paradox is that, in making his body behave like a machine, the dancer's humanity only beams brighter. There are moments in Redd that are deeply affecting and this, in the absence of obvious emotional triggers, suggests great compositional skill.
Redd at Barbican Theatre until 5 October, then Fairfield Halls 19 October