Mariinsky Ballet: Concerto DSCH, Sacre, Wales Millennium Centre |

reviews, news & interviews
Mariinsky Ballet: Concerto DSCH, Sacre, Wales Millennium Centre
Mariinsky Ballet: Concerto DSCH, Sacre, Wales Millennium Centre
A flying visit from St Petersburg, without the swans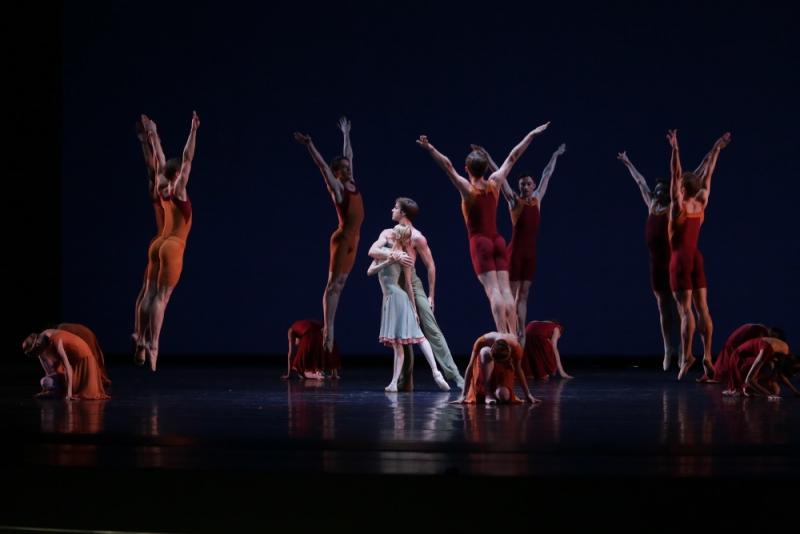 Dancers of the Mariinsky Ballet in Alexei Ratmansky's 'Concerto DSCH'
On Thursday the Mariinsky Ballet and Orchestra swooped into Cardiff for the ballet company's only UK dates this year. Appearing at the Wales Millennium Centre for just four ballet performances, plus a family concert of Peter and the Wolf, the Mariinsky's arrival does seem an extravagant indulgence by its backers, especially with the decision to show exclusively contemporary, Western-style, ballet programmes.
Like the Bolshoi, the Mariinsky has at times acquired contemporary Western ballets, even during Soviet days, but in the past two decades the drive to westernise has intensified and European and American choreographers now heavily populate their respective repertoires. Viewed from the British end, to bring the likes of Hans Van Manen's Five Tangos, Jerome Robbins's In the Night and Wayne McGregor's Infra (Programme One) is rather like bringing coals to Newcastle – or Wales. But you can understand the drive to show Russia's ballet companies as being as much up-to-date as their Western counterparts, even if a large part of the public would still prefer to watch them perform Swan Lake and the other icons of 19th century classicism.
To choose Stravinsky's score is always to venture into dangerous territory
Is the Mariinsky Ballet losing its identity? Yes, when it tries to emulate Western companies. It's taking a while for both the Mariinsky and the Bolshoi to grow their own modern choreographic talent – or at least talent that can be appreciated internationally. One major exception is Alexei Ratmansky, born in St Petersburg, trained in Moscow, based in New York, and arguably the hottest ballet choreographer anywhere. His Concerto DSCH, in Programme Two, is an outstanding piece, so it was all the more pity the masses of Cardiff stayed away, prompting management to close the auditorium's upper tiers.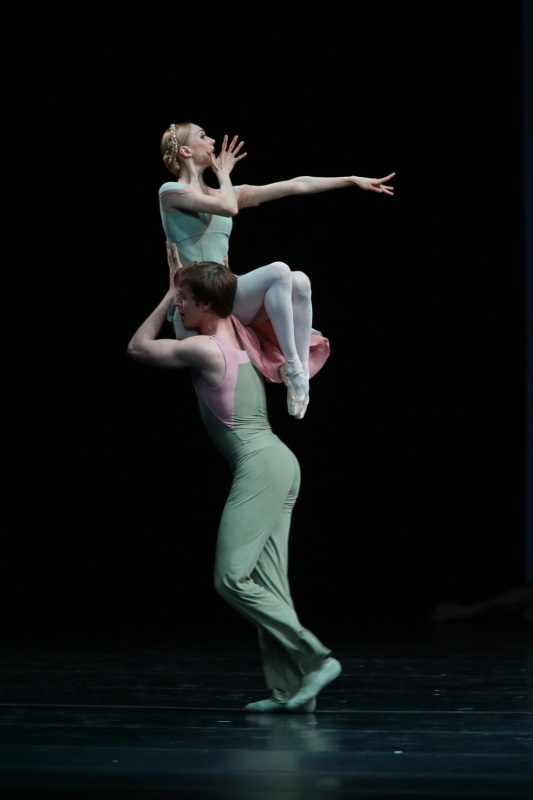 Using Shostakovich's Piano Concerto No. 2 in F Major, the ballet takes its title from the musical motif or cryptogram, representing Shostakovich's initials, that the composer often wove into his music. And what perfect ballet music it is, conducted by Valery Gergiev no less. From the start it sets a cracking pace, with headlong speed from the solo piano of Vladimir Rumyantsev, and a brightness – the music is believed to evoke a new optimism, prompted by the death of Stalin – that Ratmansky matches with constant motion and playfulness. Colour-coded groups form, dissolve and re-form in ever-changing combinations; sudden flashes of Russian folk dance imprint themselves like pieces of architecture; sly little jokes emerge; and all the while your attention is completely gripped. The dancers are also a marvel. Virtuosic Kimin Kim is part of a frisky trio, he and Philipp Stepin competing for the attention of Nadezhda Batoeva. She in turn briefly entices Konstantin Zverev away from his partner Svetlana Ivanova (pictured above right), much to the latter's annoyance, since she and Zverev were an item. They had danced a romantic duet during the music's middle section, a slow movement that interrupted the energy with a contented, cleansing calm, the stage lighting yielding to soft shadows.
Concerto DSCH has been around a while: it was created in 2008 for New York City Ballet and the Mariinsky performed it during their 2014 London season. By contrast, Sacre, which forms the other part of the same programme and is the German choreographer Sasha Waltz's version of Stravinsky's Rite of Spring, is the result of a collaboration between Waltz's own company and the Mariinsky in 2013, to mark the centenary of the original ballet's infamous Paris premiere. The Cardiff performances represent its first UK showing by the Mariinsky, although Waltz's own company brought it to Sadler's Wells late last year.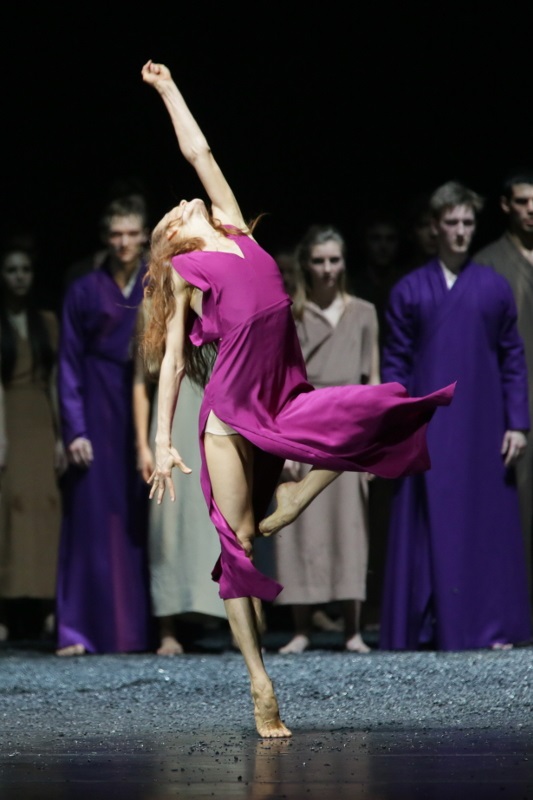 To choose Stravinsky's score is always to venture into dangerous territory. Few choreographers have managed to equal its overwhelming scale and Millicent Hodson's widely displayed hypothetical recreation of the Nijinsky original is an exceedingly tame affair. By far the best Rite is by Pina Bausch and it is tempting to see echoes of it in Waltz's monochrome costuming and generic movement. Waltz's choreography, though, is slightly more balletic and lacks the visceral intensity and graphic power of Bausch's. It also dissipates its impact with too many fussy and fuzzy subplots. By the time Yekaterina Kondaurova (pictured left) started her dance to death, I had long lost interest, despite the unsparing commitment of the large cast. The gradual aerial descent of what looked like a giant sword produced another unwelcome distraction as did the very extended pauses between some of the musical sections.
It was a surprise that Gergiev, in the pit, actually allowed Stravinsky's score to be manipulated for the choreographer's benefit and that his orchestra's account seemed muted – but maybe that was a problem of acoustics. The Mariinsky Ballet have proved they can "do" expressionist dance, but they would have done better to follow the Paris Opera Ballet's example and get Bausch's production. The audience clearly didn't agree, though: they went wild at the end.