How Ratmansky exited the Bolshoi, in Flames
How Ratmansky exited the Bolshoi, in Flames
A look back at ex-Bolshoi chief's reflections on his theatre and his ballet, The Flames of Paris
Alexei Ratmansky: "I wanted to be myself"
The Flames of Paris, given its London premiere by the Bolshoi Ballet this weekend, was Alexei Ratmansky's farewell present to the Moscow company which he directed from 2004 to 2008. In his final months at the Bolshoi he talked with me in his office about his approach to revising this landmark historical ballet, and the conditions inside the theatre that he would soon be leaving after a turbulent five years.
He had been only 36 when he was invited - out of the blue - by the Bolshoi Theatre's general director Anatoly Iksanov to lead the great, but stagnating Moscow flagship into a new sense of itself. There had been 31 years of autocratic rule by Yuri Grigorovich, mostly under the Soviet system, but his post-USSR successors, including his hostile former protegé, the magnificent star dancer Vladimir Vasiliev, had not succeeded in countering the fact that Grigorovich was the greatest and practically the only choreographer in Russia.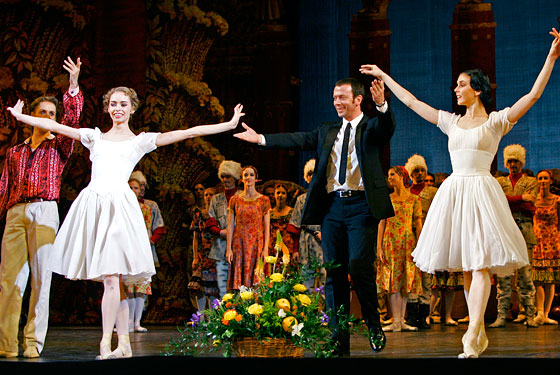 Ratmansky had trained at the Bolshoi Ballet School but had not been taken by Grigorovich into the company as a dancer, a fact that would be held against him by his backstage foes. Instead he made his dancing career in the West, in Canada and Denmark, which opened his eyes to Western choreography, and he swiftly emerged as a choreographer of individuality and bold musicality. First commissioned by the Bolshoi's then star Nina Ananiashvili in 1997 for her personal tours, Ratmansky was asked by the Bolshoi itself to recreate one of their USSR landmarks of the past, The Bright Stream, to a Shostakovich score. A deft, vivid comedy about Soviet clichés, it was a smash hit and led to his appointment as the company's artistic director (pictured, Ratmansky at the Bright Stream curtain call)
In Moscow, he adapted intelligently to the closure of the main theatre for a long, expensive refurbishment; he seized the opportunities of a smaller secondary theatre alongside, where he introduced ballets and stagings from the West, Twyla Tharp's In the Upper Room, Christopher Wheeldon's ballet inspired by Hamlet, Misericordes, and Johan Kobborg's staging of La Sylphide. He groomed a new generation of non-standard talents more open to this outsider art, Natalia Osipova, Ivan Vasiliev, Ekaterina Krysanova, Viacheslav Lopatin. And he provided sparky new roles for open-minded Bolshoi principals such as Sergei Filin, Maria Alexandrova and Svetlana Lunkina.
Was he too 'small' and 'Western' a choreographer, or was he the saviour of a necrotising Bolshoi?
Traditional, however, he was not, and there was an explicit challenge throughout his directorship arising from a clash of values. The Grigorovich conservatives, including the star dancer Nikolai Tsiskaridze, disdained Ratmansky for not being a Bolshoi insider - he had been rejected by the company. For them, his less formal, chamber-sized ballets in the New Stage (the smaller secondary theatre) could not equal the big-scale declarations about Russian balletic omnipotence created by Grigorovich. Still, the Ratmansky Bolshoi was a smash hit on world tours - Britain rediscovered a company that had long been shouldered aside behind the Mariinsky (Kirov), and the Bolshoi has traded on that Ratmansky love affair ever since.
But nationalism has always had a place inside the Bolshoi company - it's the Kremlin's local nightspot - and Ratmansky's directorship posed questions about politicised art that were uncomfortable to answer. Was he too "small" and "Western" a choreographer to impress the bulk of the Russian establishment? Or was he the saviour of a necrotising Bolshoi? Whatever answer was given, it was Ratmansky who felt the heat, a family man with young children, trying to decide whether his defensive, often brutish homeland was a place he wanted them to grow up in.
The pressure became too unpleasant, and in autumn 2008 he left the Bolshoi for New York, where he settled in as American Ballet Theatre's resident choreographer while fulfilling his pick of the requests made to him by the world's top companies for a Ratmansky creation. (This year the Royal Ballet finally got one of his to call its own.)
But that lay ahead when I met Ratmansky in Moscow. What he said then remains relevant not only to the belated UK premiere of The Flames of Paris but to the continuing poisoned air in the Bolshoi back home. He spoke with trepidation and candour about where he thought Russian ballet was heading, and what he hoped future Bolshoi directors would be able to address, that he had not. This interview was originally published in the magazine Dance Now.
Above, Osipova and Vasiliev lead the thrilling Basque dance in the Bolshoi's 2010 film of Ratmansky's The Flames of Paris
ISMENE BROWN: Alexei Ratmansky, why did you want to do The Flames of Paris for your last original production?
ALEXEI RATMANSKY: There was something there that took my attention. I love ballet history, and there are spots that are really interesting to me, like Diaghilev's time or the last years of Petipa, the end of the Twenties to the beginning of the Thirties. You can see so many possibilities of that time that weren't used properly later on. Look at the generation of choreographers then... Lopukhov was there and Goleisovsky, but Lavrovsky, Zakharov, Vainonen, Chabukiani emerged, and they were given carte blanche to do full-length ballets on new themes, new music.
IB: Why then, but not now?
AR: Because then there was such a demand for new ballets. There isn't now. They had an entire Imperial repertory to replace. We read now about theatres wanting new ballets but there isn't a real need in the general public for new ballets, or at least for those who come to the Bolshoi. And for some dancers now there isn't the hunger for new work. They can realise themselves as artists doing old ballets, they feel secure in old territory. You can't blame them for it, and it's fine, it's a school. And there is nothing higher than classicism, they can aspire to perfect Odette or Nikiya through their whole career. But now theatres here don't want to take risks... if they risk and get negative reviews, it becomes very difficult for a new project to get launched.
IB: What compromises did you make for this?
AR: I felt this was a title that could combine modernity, tradition, the public's demands, my own, many criteria. Vainonen's choreography for Flames was something to build on, it's great. Two things struck me about it, first the sophistication of its rhythmic phrases, and also when he does folk dances, the simplicity but also the inevitability of the phrase. Simple and great. You can't imagine anything else, when you see it. It just works. So, stylistically for me it was difficult because I wanted to be myself, and yet I couldn't do anything that would go against the Vainonen original.
IB: How much of the original exists?
AR: Well, there is a film. I discovered part of it too late, when I'd already choreographed some of Act 2. Two pas de deux - Jeanne and Philippe at the end and the Armida-Rinaldo one, to which I added a quartet of girls and Amour. I know it's too long, and I was thinking about cutting it. In this pas de deux Vainonen didn't want to use 18th-century stylisation - you can see it's 1930s. The rest had to be in the same direction.
Below, the 1952 Bolshoi film of Vainonen's original with Vakhtang Chaboukiani and Musa Gottlieb as Philippe and Jeanne
IB: What did people expect? That you'd restore all the Vainonen?
AR: Some did. And I wanted to originally. I would have, if I'd had more material.
IB: Why? Are you a revolutionary at heart?
AR: Well... what do you think of Moscow now? You can sense this anger on the street. The concentration of it in places is almost unbearable. You can't see smiling people on the street. The national character has changed.
IB: I've seen pensioners begging, old people selling cabbage in the street in the winter, which made me furious.
AR: I don't think people see the poverty or misery any more. They're so concentrated on their own income that they ignore everything else. It's really very cynical and bad.
IB: So there's a correspondence between that and doing this old ballet?
AR: Yes, there is. I was thinking about the good side of that Russia, which was dreaming in a universal way. It must be still there now, deep down, I think. So perhaps I thought I could touch it and update it. And of course when it was done, Flames was a contemporary ballet.
It is visible in history that it doesn't really matter who has the power when a good ballet is made
IB: It was about popular feelings, wasn't it, the feelings of the people in the audience. Tell me about the unique relationship ballet and politics have had in your country in the past century.
AR: I think I said what I thought about it in Flames of Paris! Because really ballet needs to be where the money is. It is visible in history that it doesn't really matter who has the power when a good ballet is made. There are only a few precious periods when ballet was partially using ideas of democracy, working around them, the ideas that are contemporary now.
IB: Thinking about the Twenties in Russia, a choreographer was well cultured. They couldn't move without knowing their history, their music, their academic vocabulary, literature, theatre.
AR: It's true, but they were also working with a simple motive. From the end of the Twenties, they did less and less true experimenting - they wanted the experiments to be "understood" by a simple audience. And that was a very interesting experiment itself, to try to simplify without sacrificing quality.
IB: Why did they throw away romance? The strange thing is that when Lavrovsky, Zakharov and Grigorovich put romance back centre stage, they idealised the characters.
AR: They were less human. The complexity of the human being was gone, completely.
IB: I wonder if that isn't the most difficult thing now for choreographers to cope with. The complexity of individuals. In literature of course, say Russian literature, you have deeply complex characters. But your ballet in this country became far more simplistic while in Europe they become more complex.
AR: That's the result of politics, purely. That's got to change now. But I think with the dancers we have done something about that. There are more and more dancers here who are really into psychological truth. Thanks to John Neumeier, who did Dream, thanks to Johan Kobborg doing the new Sylphide here, we're working in the same direction, but which is very different from the Bolshoi before.
Below, a Russian news report with Ratmansky and clips of Osipova's debut in Kobborg's La Sylphide
IB: What's the critical reaction here to Flames of Paris?
AR: Very mixed. It's hard to tell. Critics have a lot of connections inside the company, and I know what this or that critic will say, broadly. I think they expected more new choreography, and that the first act is much weaker than the second. One critic said my past and the Bolshoi past were travelling in such different directions that finally this production proved they could never meet. That I should pack up my things.
IB: What do you think 10 years from now you'd like them to understand or grasp about what you did here?
AR: Getting back the sense of reality on stage, I think. Of course I could have been more daring with "modern" acquisitions or something. I started like that, but I thought, it has to be a slower process. The school is against it. They don't prepare dancers who are ready for anything [such as Tharp, Wheeldon or Forsythe]. Those who are physically talented from nature can do it. But the school doesn't help them learn to change their centre of gravity. And also ideologically they're not that open.
IB: Has your directorship worked out roughly as you expected?
AR: Well, of course I knew it would not be easy. Nothing unexpected.
IB: Has it been worse?
AR: No.
I think in other theatres Tsiskaridze would have been fired, but we lost the right moment of stopping him
IB: Really? Nikolai Tsiskaridze has been pretty relentless.
AR: Well, I think in other theatres he'd have been fired for what he says about the theatre or myself. But somehow the general director and myself let him speak out a little bit at the beginning, and then he felt that he could do more and more, and we lost the right moment of stopping him. Does he represent a really strong movement here? It's difficult to figure out. And of course the mood changes. After our great season in London everything was fine, and he was all right. But then something doesn't got the right way for him, and he's off again.
IB: Good reviews abroad don't always help, do they?
AR: No, it's true. Because people interpret it that, for instance, we're paying certain critics to write something nice. A lot of silly things you get here.
IB: Has being director held you up as a choreographer?
AR: I don't know. I think I definitely changed as a choreographer in those years. But I don't sit and analyse it. I just think: it's the right time to do Flames of Paris, and I do it.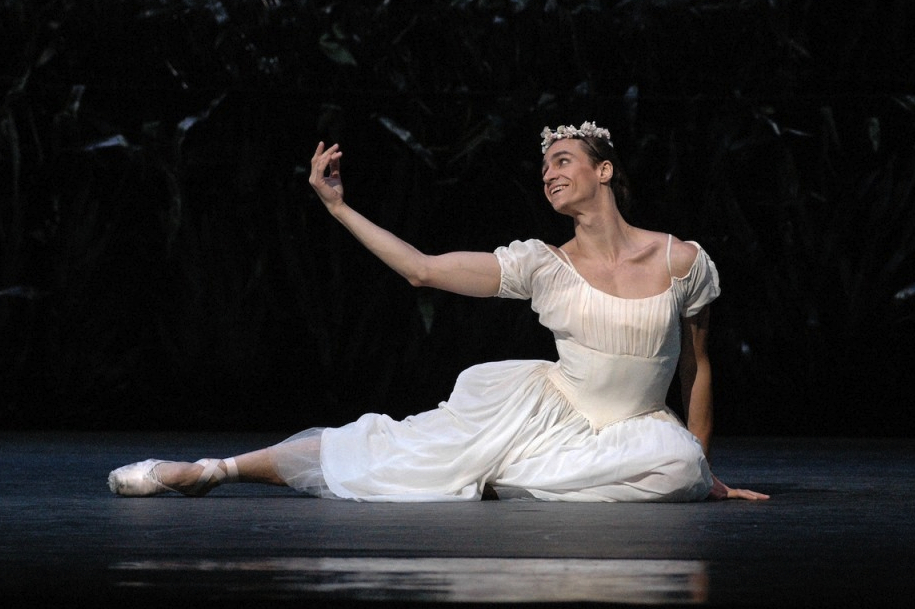 IB: What are you most proud of?
AR: Well, I like the fact that there is a new generation, who think differently. Part of that is that I saw them and gave them a chance. And Bright Stream was a good memory (right, Sergei Filin as The Ballerina in Bright Stream).
IB: Will the company work better with two theatres when the Main Stage reopens?
AR: It will be much better, because the repertoire will be divided between two stages. It should work well, as long as they don't just want to make as much money as possible with constant simultaneous performances.
IB: And you'd like to continue working here for a long time?
AR: It depends. I have a feeling I need some time off from this place. There are some wonderful projects and commissions that I want to concentrate on and give my best. There is a project here, a historic ballet with a very nice subject and a commissioned score. Not next year but the year after.
IB: So you won't be seen here next year though you are supposedly chief guest choreographer?
AR: No.
IB: No Sleeping Beauty?
AR: No. It would have been great for me to do it, but I don't want that much controversy. Fighting will not enable me to give my best. It's a war here! Every day is different. Some days you win, some days you lose. And I learn about myself every day - not always very pleasant things. I think I was developing as a person. I am actually proud of some things I did here.
IB: What would you warn this theatre about?
AR: The worst thing is the snobbery of this place, that "we are the best because we are the Bolshoi". That I hate. And maybe I did something intentionally or unintentionally to challenge this, by inviting guest artists, or giving them material that they had to struggle to work on, to discover their weak sides. This is the aspect they need to process here over time. But at the same time there is a Bolshoi that I feel I helped to reshape a little. All those repertory additions and ideas were the answer to my view of what the Bolshoi is now, in this century.
There is a Bolshoi that I feel I helped to reshape a little. The Bolshoi now, in this century
Share this article