English National Ballet: Ek, Forsythe, Quagebeur review - two masters, two marvels |

reviews, news & interviews
English National Ballet: Ek, Forsythe, Quagebeur review - two masters, two marvels
English National Ballet: Ek, Forsythe, Quagebeur review - two masters, two marvels
ENB shows its range in a devastating new Rite of Spring from Mats Ek, and pop heaven from William Forsythe
Saturday, 12 November 2022
Lean in: Emily Suzuki and Fernando Carratala Coloma in The Rite of Spring by Mats Ek
Of all the classic musical scores that could appeal to a choreographer, three are catnip: Ravel's Bolero, Bizet's Carmen, and Stravinsky's Rite of Spring. Each has been set dozens of times and the veteran Swedish dancemaker Mats Ek has notch
ed up all three.
Such is the pull of Rite, in fact, that Ek has just created his second version, almost 40 years after his first. It wasn't that he was unhappy with that earlier Rite, he told an interviewer, but he felt that the drama of the music had more to uncover – specifically on the subject of "young women being forced into a tradition, which has become such a major topic today".
Cue the 25-minute work that English National Ballet has just premiered at Sadler's Wells, which could just as easily have borne the title #forcedmarriage. It's fitting that this new work should be the final commission of ENB's director Tamara Rojo before she departs to take the helm of San Francisco Ballet. Under her watch gender politics have found a surprisingly comfortable place in ballet.
The distinctive dance vocabulary of Mats Ek, on the other hand, is deliberately discomfitting, distorting the usual lines of classical dance with deep squats, flexed feet and flat brandished hands – less jazz hands than having-a-nervous-breakdown hands. Ek's work is fierce and strange, and it's not outlandish to find parallels between this latest response to Stravinsky's score and the Nijinsky original – the one that famously caused a punchup in the stalls at its premiere in 1913. There were no violent disturbances to my knowledge at Sadler's Wells, but there were muffled sniggers.
As in the Nijinsky/Diaghilev production, design decisions impact the way the dancers deliver the steps. While costumes for dance are usually conceived with a view to revealing the body, either by clinging or flowing, Marie-Louise Ekman's outsize kimono shapes in stiffened silk seem to be doing the opposite, challenging the dancers (some of whom are miniaturised by their giant flapping clothes) to rely on the volcanic thrust of Ek's choreography to communicate. In part it's this struggle that makes this Rite so dramatically riveting.
For all his avant-garde credentials, Ek believes in having a story. Here, a daughter is subjected to an arranged marriage and trussed up like a parcel for delivery to her future husband. It turns out the boy isn't so bad after all, and together they face down the parents, and the wider community that sets such store by life-sapping rules and rituals. In a triumphant twist on the original dénouement, it's the young woman who has the final say. No virgin sacrifice for her.
The marvel of Ek's image-making is that, for all its seeming abstraction, it throws out very specific resonances. Here are myriad reminders of the many traditional means by which women's agency has been denied – veiling the face, shrouding the body, foot-binding, an expectation of service and humility. Huge lunging leaps from the men speak of martial power, and the father wields a stave – a phallus threatening punishment. Yet there is tenderness too for the young couple: what turns into a romping love duet begins as a tentative probing of the empty spaces around the other's body.
Best of all, though, is Ek's spot-on response to the music and its mix of precision and eruption, control and savagery. What we see matches what Stravinsky makes us feel, and for this the ENB Philharmonic under Gavin Sutherland must take some of the credit. Here's hoping that this ballet company will be brave enough to keep programming this strong, stark Rite.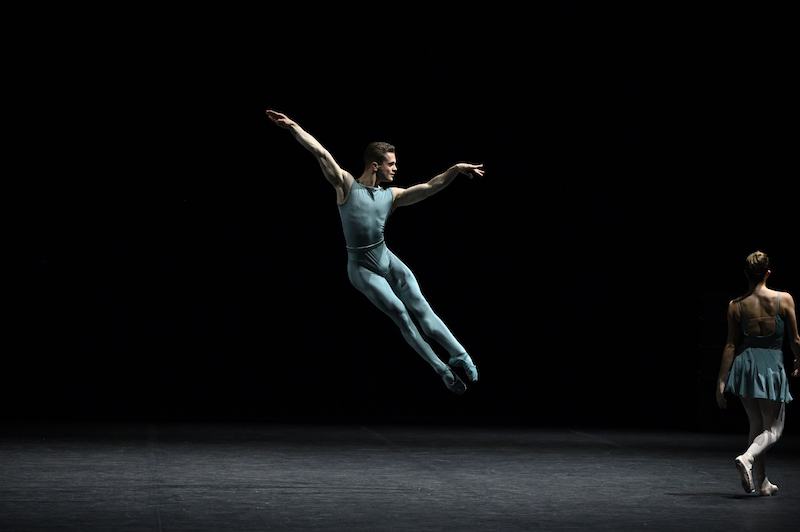 Here, it's balanced by the fun and fizz of Blake Works I, the work of another great septaguarian, William Forsythe. This was once a choreographer who scared the living daylights out of us, weaponising the pointe shoe and tugging at ballet's warp and weft until his dancers looked little short of disabled. Now, at 72, he's done a reverse ferret. His latest thing is to set ultra-formal ballet steps to disco music. The result, far from difficult or odd, is pure, joyous entertainment, and audiences can't get enough of it.
Blake Works I is a sequence of dances set to a selection of songs by James Blake. Is the choreographer deliberately channelling Balanchine's Serenade in the opening moments, I wonder, as a stageful of chignoned women in pale blue tunics tilt their hips as one on a musical cue? I wouldn't put it past him. But the cascade of classical joy that follows asks for no prior knowledge, just open eyes and ears and a set of toes to tap. ENB first presented this gorgeous confection in its Forsythe Evening earlier this year and I can't say I'd mind if it featured in every triple bill for the next 10 – it's that good. The dancers clearly love it too, and its raises their game. In such purely classical steps (pictured above) there can be no fudging, no approximation, and ENB really nails it.
The casualty of the evening was Stina Quagebeur, whose Take Five Blues – perfectly pleasant and well put-together – had the misfortune of being sandwiched between the work of titans.
Fierce and strange, it's not outlandish to find parallels between this latest response to Stravinsky's score and the 1913 original
rating
Share this article