Boston Ballet, London Coliseum |

reviews, news & interviews
Boston Ballet, London Coliseum
Boston Ballet, London Coliseum
US company offers top-notch repertoire, but needs more courage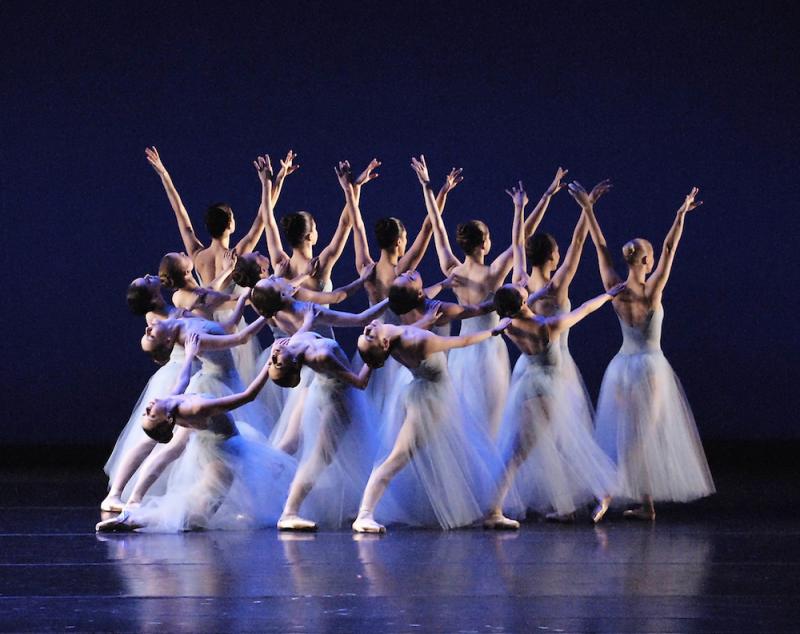 Reticent: Boston Ballet in Balanchine's Serenade
In a summer awash with Russian ballet, at its best extravagant, limpid, spectacular - an experience of emotions processed through the eyes - a visit by an American company comes from a quite different sensory position: dance as intelligent motion, rhythmically schooled athleticism.
While the American ballet was generated by a grandly classical Russian, George Balanchine, one of the things your eyes constantly search for in watching a US company is the way the Russian ballet genes, nurtured in Tsarist palaces, mutated when they met the bold, open-air, workaday grace over the Atlantic.
Boston Ballet is one of the youngsters in America's not-old ballet, a child of the Sixties - it came late to a party started in San Francisco and New York, where ballet companies go back pre-war. So while the schooling is classical ballet (under director Mikko Nissinen), it feels more of a contemporary ballet troupe, and unlike the Russians the Bostonians have brought not "classics" but neo-classical 20th- and 21st-century works.
Good for them - the first of their two London programmes shows a company making the most of its assets, disciplined and smart, but a little reticent with its artistic personality. With two magnificent Balanchine works on the first of their two programmes at the Coliseum, Serenade and Symphony in Three Movements, Boston Ballet pitted itself against top texts, and acquitted itself well, if not memorably.
The corps de ballet's communal gesture to the moon at the start takes you in a trice to some hallowed dream-place
Serenade's flocks of diaphanous girls should breathe the night, cut loose from daytime clarity, as they carry us with them into a reverie borne on Tchaikovsky's alluring strings. Boston's troops en masse, while dutiful, didn't radiate the necessary ritual imaginative commitment to this gloriously poignant ballet, in which the corps de ballet's communal gesture to the moon at the start takes you in a trice to some hallowed dream-place, like angels attending on the assumption of the Virgin Mary.
The final pas d'action, where girls on pointe line up like glimmering angels, and the leading woman is borne away high on anonymous men's hands to a transfiguring death in the sky, is almost too beautiful to watch, ever, no matter who does it. Dulcet string playing by the Royal Philharmonic Orchestra, under Boston's vivid conductor Jonathan McPhee, gave the performance the poignant lustre lacking in dancers, who would capture more sheen if they'd let the music under their skins.

The same faint disengagement struck me with the other Balanchine, the demanding, wonderful but rarely seen Symphony in Three Movements, with Stravinsky giving the orchestra a coolly glittering menace that Balanchine cracks straight onto the ballet girls - these are no longer the limpid moon-sylphs of Serenade nearly 40 years earlier, this is a girls' militia in swimsuits and swinging ponytails, smiling deceptively. Only the Bostonians aren't deceiving, they're trying a little too hard to please and turning this sharply prancing, jagged, up-front choreography into showgirl routines.
Symphony in Three Movements is a blast, girl-power at the max
The piece bursts with brilliant poses and bouquet arrays that Balanchine constructs, the snaking chains of dancers, the interweaving of fiery leaps like a tattoo, and a startling finish that's arranged like a Red Arrows display (pictured above). And you see lethal details in the choreographic vocabulary, like the decorative hand movements which are almost Edward Scissorhands, the synchronised jabbing pointe-shoes, and the fact that the men are entirely in on the women's game. It's just a blast, girlpower at the max, even if Boston Ballet gave it too much of the teeth and smiles.
In the superb pas de deux at its heart, the dancers Kathleen Breen Combes and Paulo Arrais caught something potent about the difference in the implications of a male-female drama when the man hoists the woman, rather than bearing her, his arms constantly close around her, she using her weight to drag back against him - angles and exploratory tests and challenges that echo Agon and foretell William Forsythe.
Between the two Balanchine monuments, a weaker middle section has a lightweight approximation of Nijinsky's 101-year-old L'Après-midi d'un faune (which has been wheeled out like a stamp of historical authenticity by at least four companies this 12-month), danced by Altan Dugaraa with too little knowingness or animal urgency, but played like a dream by McPhee and the RPO.
Then there is Plan to B (pictured right), made by Boston's resident choreographer Jorma Elo, and perhaps giving them a sense of confident ownership of this choreography that they don't feel elsewhere. It still does not help the work to be interesting. Smart, grey velvety bodysuits, a whirl of agitated, stretched, almost acrobatic movement in half-dark that never quite snags the eye or mind with anything singular, and makes only a fiddly connection with some electronically enhanced 17th-century violin music by Biber.
Boston Ballet performs this programme tomorrow evening and Sunday, and a programme of Wheeldon, Forsythe and Kylian tonight and tomorrow afternoon, all at the London Coliseum
Boston Ballet makes the most of its assets with a splendid repertoire
rating
Explore topics
Share this article