Bosque Ardora, Rocío Molina, Barbican |

reviews, news & interviews
Bosque Ardora, Rocío Molina, Barbican
Bosque Ardora, Rocío Molina, Barbican
Flamenco innovator presents a woodland realm to remember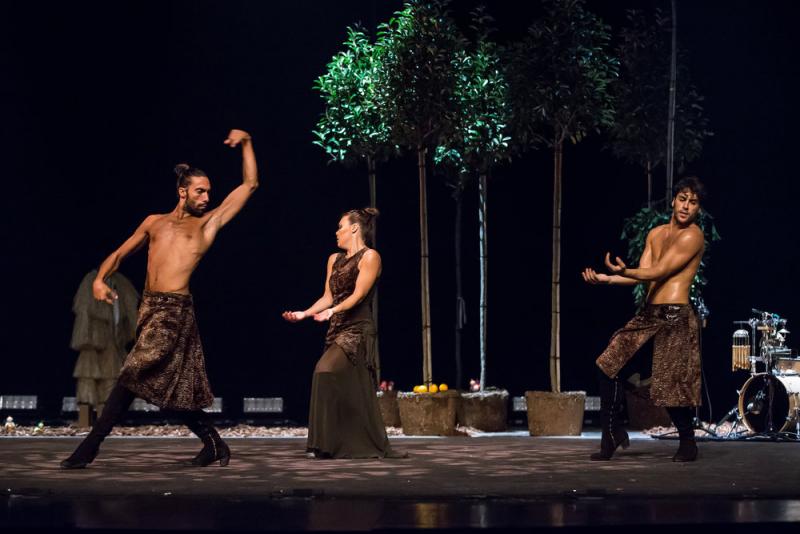 Bosky and frisky: Eduardo Guerrero, Rocío Molina, and Fernando Jiménez in Bosque Ardora
Thirty-year-old Rocío Molina has been rattling cages in the hide-bound world of flamenco. Back home in Spain, gloom-mongers are predicting she'll bring down the art form with her brazen, off-the-leash excursions from its honoured tropes. Her shows are popular.
And the fluorescent four-inch heels and electric bass guitar that feature in her latest – brought to London for three nights by Dance Umbrella, following a storming reception in Seville – will have done nothing to reassure traditionalists.
Not one of the scenic or sartorial elements we've learnt to expect in theatre-mounted flamenco remains. No blood-red moon, no processional, no old men banging staves, no shawls, frills or mantillas. Molina even ditches the usual closing bulerias guaranteed to send audiences out on a partying high.
Instead, with the help of a dramaturg and video and audio artists, she has created on stage a rustling, shadowy forest (her "Bosque Ardora"), in which to play out dreams and dark yearnings, drawing on Greek myth. A film sequence sets the bosky scene, a soundscape of pops and slurps suggesting the busy fecundity of nature. Molina on horseback – as the huntress Artemis -.crashes through the trees and into a lake. Yet what emerges, sodden, is her prey, the one that always gets away: the legendary Teumessian Fox.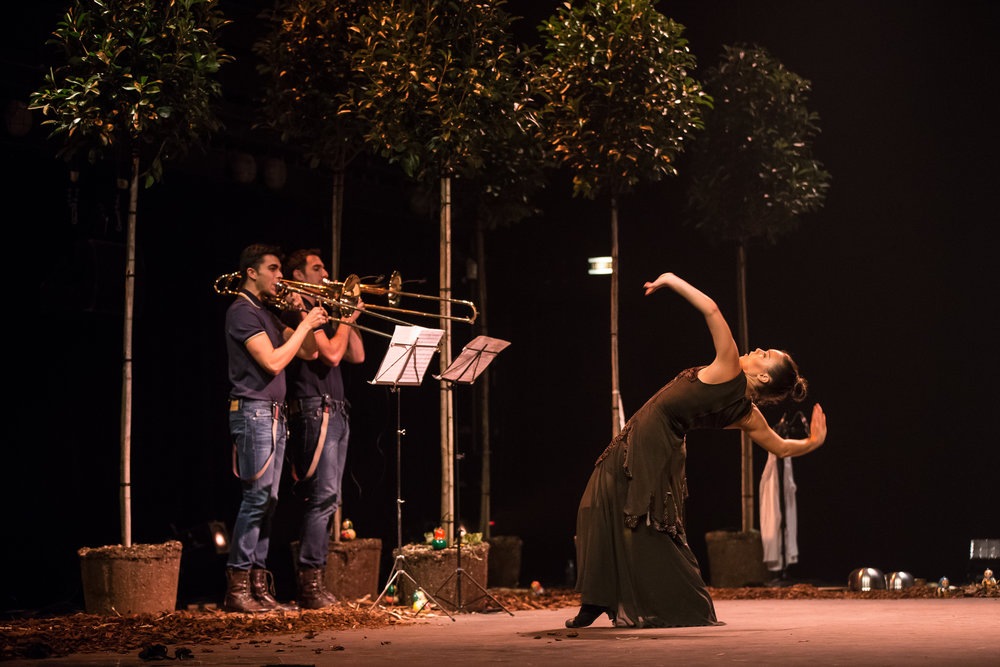 For the next half-hour or more, Molina will switch back and forth between the Artemis persona (strong, fearless, indomitable) and the foxy one (sly, clever, secretive). But though it takes a while before you twig the rules of this shapeshifting game, there is much to enjoy in the live music. Clearly, Rocio Molina is not throwing out the baby with the bathwater. The cante jondo in this show, from a radiant-voiced Jose Angel Carmona, and the guitar-playing of Eduardo Trassierra, is deeply traditional, and magnificent.
But what's this? A pair of trombonists (pictured above right)! At first I mistake them in the gloom for dancers with big shiny props. But when they launch into a fast, contrapuntal duet worthy of Hindemith, from memory, while striding about the 'forest', you open your ears. This is serious, virtuoso stuff, skilfully embedded in the drama. Joined by electric bass guitar, it's wackier and more wonderful still.
Back to the inner animal: Molina initially wears a fox mask, but it's soon discarded. She relies on subtler ways of embodying her inner vixen: her arms and hands, moulded by the tendril-furlings of flamenco, repeatedly come to rest as paws. Spins and stamps remain her default moves, but she peppers them with rhythmic twitchings, whole-body shake-outs, conversational gestures repeated on a loop, and a wilful inversion of the usual flamenco foot which involves her rocking back on her heels, digging at the floor.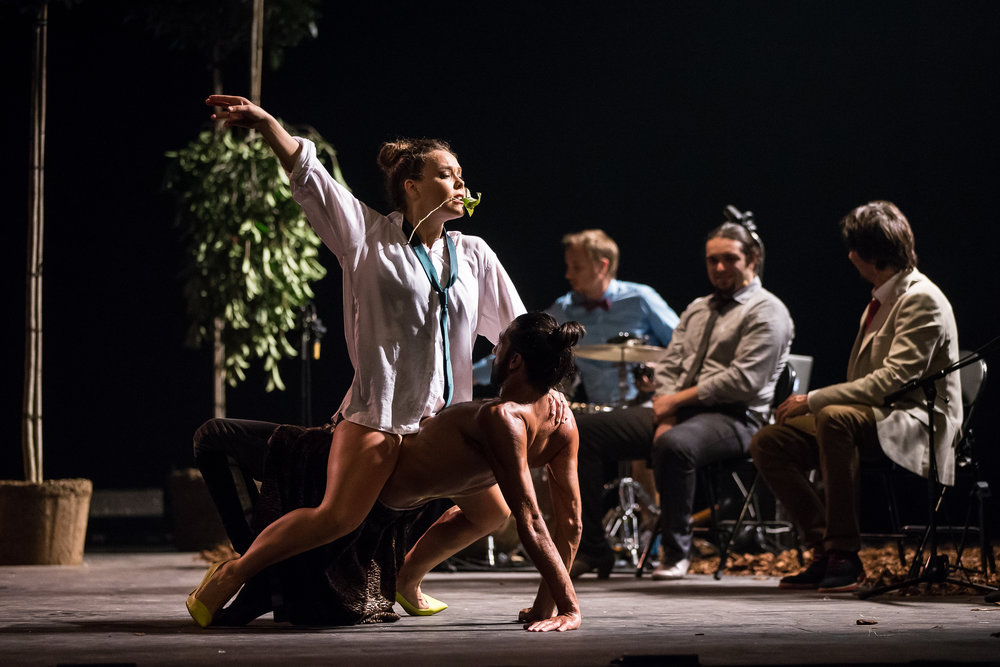 The male dancers in her team are a technical match for her. Dressed in casual clothes (one of them, in shorts, looks as if he's been out jogging), or stripped to the waist, Eduardo Guerrero and Fernando Jimenez share much of her dance material making a tight and often thrilling unison. In her Artemis persona (dressed in nothing but teetering stilettos and a boyfriend shirt), Molina constantly gets the better of the guys, stepping over their bodies, or slapping out rhythms on a bare manly chest, just for the hell of it. There is comedy, too, as she and whichever male she happens to favour act out the awkward mating rituals of insects, or of birds, passing twigs from beak to beak. But the tone is always sharp, never romantic.
A more confusing scene shows the man as the dominating force, Molina affecting a limp, almost drunken state, losing her shoes and ending up being carried off slung across the bloke's shoulders, like a dead deer. A second viewing might have made sense of this. But perhaps Molina is trying to tell it like it is: modern single womanhood, club culture, and all that.
Mould-breaking as it is, the spectacle reverts to type in spilling its emotional guts in its penultimate number. Quixotic, complex, even chaotic, Rocio Molina roused is like a river in spate. At one point she is apparently fighting back tears – of what? … anger, frustration, the painful, never-ending compulsion to keep up with her runaway-train feet? On this evidence, she is already a challenger for the crown, matching the soulful intensity of Eva Yerbabuena, the streamlined attack of Sara Baras. And she adds an unpredictability that is distinctly her own.