The Associates, Sadler's Wells |

reviews, news & interviews
The Associates, Sadler's Wells
The Associates, Sadler's Wells
Crystal Pite's reworked duet pips premières from Kate Prince and Hofesh Shechter
L-R: choreographers Kate Prince, Hofesh Shechter and Crystal Pite
The Associates is not the title of a new Scandi crime drama, though in dance world terms we're perhaps approaching that level of Event. Associates are what Sadler's Wells, London's dance powerhouse, calls the selected band of dancemakers it deems serioulsy interesting, and worth co-commissioning.
Last night's show featured the work of three superficially rather different Associates, with premières from hip-hop maestra Kate Prince and provocative Israeli Hofesh Shechter, and a restaged duet from the back catalogue of cerebral Canadian Crystal Pite. With the kind of serendipity which must delight a production house, the three separately developed pieces turned out to have remarkable visual and structural coherence.
Prince's piece, Smile - co-choreographed by Shaun Smith and Tommy Franzén - has a decent conceit, exploring the world of sadness under the comedian's mask through the figure of Charlie Chaplin. It's a terrific role for Franzén (pictured below right), who switches tirelessly and fluidly between Chaplin-esque vaudeville routines and more introspective, contemporary solos, and reveals a satisfying resonance between the movement vocabularies of slapstick and hip-hop. The same relationship was picked up in the soundtrack, which at first alternated between caper-movie bubbling and contemporary urban music, but then began to mix the two, sampling Louis Armstrong's voice over an electronic beat, and playing Jay-Z's Empire State of Mind with a big band.


The problem was that neither dancer nor choreography adequately created – or differentiated – the twin atmospheres of hilarity and depression: the comedy routines weren't all that funny, the sad solos not all that moving, and the endless pushing around of props just irritating. That could have been part of the plan – drawing attention to the simple labour, and occasional tedium, involved in entertainment - but I suspect from the programme note that the aim was a more straightforward "tears of a clown" pathos, and that Prince, Smith and Franzén didn't quite supply. The mere mention in the programme of Robin Williams gave me more chills than the entire 30 or 40 minutes we spent with Franzén's Chaplin character in Smile.

One of the amazing – surely coincidentlal – similarities between all three pieces on show was a sense of the characters being controlled from beyond the stage, frozen in sudden spotlights or told to move by the music or disembodied voices. This self-conscious theatricality was both noisiest and most sinister in Hofesh Shechter's brand new piece, The Barbarians in Love, the first of a planned trilogy, apparently. The female voice in his soundtrack is turned up so loud that her sibilants turn into ear-grating electronic smudges, and she sounds like a capricious deity – or at least a robot overlord from Doctor Who – intoning "unity must be...." and other instructions to the six dancers, who caper around in a striking mixture of pseudo-ballet and pseudo-monkey, accompanied by fragments of Couperin's viola da gamba music.

Just as you're wondering what it's all supposed to mean, Shechter goes meta: we hear a recorded conversation between him and the female voice, where she berates him for being obvious, and he stammers out his intentions in making the piece and worries out loud about the audience laughing at him, before shutting them up with a discomfiting revelation. Then the dancers get naked and stand still in low light for about five minutes accompanied by a monotonous bass hum. Was it supposed to be elemental? Transcendental? I don't know. It certainly proves that Shechter doesn't need the bone-shaking music of his earlier pieces in order to get under an audience's skin, though perhaps irritation at an overlong, inscrutable piece wasn't precisely the impact he had in mind.

Movements ripple along limbs in slow convulsionsCrystal Pite's piece, A Picture of You Falling (2008) the middle one of the evening, used self-conscious theatricality to engage rather than alienate the audience. It's a duet between dancers Peter Chu and Annie Plamondon (pictured below right), based on that commonest of duet tropes, a romantic relationship, but Pite takes it out of the ordinary in so many ways. A narrator with a velvety, governessy voice tells the story in the second person through vignettes like Polaroid shots: "this is a picture of you, falling. Knees, hips, hands, head." The text, written by Pite herself, captures the peculiarly haunting effect of the second person voice, while the choreography brilliantly imitates the kind of storytelling, a mixture of realist detail and things left unsaid, used by the doyenne of second-person short stories, Lorrie Moore.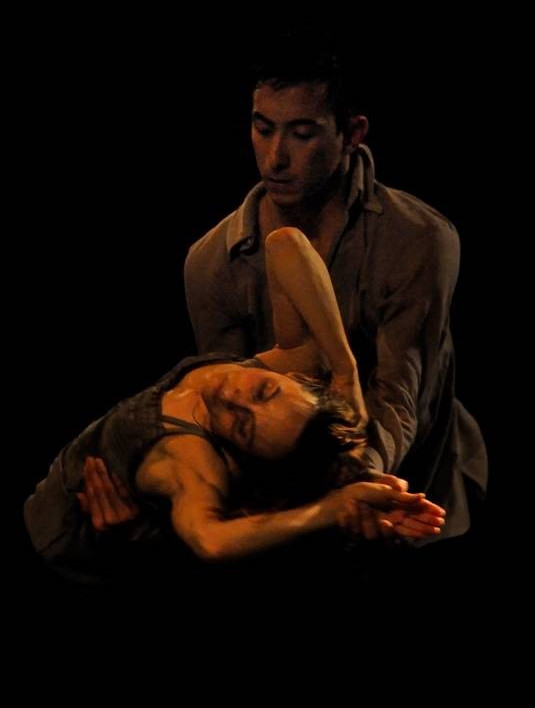 We see the two dancers, first apart then together, but we don't hear or see all the facts of the relationship. Movements and modulations are hidden by the darkness between 'scenes', and though there is a semicircle of lanterns outlining the dancing area, their potential for forensic illumination is never used: the dancers move in and out of shadow, even slipping behind the lights to reappear in a different place as if teleported. Pite uses a rich blend of movement vocabularies – after Prince's piece, I noticed slowed-down hip hop in there – given coherence by an extreme silkiness of execution. There's always a sense of the underwater about her pieces: her dancers are soundless and uncanny as fish or better, tentacled creatures like octopi, for she makes a feature of movements which ripple along limbs in slow convulsions, sometimes elegant, but sometimes odd (shoulders pulled back at awkward angles, extreme back extensions). In A Picture of You Falling, the combination of this movement style, beautifully realised by Cho and Plamondon, with the simple but mysterious story is both haunting and compelling.
Four stars for A Picture of You Falling. It would have been three for each of the other two if they had been on their own, but the evening as a whole was evidence of an interesting vogue for creative approaches to narrative in contemporary dance, and for that I commend it.
Pite's dancers are soundless and uncanny as fish
rating
Explore topics
Share this article