Watson & Oliver, BBC Two |

reviews, news & interviews
Watson & Oliver, BBC Two
Watson & Oliver, BBC Two
Comedy duo make an instant impact with debut series
Tuesday, 21 February 2012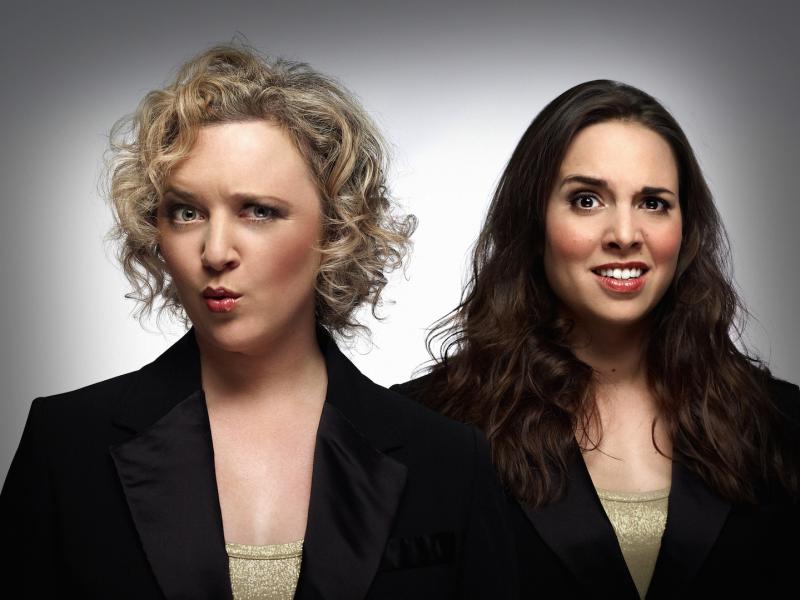 Lorna Watson and Ingrid Oliver write acutely observed characters
Lorna Watson and Ingrid Oliver, purely by dint of being female, have a burden of expectation before they even open their mouths, as the ghosts of French and Saunders stalk the corridors of the BBC. It's horribly unfair to saddle the newcomers with that burden of course, but, given the dearth of female comics on television, it's perhaps inevitable.
Yet the fact that the corporation thinks highly enough of Watson and Oliver to launch them straight on to BBC Two, rather than the safer comedy testing ground of BBC Three, makes a big statement in itself. And, purely on the evidence of the first episode, they have made the right move.
The format for Watson & Oliver is, like the sitcom Miranda, pleasingly retro (and shares a producer, Mark Freeland, with that show, who exec produces here with Robert Popper, who wrote Friday Night Dinner). W&O has recorded and live sketches performed in front of a studio audience, the duo appearing as themselves at the top of the show, a celebrity guest and a big finale. But the twosome's original writing and superb acting bring a freshness to the form that has served Morecamble and Wise, French and Saunders, the Two Ronnies and other greats so well.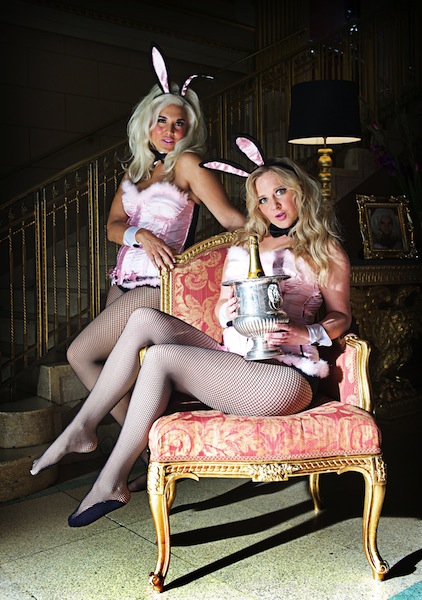 Many of the sketches are runners through the series and, having seen three episodes, I'll punt that a few of their characters, and their catchphrases, will be repeated in a workplace or playground near you soon. Some of their creations are just the two of them and in this respect they have a couple of wowsers, Wills and Kate and two Playboy bunnies, hideously made-up visions in pink Candy and April (pictured right).
The former sketch is played in a bed, which seems almost a homage to Morecambe and Wise, but has echoes too of Bill and Ted as the newlyweds discuss their "best day ever" when they got married in front of, like, a billion people, but in which Wills can't help but mention his sister-in-law's pert buttocks (a joke done equally well in the recent Absolutely Fabulous). The bunnies sketch is set in the Playboy mansion, where Candy and April breathily tell us how much they love being there, but then vie not to be the one to give HH his bedtime snuggles that night.
Watson and Oliver have broadened out a lot of their comedy for TV and a very funny returning sketch is their two Georgian ladies, in which the Austenesque Misses Steeps and Rutherford are very keen to give up their virtue to two gents, beautifully played as if with a constant bad smell under their noses by Adrian Scarborough and Hugo Speer (all pictured below), who are really not interested. And, while generous enough to allow guest star John Barrowman, an outrageous showboater at the best of times, room to get his laughs, they more than held their own in their scenes with him in last night's opener.
There's some poignancy, too; the scenes between an old lag who keeps getting sent down and the socially awkward prison officer who befriends her has some other notes played underneath the kind of stagey banter - "what are you like", "you're a caution, you" - that suggests another conversation entirely which they will never have. Like all of Watson and Oliver's comedy, the characters are acutely observed and never patronised, but believable and funny too.
The duo, who first met at school, have been performing together professionally since 2005, and had three very successful Edinburgh Fringe runs before developing this series. Their longevity as a partnership shows, with the understanding and timing that marks a great double act. Sketch comedy by its very nature is hit and miss, and in this opener Watson & Oliver had only one dud (the point of the Barrowman gag, where they vied for his attentions, was a little too predictable) but the quality of the other sketches more than made up for that. A hit, a palpable hit.
LONG LIVE THE SKIT: THE BEST RECENT SKETCH SHOWS
Cardinal Burns. Attention to detail and the perfectly formed mini-stories
Come Fly With Me. The Little Britain stars take a blunt instrument to the aviation industry
Frankie Boyle's Tramadol Nights. A mix of stand-up, sketches and cartoons, it's neither fish nor fowl
That Mitchell and Webb Look. Intelligent sketch comedy that would have put a smile on Lord Reith's face
Tracey Ullman's Show. Brilliant and welcome return to British television
PLUS ONE TURKEY
Walliams & Friend. Little Britain star limps back to sketch comedy with a new guest every week
A few of their characters, and their catchphrases, will be repeated in a workplace or playground near you soon
rating
Explore topics
Share this article