The UK Pun Championships, Leicester Comedy Festival |

reviews, news & interviews
The UK Pun Championships, Leicester Comedy Festival
The UK Pun Championships, Leicester Comedy Festival
Wordplay galore as jokesmiths battle for title
Wednesday, 15 February 2017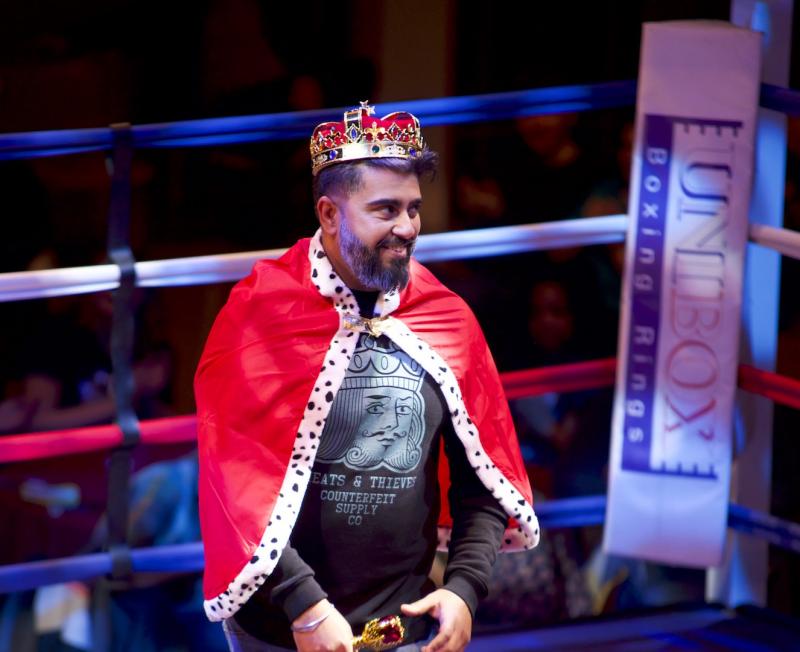 Lovdev Barpaga won the king of the punsters title at De Montfort Hall, Leicester
The UK Pun Championships have quickly become a fixture of the Leicester Comedy Festival, and this year the organisers installed a boxing ring at De Montfort Hall to underline the event's competitive element.
The eight contestants – a mixture of established acts on local club circuits and relative newcomers – were of varying ability and there was the odd cove among some obvious talent. While it was great fun, it was rather laidback and lacked much competitive edge until the final, and connoisseurs of slam poetry might have found proceedings rather tame despite the pugilistic setting.
Jason Byrne (pictured right) was compere for the evening, geeing up the audience and involving them in proceedings – and the audience, through the loudness of their cheers, were the judges of who went through the two eliminating rounds to the final.
Subjects for the punsters were written on paper slips and drawn from a bucket, and they could fashion any kind of pun – groaners, clever wordplay, classic joke set-ups or even, in one case, sight gags. The subjects included Hollywood, veganism, birds, dogs, America and Brexit. The fact that these two last headings didn't include a single reference to Donald Trump or the actual Brexit vote showed at the same time the strength of this kind of humour – a good joke can be quickly reworked to fit any subject – and also its limitations, when a gag is stretched to almost but not quite fit the template as the jokesters desperately searched through their material.
Their final duel was a great game of one-upmanship
The final was between two worthy opponents, Julian Lee (or Pun DMC) and Punjabi Warrior, or Lovdev Barpaga as he's known to his mum. The latter had shown his dry wit at the top of the show as he gave his name – "Have I said that correctly?", a phrase he must hear all the time as comedy club comperes mangle his name, and he went on to make good use of his British-Asian heritage.
But Lee was no slouch in using all the tools available to him, either. One punchline in the "dogs" category – Reservoir Dogs – worked so much better because of his rich Newcastle accent. The duo kept it clean, with only the occasional dip in taste or a joke that had the whiff of previously used about it, and their final duel was a great game of one-upmanship. Asked to riff on pizza, Barpaga mentioned his "Indian friend Deepan", to which came Lee's instant riposte: "Good King Wenceslas knew Deepan, crisp and even."
An evening solely composed of punning could trigger anyone's gag reflex – ahem – but this was an amiable show, much helped by Byrne's adroit efforts as MC.
Leicester Comedy Festival continues until 26 February
The duo kept it clean, with only the occasional dip in taste or a joke that had the whiff of previously used about it
rating
Explore topics
Share this article