Rob Delaney, QEH |

reviews, news & interviews
Rob Delaney, QEH
Rob Delaney, QEH
Filthy but funny hour from the US comic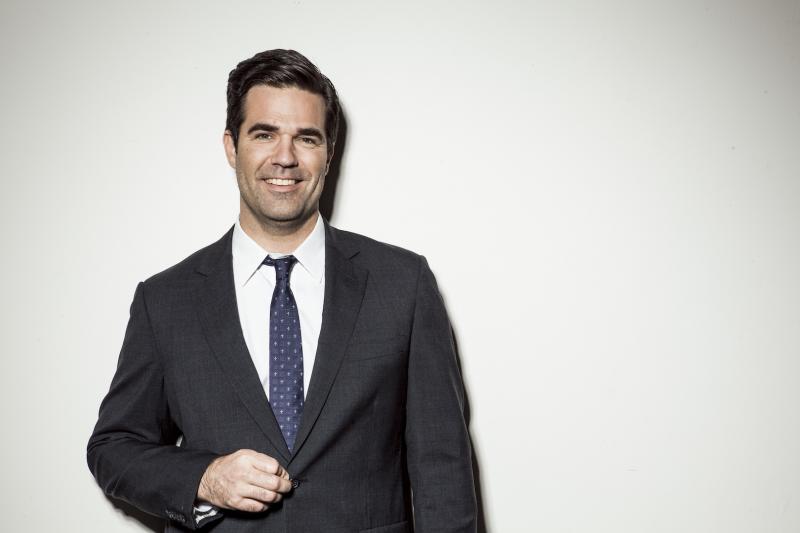 Rob Delaney looks like a regular guy but his material is near the knuckle
Most people in the UK will know US comic Rob Delaney from his wonderfully sardonic Twitter feed (1.17 million followers) or his autobiography Mother. Wife. Sister. Human. Warrior. Falcon. Yardstick. Turban. Cabbage - a painfully honest (and often snortingly funny) account of his alcoholism as a younger man.
More recently they may know him as the co-star (with Sharon Horgan) of Channel 4's
Catastrophe
, the hilarious and sexually honest sitcom they created about a couple of strangers whose casual affair leads to them becoming parents together.
Any of those should have prepared the QEH audience for Delaney's live show, a glorious mix of dick jokes, scatology - here's a man who likes a fart gag and knows how to use it - and filth.
He looks like a regular all-American guy, which gives the more near-the-knuckle material (actually very little of his set isn't) an element of shock value. This is a man who you would trust your house keys with, but you may come home to something unsavoury, almost certainly involving him having masturbated into or on to something.
He's a horny little devil, you see, gleefully telling us about his first sexual experience, the frequency with which he likes to "jerk off" and his fantasies about having sex with women other than his wife, the mother of his three children, one of whom he swears isn't his.
And there's the clue; you have to hear so much of Delaney's act through the filter of irony, although there's not hint of another meaning as he extols the virtues of the NHS, or how he would rather be found with "any number of embarrassing things stuck in my ass than take a selfie". The art, then, is discerning which bits of his act are true, and which bits are shaggy-dog stories or surreal riffs about parenthood, the joys of online grocery shopping, US foreign policy and why he appreciates an ill-fitting sports bra.
Some of his act is gross-out humour, for sure, and at times Delaney sounds like a six-year-old boy who has just discovered his penis for the first time, but he has mastered the difficult knack of moving from silly to serious back to silly again without killing the buzz, as when he tells a sad story about a relative that even without a funny payoff manages to raise a laugh.
The naughtiness is relentless but Delaney's obvious niceness allows him to get away with it. A terrific hour.
Rob Delaney is at QEH, London SE1 on 26 June, then at Latitude festival, 16-19 July
At times Delaney sounds like a six-year-old boy who has just discovered his penis for the first time
rating
Explore topics
Share this article