La La Land, BBC Three |

reviews, news & interviews
La La Land, BBC Three
La La Land, BBC Three
Hollywood-based embarrassment comedy starring Marc Wootton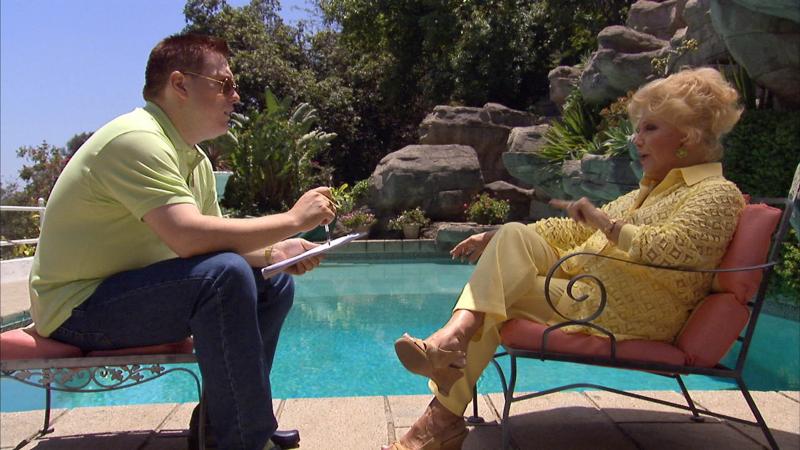 Gary Garner (Marc Wootton) taking acting tips from Ruta Lee in 'La La Land'
"Marc Wootton is playing characters in real situations with real people" read the message that followed the opening credits of La La Land, as though Wootton were a comedic Archimedes unveiling his Eureka moment, rather than simply the latest "provocative" British wit to go panning for comedy gold in the murky waters of American embarrassment.
La La Land
premiered in January on US channel Showtime to fair-to-middling reviews and a thumbs-up from Larry David, and has now been given an Anglicised voiceover by
Mighty Boosh
star Julian Barratt and sent out to battle on BBC Three.
The six-parter sees Wootton playing three British characters hoping to find fame and fortune in Los Angeles. There's Shirley Ghostman, Wootton's lisping, effeminate psychic medium familiar to viewers of his previous BBC series, High Spirits with Shirley Ghostman, who is now facing arrest in the UK after an unfortunate misunderstanding over a missing child.

There's East London cabbie Gary Garner, pale and paunchy in his lime T-shirt and barrow-boy bling, who arrived at LAX with nothing to declare except the ashes of his soft-porn star mum in an urn. And there's aspiring documentary-maker Brendan Allen, a man who looks at Michael Moore and sees both a sartorial role model and a row of neon dollar signs.

In last night's opening episode, Wootton catapulted them all, none too carefully, into real life, Hollywood-style. The collisions were recorded using the pretence that the participants were being filmed for a documentary, which allowed Shirley, Gary and Brendan to hustle low-level cogs in Hollywood's star-making machine – agents, producers, fixers, photographers, publicists – who were, of course, themselves only marginally less desperate than Wootton's triple threat.


The primary problem was that the characters started from a position so far into parody that everyone involved was already instinctively in on the gag
Gary was being mentored by 1950s actress turned straight-to-rental diva Ruta Lee, a suspiciously fresh-faced septuagenarian who homed in on the chance of an Indian summer of telly exposure like a heat-seeking missile. She may not have known that the hapless Gary ("I was the rat in the Pied Piper of Hamlin," he offered as the zenith of his thespian experiences) was being played by an actor, but she has certainly been told something pretty compelling to allow him into her home, and as a result she performed tirelessly for (and at) the camera like a true pro.

The primary problem was that the characters started from a position so far into parody (to find Shirley Ghostman, Wootton must have walked until he bumped into Dick Emery and then simply kept on going) that everyone involved was already instinctively in on the gag. This wouldn't have mattered if the gag had been hilarious. As it was, La La Land was only sporadically funny. "I've got access to the VIP area in heaven," Ghostman told a publicist he was hoping would magic a career for him out of thin air. "That's a gift," was her deadpan response.

There was a handful of similarly winning exchanges, but in general the set-ups were overlong and lacked punchy pay-offs. When Brendan pitched an idea to build a camera that could actually film sharks underwater – "It's been done," snapped old-time producer Sheldon Altfeld – there was nothing on offer outside of the would-be director's own (utterly implausible) ignorance: no cultural context, no social critique, no political point, just a mildly amusing gag drawn out far too long, leaving an air of pointlessness lingering in its wake.

There was a lot of that kind of thing. On last night's evidence, La La Land seems to have no real purpose other than to point out, loudly and often, that, in the words of Barratt's scene-setting voiceover, "stupidity is eternal". Post-Borat, we might reasonably expect the agenda to be a little more barbed and sophisticated than that. The comedy of embarrassment relies on something being at stake other than mere pride. La La Land offered several easy, hollow laughs from Wootton's cast of grotesques, but to steal a thought from Bob Dylan, in the end nothing was revealed.