John Man: Amazons review - the real warrior women of the ancient world |

reviews, news & interviews
John Man: Amazons review - the real warrior women of the ancient world
John Man: Amazons review - the real warrior women of the ancient world
The Wonder Women of the past, real and imagined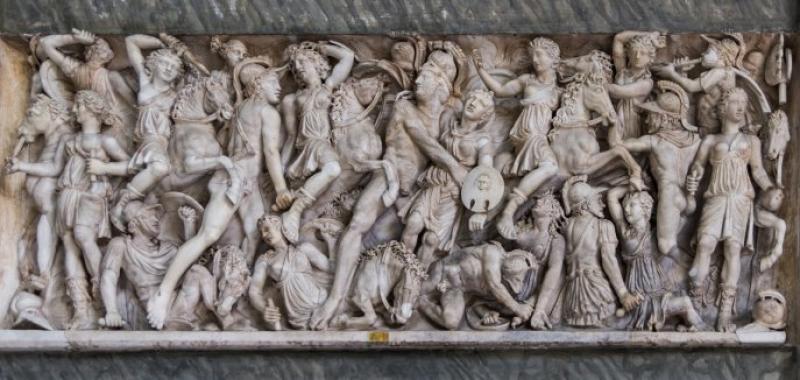 Greeks and Amazons in battle
As Wonder Woman hits screens worldwide, the publication of a book that explores the myth and reality of the Amazon seems timely. The latest of John Man's works of popular history is opportunistic enough to end with a fascinating account of the origins of the female world-saviour originally launched by DC Comics in 1941. He relies extensively on – and acknowledges – Jill Lepore's The Secret History of Wonder Woman, which explains the proto-feminist origins of the female answer to Superman.
The invention of Wonder Woman is one of the most recent manifestations of a mythologising thread that reaches back to the ancient Greeks: a female warrior who stands up to men, and is at times invoked as a way of increasing the idea that men, even faced with fierce women, are always going to win. Such was, Man argues, the way in which the Greeks told of the brave and strong horsewomen of Asia Minor, who challenged Greek armies, came close to defeating them, but were themselves finally subjugated. The strength and courage they displayed only made the valour of the Greeks who conquered them more remarkable.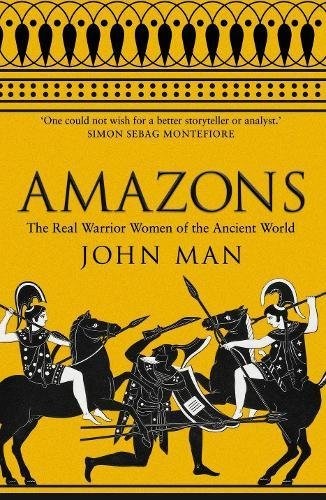 The Amazons appear in the work of Homer, Herodotus, Diodorus Siculus, Plutarch and others. Queen Hippolyta (who features in the Wonder Woman story) was seduced by Hercules, who had been sent to steal her bejewelled girdle – an accessory that re-appears on the waist of the DC Comics heroine. Greek travellers and historians wrote of tribes on the far side of the Black Sea, which were distinguished on the battlefield by the savagery of their female warriors. The most gripping part of Man's book follows a thread that links the myths, stories, and mostly second-hand reports popularised by ancient Western authors with the archaeological evidence that has been coming to light rather dramatically in the last 50 years. It's become increasingly clear that there were indeed warrior women among the Scythians, Samartians and other tribes that roamed the Asian mountains and steppes. They often combined fighting with priestly or shamanic activities and seemed to have played a crucial role in several of the great horse-riding nomadic groups of this sprawling and little-known region.
Man describes years of archaeological digs and lab work, often led by modern-day Amazons such as Jeannine Davis-Kimball, with narrative skill. He also tells of the painstaking work of "paleopathologist" Eileen Murphy who has examined over 3,000 bones and come to the conclusion that the women whose remains have been discovered had often received the kind of wounds that would have been sustained in battle. These discoveries are relatively recent – and often being made by brilliant and adventurous women – and they haven't always been welcomed in societies which are still in the thrall of unreconstructed male chauvinism: contemporary Kazakhstan's national icon is a "Golden Man" (pictured below left) – a gold-covered soldier, celebrated countrywide with flags, stamps and statues. But the archaeologists have known for some time that the armoured leader, found in a grave not so long ago was in fact an "amazon", a female warrior.
The rest of the book is less coherent, as it attempts a wide-ranging account of myths and realities concerning female warriors throughout history and across a number of different cultures: there is a rambling account of Spanish and Portuguese exploration in South America, expeditions that came back with second-hand accounts of fierce armed women, often living deep in the jungle. There is no hard evidence here, and Man makes it clear that accounts were in part the result of projected images that had reverberated through European culture from the ancient world through the Middle Ages, the Renaissance and the so-called Enlightenment. The gigantic river that carried so many of these explorers acquired its name from the myth of the Amazons originally referenced by Homer, and a powerful constellation of images around woman-power ever since.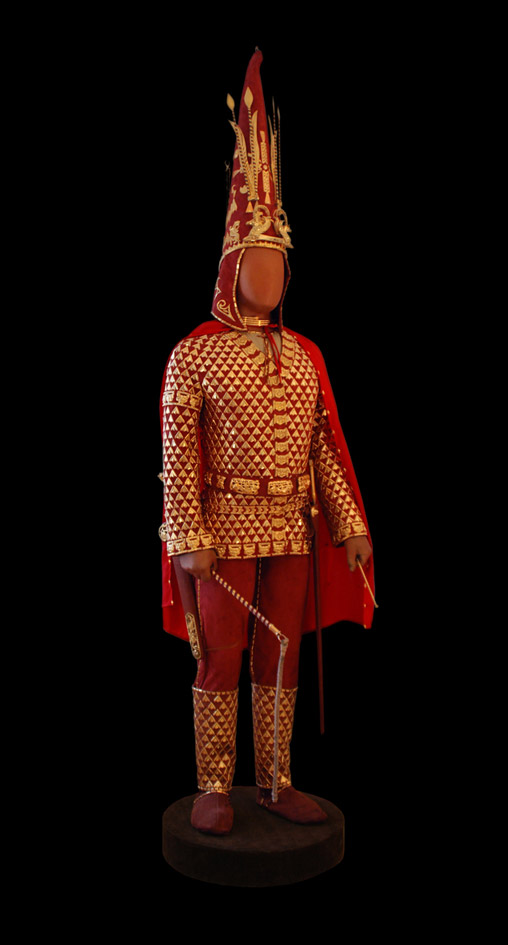 As the book progresses, the feeling of a rag-bag collection – a kind of compendium of Amazons – increases further, with accounts of the female armies in ancient Dahomey, the Soviet airwomen of the Second World War, and the Kurdish women soldiers of recent times. All of these are detailed and interesting in their own right, but Man doesn't go far enough beyond repeatedly mentioning the tensions between myth and reality, and the perennial strength of the idea.
There is something about our fascination with the idea of the female warrior that merits more exploration than Man is willing to provide. Maybe it is because he is intent on popularising: the book is consciously reader-friendly, though all too often repetitive. Never less than intelligent, thorough and well-argued, though sometimes, with a "smidgen" of journalese here and there, an admonishment to "watch this space", or the description of Penthesilea "dressed in a négligé", he tries a little too hard to keep us interested. He flirts with Freudian interpretation, when describing Heinrich von Kleist's take on the Amazon princess, but fails to really delve into the richness of the symbolic associations suggested by the figure of the female warrior: its erotic undertones for women who might like to keep men down, or men who want a little submission – connections with the whip-wielding dominatrix and other fantasies that run through Western culture.
In ancient Greek culture, ideas about Amazons cannot be disassociated from the remnants of the matriarchal mythologies that survived in filigree throughout the classical era (and beyond in the form of the Virgin Mary) and the imagination of powerful goddesses such as Athena and, more specifically, Artemis. The Central Asian cultures – notably in the Altai Mountains and in what has become Kazakhstan – appear to have remained strongly matriarchal long after male-dominated pantheons and monotheisms took over in the West. At a time when we often speak of women politicians and managers as "Amazons", this is territory worthy of reflection. For the nature of the power that is being talked about is as much about Eros and soul as it is about the simple political manipulation mastered so effectively by an "Amazonian" figure such as Margaret Thatcher, and much less so by her pale apprentice, Theresa May. It is hardly by accident that Wonder Woman's mission is all about promoting love rather than conflict, world peace rather than war.
Amazons - The Real Warrior Women of the Ancient World by John Man (Bantam Press, £20)
At a time when we often speak of women politicians and managers as 'Amazons', this is territory worthy of reflection
rating
Explore topics
Share this article
Subscribe to theartsdesk.com
Thank you for continuing to read our work on theartsdesk.com. For unlimited access to every article in its entirety, including our archive of more than 10,000 pieces, we're asking for £3.95 per month or £30 per year. We feel it's a very good deal, and hope you do too.
To take an annual subscription now simply click here.
And if you're looking for that extra gift for a friend or family member, why not treat them to a theartsdesk.com gift subscription?