theartsdesk in Tbilisi: The Dilemma over Georgian Architecture |

Visual arts reviews, news & interviews
theartsdesk in Tbilisi: The Dilemma over Georgian Architecture
Row splits artists and residents as picturesque old houses are bulldozed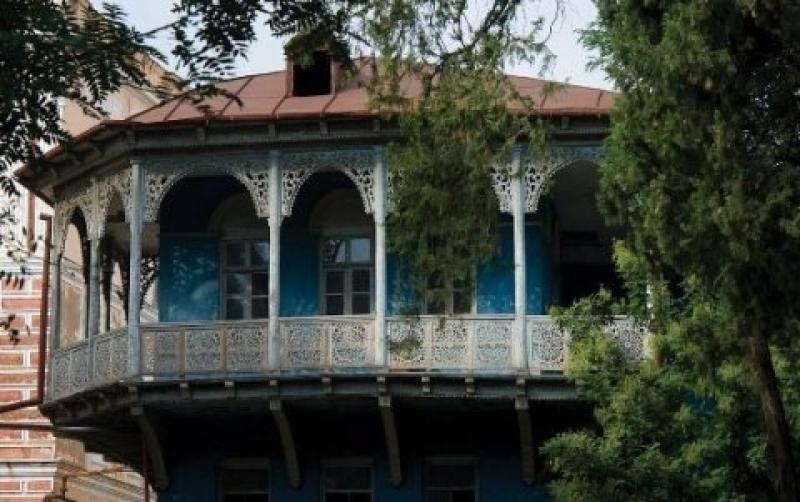 Old Tbilisi: Gudiashvili Square, the balcony of 'Lermontov's House'
In Tbilisi, Georgia, artists and art historians are calling for the Government to stop destroying their classic Old Town with its winding streets and wooden balconies. New organisations have been formed, exhibitions held to publicise this creeping eradication of history. Now another grand, once-protected building, the former Institute of Marxism and Leninism, has appeared in the cross-hairs.
When Europe's Futurist movement briefly made Tbilisi its spiritual refuge in the early 1920s, the Georgian avant-garde rightly felt themselves riding the crest of a new social aesthetic. This balmy Silk Road city, built around hot springs underneath the craggy Greater Caucasus, had always inspired artists and intellectuals, Pushkin, Lermontov and Tolstoy among them. So no surprise that when the time came to put the artistic ideas into political action Georgia found itself choosing the more tolerant, Menshevik ("minority") school of communism, rather than Bolshevism.
As the world's first and only Menshevik nation, in 1919 Georgia received many admiring visitors including Ramsay MacDonald (later Britain's first socialist prime minister). But inevitably it found itself at the wrong end of Revolution. In 1921 the government was brutally swept aside by the invading Red Army, then re-defined in terms of the glorious "dictatorship of the proletariat".
Today the fully liberated, free-market city is finding itself facing a new kind of state repossession of aesthetics. A number of artists, architects and academics are wondering how to stop their own Government from wiping the history out of the older parts of their city. The last 18 months have seen a furious process of renovation ripping through the chaotic streets of the Old Town - to their great dismay and that of most of the tourists visiting this delightful capital of bending filigree balconies and hospitable owners.
Under the title "New Life for Old Tbilisi" squads of mini-bulldozers and millions of dollars and euros (mostly Western-sourced or donated) have been let loose on several key areas of old Tbilisi. Several miles of 17th, 18th and 19th-century walls have been removed to be replaced by reinforced concrete, or breeze-block, the houses redesigned as pastiches of themselves, usually with one or two extra floors, occasionally to be re-fronted with the same bricks, sliced down the middle.