10 Questions for Artist Michael Landy |

reviews, news & interviews
10 Questions for Artist Michael Landy
10 Questions for Artist Michael Landy
On the eve of a new exhibition of his kinetic saints, the artist talks about death, destruction and turning 50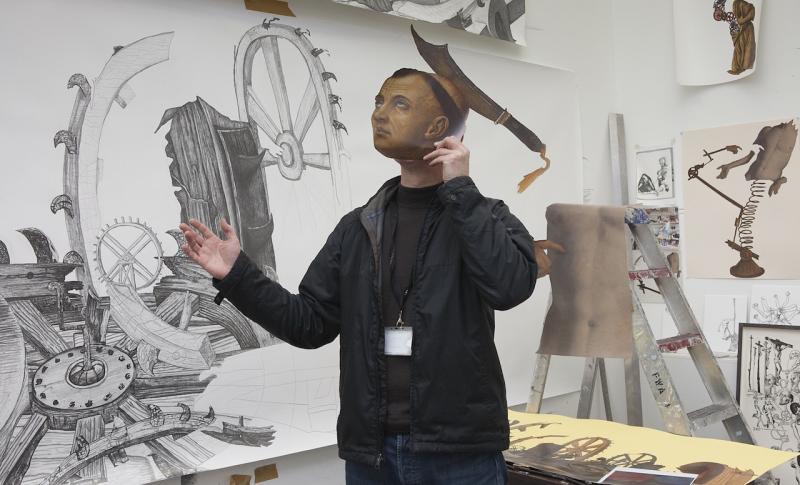 Michael Landy wearing a mask of Saint Peter, one of Christ's 12 Apostles
Much of Michael Landy's work concerns destruction or decay. The British artist, who recently turned 50 and is part of the YBA generation, came to prominence in 2001 with the Artangel commission Break Down, which saw all his worldly possessions destroyed in an industrial shredder. His next project saw him scale right down, surprising everyone with an exhibition of beautifully executed drawings of weeds.
Landy's love of close observational drawing continued with a series of arresting portraits. But then we saw the cathartic destruction of Art Bin, in 2010, where he'd invited members of the public to throw away their unwanted art works. The huge bin at the South London Gallery rapidly filled up with unloved art, ready for the shredders.
His National Gallery exhibition Saints Alive opens this week, the culmination of a two-year residency in which he responds to the gallery's collection of paintings of saints, from Lucas Cranach the Elder's Saint Apollonia to Botticelli's Saint Francis of Assisi.
My saints beat themselves up and bits fall off them. I liked the idea of the saints being like junk in a sense, like the weeds
FISUN GÜNER: You'd never visited the National Gallery collection before getting your residency. What's it like coming to the collection completely fresh, after practising as an artist for so long?
MICHAEL LANDY: I'd meant I'd entered the building before, but I hadn't really…
You'd gone to the café…
Yeah, I'd gone to the loo, and eaten some cakes. You don't really engage with the collection until you start making work about it. Or until someone asks you to become artist-in-residence. And then you think, "Oh Christ." So I wandered around here for about a year thinking "Oh God, why me? I'm rubbish…" I met up with Colin Wiggins (National Gallery's Head of Education) after I got the call, just to make sure someone wasn't pulling my leg.
Why where you drawn to the saints?
I didn't know the collection, so one of the first things I noticed when I wandered around was how many saints there were. I wanted to know more about saints so I started to read The Golden Legend (a collection of medieval hagiographies by Jacobus de Voragine). I got drawn into the stories.
You could have gone for a nice Madonna and Child theme…
I did think about babies – babies just repeated all over the walls, like a wallpaper of babies, like Warhol's cows. That did cross my mind at first, but it kind of stopped there. Then the other thing I thought of was this humungous Saint Catherine's wheel rolling through the galleries, as that's her wheel of torture.
Are you religious?
I've just turned 50 so I'm not going to dismiss it out of hand…um, I don't know really. Sometimes I go past a church and think, "Ah, that's some nice solitude – I can go in there for a while." I think maybe it's because they're quiet places and people can contemplate things. Obviously the paintings upstairs were commissioned for religious devotion and then they ended up in an art gallery. I see them very much as art works, but I understand that other people will see them as primarily religious icons.
But you were bought up a Catholic.
The imagery is kind of familiar, the imagery of suffering. My saints aren't saints who do good deeds, like Saint Nicholas – they're virgin martyrs, and people like Saint Catherine, who refused to worship the emperor's pagan gods, so she has her head chopped off. I didn't do any happy saints. They've all got sores in their heads, or they've had their heads chopped off, or they're beating themselves with rocks. We've got replacement parts, but I sense it might be a junk heap at the end, though I'm hoping it won't be.
Were you thinking of Hieronymus Bosch when you started to think of your sculptures? That's who I'm reminded of a little when I see the work.
No, I don't think so. I was thinking more of Jean Tinguely, his kinetic sculptures from the 1970s. I kind of wanted to fuse these two things, the saints from the collection, and the idea that they can move. I wanted the saints to come alive and I wanted to engage the public in a different way to how they engage with paintings. So I thought, Jean Tinguely, kinetic art, 1982, the Tate, and me as an 18 year old. I wanted to do something similar to that, but using body parts from the saints.
Tinguely obviously made a profound impression on you when you were still a teenager. Is he why you wanted to become an artist?
No, I became an artist because I could draw relatively well when I was a child, but I loved the exhibition in 1982. When you flip through lots of Tinguely catalogues there are always people touching them, coming away with Meta-Matic drawings (drawings created by a Tinguely drawing machine) and laughing and smiling. As you put your foot on the foot pedal these bits of junk do a pogo...or not – sometimes they didn't work at all. I absolutely loved it.
I think the new work will really surprise people. People were surprised when you did the drawing of weeds after Break Down, for instance. They thought that was a really surprising thing to do, because they associated you with a huge conceptual project. And now you've done this. You've been incredibly diverse throughout your career.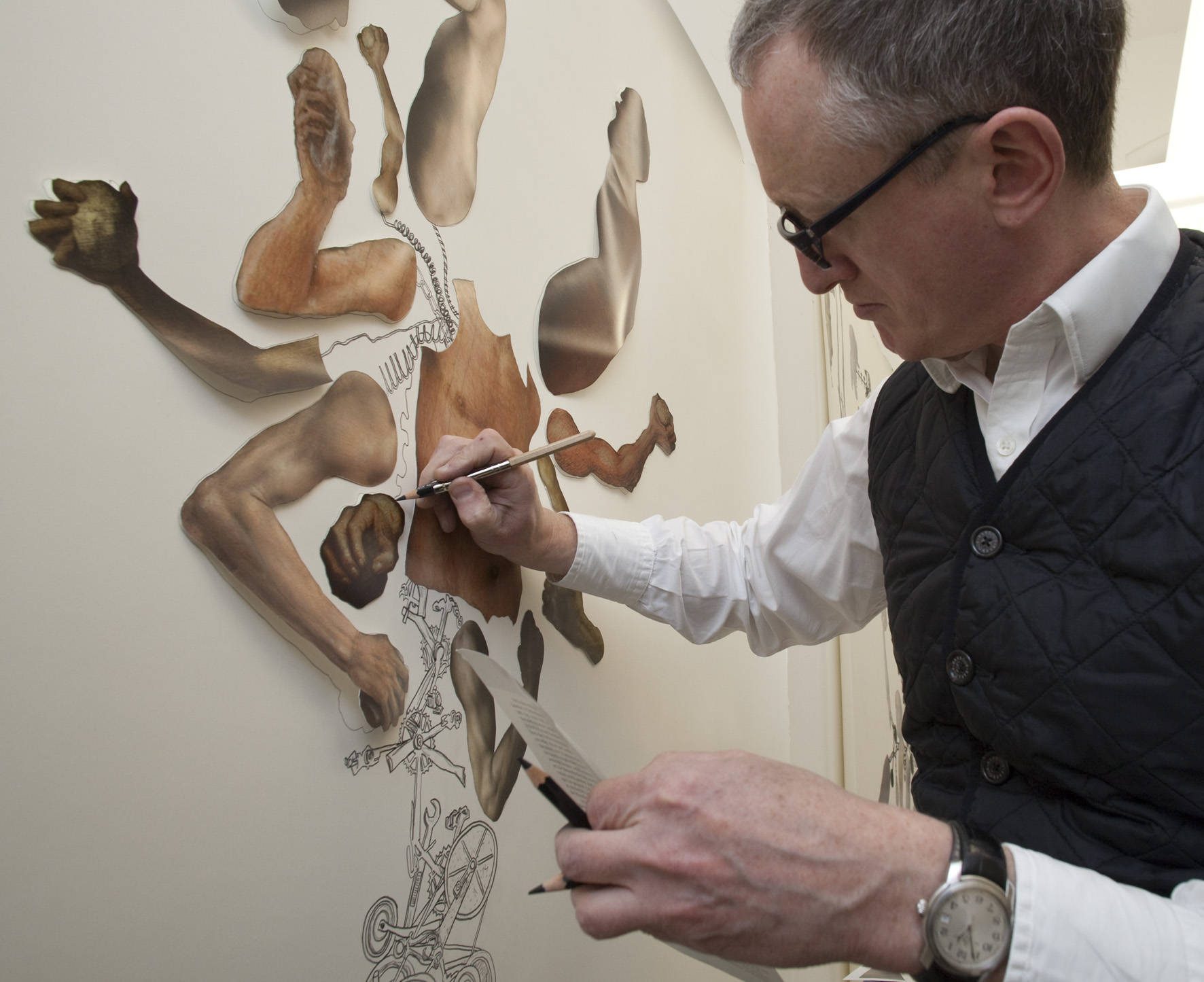 Well, yes, I guess, but there are kinds of similarities…I mean, my saints beat themselves up and bits fall off them, so they have destructive elements to them and I liked the idea of the saints being like junk in a sense, like the weeds. They've been junked, we've forgotten about them, and then I've come along, like Tinguely does, and rediscovered them and put them back together again.
Yes, there's a running theme of destruction and decay in most of your work. The only thing that's a departure from that is your parent's house, which you replicated for a Tate Britian exhibition. That's the one point of stability, which I find interesting.
Well, I did Acts of Kindness on the London Underground where I asked people to send in their stories of everyday acts of kindness. So I like the everyday, and my parent's house was just like the normal house in a street you'd walk past. It's not exceptional in any possible way.
All artists think about death. It's better than thinking about cheerful subjects. We like to look at detritus, carcasses
Explore topics
Share this article
Subscribe to theartsdesk.com
Thank you for continuing to read our work on theartsdesk.com. For unlimited access to every article in its entirety, including our archive of more than 10,000 pieces, we're asking for £2.95 per month or £25 per year. We feel it's a very good deal, and hope you do too.
To take an annual subscription now simply click here.
And if you're looking for that extra gift for a friend or family member, why not treat them to a theartsdesk.com gift subscription?