Utopia: In Search of the Dream, BBC Four review - the best of all possible documentaries?
Utopia: In Search of the Dream, BBC Four review - the best of all possible documentaries?
Documentary explores ideal societies and the dystopian alternatives
Wednesday, 09 August 2017
Professor Richard Clay quizzes bust of utopian
Only man is vile, goes the hymn, and yet humankind has always imagined ideal societies where people care for one another, everyone has access to anything necessary physical and emotional well-being, and all is for the best – without irony – in the best of all possible worlds.
It may never have been achieved in reality, but in the first of a three-part documentary Utopia: In Search of the Dream (BBC Four) Professor Richard Clay, an art historian and Newcastle's first professor of digital humanities (sic), led us through a memorable discussion of the ideas and ideals of utopias and importance of dystopias, their opposite.
The notion of utopia - a happy society where needs are met, no one goes without, harmony prevails - sits between fiction and reality. As the programme put it, the idea permeated pop culture and high art, Gulliver's Travels and Star Trek, Wagner and Wikipedia, embodying deepest hopes and fears, in search of dream fulfilment.
Cue a mesmerising film of Barack Obama addressing multitudes screaming for the hope he seemed to embody, a blue print for the better: while we breathe we hope, he said. And yes, the whole enormous crowd chanted, "Yes we can." (No one stopped to ask, then, yes we can… do what?)
Wikipedia is a true commons of knowledge
And how do we get there, wherever there is. Imaginatively, Professor Clay interviewed veteran football commentator John Motson. Saturday afternoon games happened after men finished their five-and-a-half-day working week; hope sprang up every week that their chosen club would not only excel, but win. Solo explorer Belinda Kirk argued that the Age of Exploration was predicated on finding better worlds, cueing a brief trip on Bristol's replica of the ship in which John Cabot sailed to North America in 1497.
Utopia was the creation of Thomas More, who created his fictionalised society for the Tudor elite. Its name was a Latinised version of Greek homonyms meaning "no place" and "good place". And it really was a fiction. Swift argued in his satire on humankind that most live miserably so that a few can live plentifully. Plus ça change?
One of the most fascinating interviews was with Katherine Maher, executive head of the Wikipedia Foundation. The film caught up with her at a conference where delegates – mostly 30ish editors and contributors – milled about, chatting, even playing ping pong in disarmingly humble surroundings (so not like tech giants Google or Apple or Facebook). Maher called it the UN of knowledge. Wikipedia is available in 300 languages, hosts 40 million articles tended by 120,000 volunteer editors, and has 80 billion visits every month: a true commons of knowledge.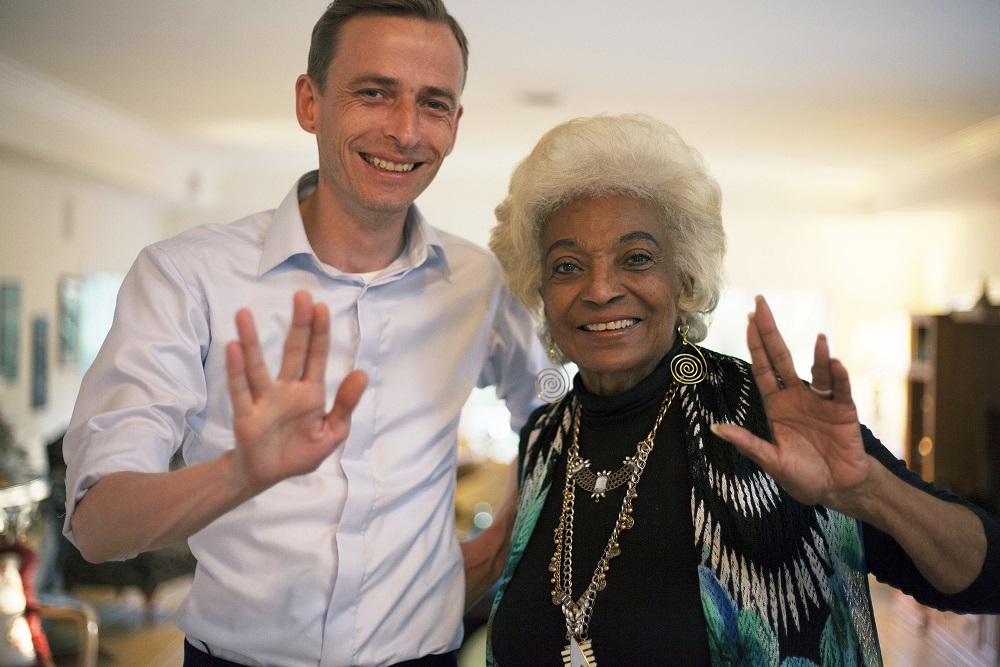 There was also about 18th-century visionary Thomas Spence, who never escaped poverty but became a hugely successful political lobbyist who campaigned for the notion of commonland as shared space. In an obligatory nod to Martin Luther King, the surprise was his constructive interest in Star Trek and his encouragement of USS Enterprise's single black – and female - crew member played by Nichelle Nichols (pictured above with Richard Clay). Her beauty undimmed 50 years on, she revealed Dr King was a Trekkie. Clips showed the first interracial kiss ever seen on television, and Abraham Lincoln materialising to apologise to Captain Kirk for the n-word.
As for dystopia, Orwell's 1984 was represented by a three-hour immersive theatrical experience in a disused nuclear bunker outside Vilnius. A grimly authentic replication complete with snarling guard dogs and commanders evoked interrogations of Lithuanians under the Soviets. They sell out to schoolboys. There was also an uncomfortable reminder that national socialism's twisted goal of perfecting man had a vision of an ideal society that was hideously persuasive for a whole country. Where 50 years ago there was an exuberant belief in flower power, the film bleakly concluded that we now live in an Age of Fear exemplified in The Hunger Games and The Handmaid's Tale.
This was a richly thoughtful first episode. Next time we visit those who are actually trying to create utopian communities. Good luck to them all.
Swift argued in his satire on humankind that most live miserably so that a few can live plentifully. Plus ça change?
rating
Explore topics
Share this article
Subscribe to theartsdesk.com
Thank you for continuing to read our work on theartsdesk.com. For unlimited access to every article in its entirety, including our archive of more than 10,000 pieces, we're asking for £3.95 per month or £30 per year. We feel it's a very good deal, and hope you do too.
To take an annual subscription now simply click here.
And if you're looking for that extra gift for a friend or family member, why not treat them to a theartsdesk.com gift subscription?